Popular Glacier Park podcast returns for second season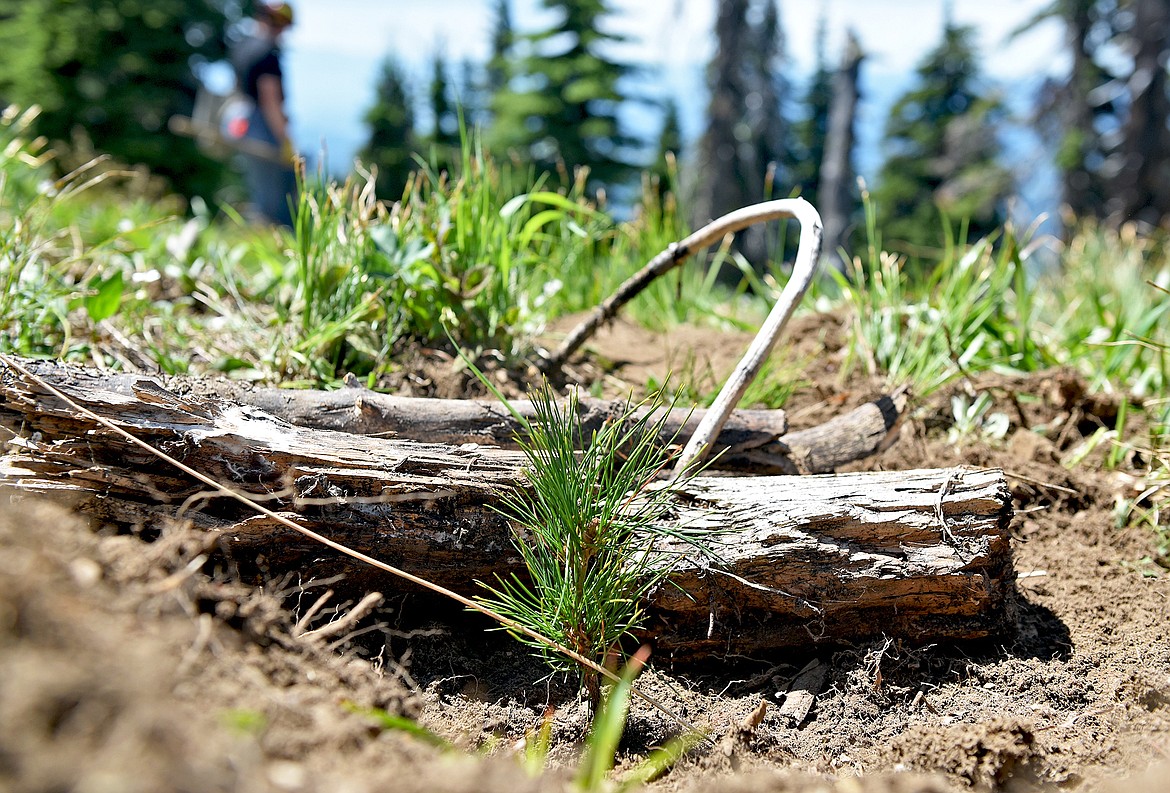 A tiny whitebark pine seedling at Whitefish Mountain Resort. The second season of the Headwaters Podcast focuses on the whitebark pine. (Whitney England/Whitefish Pilot file)
by
JEREMY WEBER
Daily Inter Lake
|
January 15, 2022 12:00 AM
Telling the lesser known stories of Glacier National Park, the second season of popular Headwaters Podcast will be available to the public Sunday, according its hosts.
Once again funded extensively by the Glacier National Park Conservancy, season two of the podcast features five episodes which document the generational effort to restore the endangered whitebark pine. Michael Faist, Andrew Smith and Peri Sasnett host the podcast.
"Whitebark Pine is one of those species in Glacier that a lot of people have heard of, but there were a lot of hints that there was a lot more to this story than most people knew," Faist said.
Hosted by interpretive rangers Faist and Smith, the seven-episode first season of the podcast debuted in October 2020 and featured stories from around the park — some well known and others more obscure.
"The podcast was envisioned as a way for people to connect with Glacier no matter where they are or when they want to listen. We take that experience of going to a campground talk or a guided hike and bringing that home for listeners," Faist said. "It was also imagined as something that would be appealing not just to locals who have been around the park for years, but also to newcomers who maybe just learned about Glacier. We want to have something for everyone."
Covering a variety of topics from ecology and astronomy to history and climate change, season one truly has a little of something for all of its listeners.
"We had some stories that were more history focused, some that were science and research focused and some that just featured great storytellers. It was really fun to make and to get to talk to all of the people who get to do all of the really fascinating work in the park," Smith said. "We wanted to go beyond the obvious stories that Glacier fans have heard a million times and try to explore stories that might have been overlooked or told as often. I think those were the most popular stories from season one."
After combing through hours of audio interviews and piecing their stories together, Faist and Smith were left awaiting the answer to one last question — would people like it?
"After we released it, we weren't really sure how it was going to be received, since we had never done anything like that before," Faist said. "It was very well received by listeners, both near and far. We ran into quite a few people in the park this summer who had listened to it."
Most importantly, the Conservancy was pleased with season one as well. Pleased so much that funding was procured for a second season.
With funding in the books, it was time to find a new topic for the new season.
"When it came time to brainstorm for the second season, we had a lot of stories in mind that maybe didn't fit into those bite-sized stories from season one," Faist said. "We envisioned telling a bigger story over the course of several episodes."
Enter the plight of the whitebark pine, a quickly disappearing keystone species that plays an important role for many local animals, including the Clark's nutcracker, Douglas squirrel, grizzly and black bears and more.
For a bigger story, the podcast needed a bigger team. Enter Peri Sasnett, whose ​​goal is to bring science beyond the research community and share it with the wider public.
With an expanded team of three, the group explored the alpine trails of the park and some beyond the park boundaries and quickly found the enthusiasm of those looking to protect the whitebark pine.
"Being able to hear about people's passion for this species and being able to see that firsthand was amazing. Everyone we told we were doing a season about Whitebark Pine that knew about the species were really excited," Sasnett said.
"I think we knew we were onto something when one of the rangers we spoke with in Many Glacier was literally jumping for joy when we told her what we were doing," Faist added. "Everyone's enthusiasm was contagious."
While most of the park visitors the team spoke with agreed the whitebark pine should be protected, recognizing one of the trees seemed to be a tough task.
"It's this big, important part of the alpine ecosystem, and yet we sat on a trail directly underneath a whitebark pine and asked those walking by if they had ever heard of the species. Even some of the locals who said yes could not point out that we were standing underneath one," Faist said.
"We say in the trailer that whitebark pine is the most important tree that you have never heard of. I'm sure many of the people in and around the park have heard of it, but it doesn't really grab your attention like an elk," Sasnett added. "Hopefully, this season can help change that."
Headwaters is available to download on most podcast apps and on the National Park Service's website at https://www.nps.gov/podcasts/headwaters.htm. New episodes will be released every Sunday.
Reporter Jeremy Weber may be reached at 406-758-4446 or jweber@dailyinterlake.com.
Recent Headlines
---