On with the show — FVCC taps Seattle pro for the new College Center's director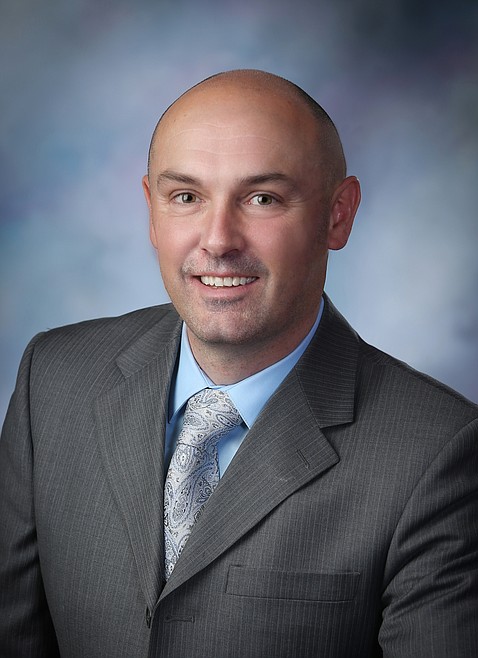 Billings native Matt Laughlin, the former director of venue administration at Seattle's expansive Benaroya Hall, has been hired as director of Flathead Valley Community College's new Paul D. Wachholz College Center. - photo provided
by
CAROL MARINO
Daily Inter Lake
|
January 17, 2022 12:00 AM
After a distinguished career working at Seattle's Benaroya Hall, one of the premier concert and special event venues in the United States, Matt Laughlin is returning to his home state to take the reins as the director of Flathead Valley Community College's new Paul D. Wachholz College Center.
The two facilities are a striking mix of both similarities and differences.
Seattle's prestigious Benaroya Hall was designed exclusively for symphonic music and concerts and is home to the Seattle Symphony.
While the Paul D. Wachholz College Center also features state-of-the-art acoustics in its 1,000 seat McClaren Hall, which will be the new performance home of the Glacier Symphony Orchestra, the 58,000 square foot facility also features an art gallery, exhibition hall, outdoor amphitheater and multi-purpose activity complex.
Laughlin's professional background includes 14 years at Benaroya Hall, first as facilities sales and production manager before being promoted to director of that department, then as director of venue administration.
A Billings native, Laughlin graduated in 2000 from the University of Montana with a degree in business management. He moved to Seattle that summer. Other than working for two years as an event manager for AEG/Showbox venues in Seattle, his career has been at Benaroya.
​​"I was fortunate and happy I had the chance to work there for so many years," Laughlin said. "It was one of those things I kind of stumbled into. It wasn't necessarily my goal to have a career there. I was in the event and production industry before I started at Benaroya and was very good at working with stage and lighting crews, booking bands and understanding the tech side of things so that concerts ran smoothly."
After hearing about the job opening, he applied and was hired.
"I had never even stepped foot in Benaroya before I applied," he said. "It turned out to be the perfect job and perfect environment for me."
Once the Seattle Symphony had scheduled its performances each year, it was Laughlin and his team's responsibility to fill the rest of the calendar with concerts, corporate events, lectures, banquets and weddings.
Naturally, as with any large organization, there's always one person who wears many hats who people go to for answers and solutions.
"That was me for many years," Laughlin said. "But it's also about the patron experience, the box office, concessions, security — all those things that go into venue operations and management."
The responsibilities came with unique challenges. Benaroya Hall occupies a full city block right in the heart of downtown Seattle on a major busline street.
"We had ​​a lot of security issues we had to be mindful of, how we operated the building and staffed for events," Laughlin said.
Laughlin also described one of the frequent operational challenges.
"Two tour buses and two semi-trucks show up for the big show, loaded, and you'd have to reroute them down one-way streets and obtain city permits to park and unload."
But he says all the work paid off in the end.
"We'd see an auditorium full of patrons, whether it's a symphony show, a National Geographic lecture or the Ellen Degeneres Netflix special," he said. "To see all the production planning leading up to the show itself taking place. A lot of people are involved to make it happen. That's really rewarding."
"But there's always the curve balls," Laughlin added. "That's part of the fun too."
For instance, certain performing artists require extra security such as metal detectors at the door, which would inevitably lead to bottlenecks.
"If patrons are showing up with only 15 minutes to spare and there's a line out the door, it would come down to how do we get 2,000 people in and seated in the next 10 minutes."
In the spring of 2020, Laughlin and his wife, who is from Ennis, made the decision to leave Seattle with their two young children to return to their native Montana. He'd heard about the College Center director position opening at FVCC the summer of 2021 through a venue industry job board, applied and was offered the job last September.
Up until then, he and his wife hadn't spent much time in the Kalispell/Flathead area.
​​"We asked ourselves, could we think of this as home and could we see ourselves living here," Laughlin said. "As soon as you're driving up from Missoula and the lake becomes visible, you have that 'Wow!' factor and the beauty, the mountains, the ski resorts. The beauty of the Flathead region is appealing.
"And it's also the venue itself. These types of venues and these types of jobs don't exist everywhere. These are unique opportunities."
Laughlin points out that even in a big city like Seattle there are only four performing arts centers.
"To have the opportunity to work at a venue like this and have this type of staff in the state of Montana is especially unique," he said.
"The College Center is a unique building in terms of both its performing arts side and the athletic facility," he added. "That definitely did not exist at Benaroya Hall. That's an exciting asset to wrap my head around. I know the gymnasium's focus is going to be more focused on the students and the campus itself but, for larger events, that gymnasium is going to be beautiful and have awesome views for sit-down dinners, trade-shows or conferences."
Another fundamental difference between the two venues is adaptability.
"Benaroya Hall was purposefully designed for symphonic music. Acoustics were everything to them and, to that end, there is no raising or lowering of curtains or sets, no fly system to do any sort of theater style productions," Laughlin said. "The College Center is being designed smartly as a very versatile venue. The Glacier Symphony Orchestra is going to be able to perform in an acoustically superb atmosphere, but the orchestra shell can be struck and we do have the fly system and the curtains so we can do dance and theater-style productions."
​​Laughlin and FVCC President Jane Karas agree that, while it's a big plus to be able to have the ability to do Broadway-style theater shows at McClaren Hall, it will be prudent to grow into knowing the venue and figuring out what its capabilities are.
"We're going to have to grow as a team in the first year and get a sense of what's possible," he said, "and make sure our staff is trained to produce those shows and bring them in when we're ready.
"We're wanting to launch and make a splash in the fall with some bigger name acts. We're planning a solid inaugural season that includes the Glacier Symphony orchestra's whole season, adding lecturers, touring concerts and music groups; then, toward the second half of the first season, maybe sprinkle in one or two musical dance theater productions.
"Jane and I have talked many times about all the things we want to do in that space, but it's more of a long-term vision and the understanding that this venue is going to be in the community for the next 50 years," Laughlin said. "The idea is for it to be a financially self-sustaining entity for the college. It's very apparent to me how much support and anticipation there is in the community for this performing arts center."
Community editor Carol Marino may be reached at 406-758-4440 or community@dailyinterlake.com.
Recent Headlines
---