Teen swims in the St. Regis River all year long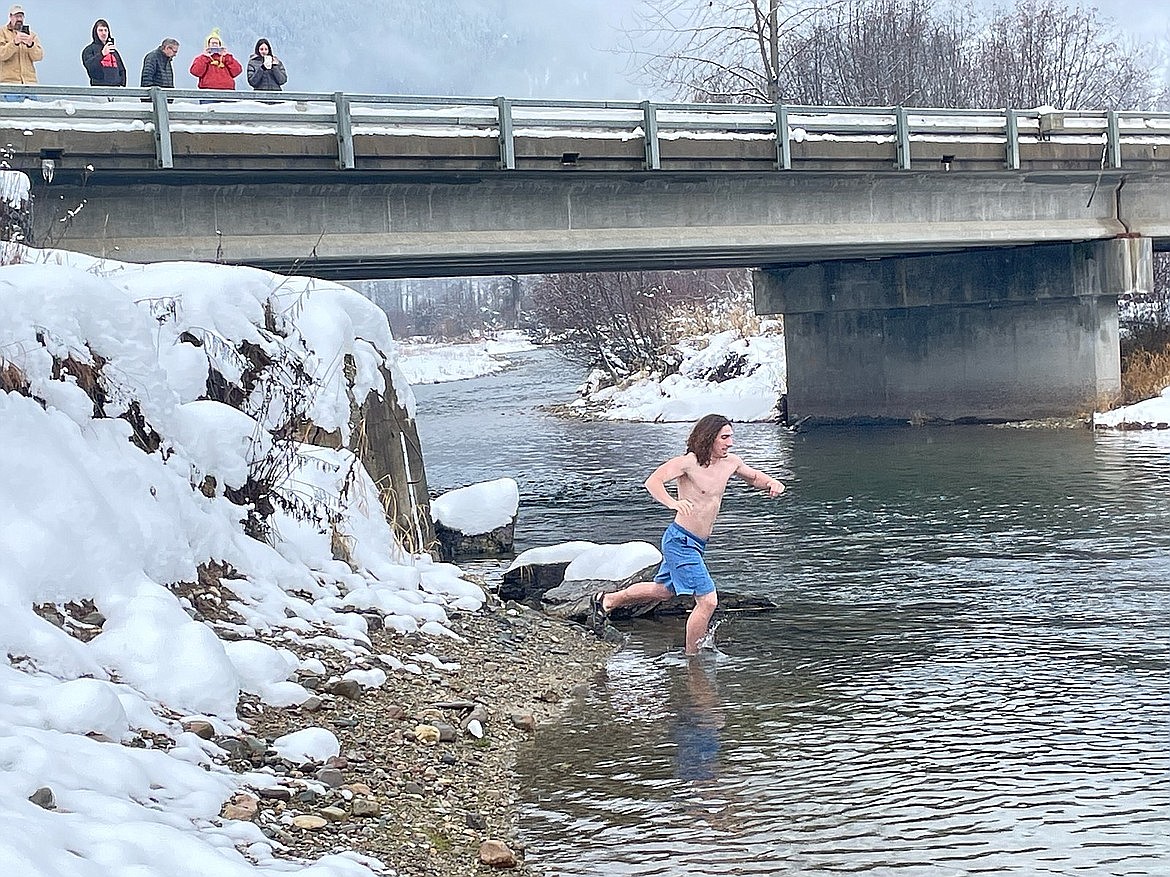 Carter Durkin, of Spokane runs into the St. Regis River last month in December for his monthly swim challenge. He started his ambitious goal of taking a dip at his favorite swimming hole once a month for a year last June. His family looks on and cheers for him from the bridge above. (Photo courtesy Carter Durkin)
by
AMY QUINLIVAN
Mineral Independent
|
January 18, 2022 12:00 AM
On a hot summer day, you'd count yourself pretty lucky to drive up to the swimming spot that St. Regis locals refer to as "Scribner's" or the Joe, and find no other rigs there. The popular swimming hole is usually prime real estate on July afternoons, where you can take a dip in the refreshing cool waters of the St. Regis River.
For one avid swimmer, beating the crowds hasn't been too difficult lately. Carter Durkin is a Junior at Gonzaga Preparatory School, he lives in Spokane with his parents and siblings. And although the 17-year-old resides out of state, he's practically grown up in the small town of St. Regis.
"My grandparents and my family would gather there nearly every weekend in the winter, and I have spent most of my summers there for years," he mentioned.
Durkin's family owned the old Bennett Lumber Mill, which is now where the community park is located. He explained, "My grandmother, Lisette Bennett Carter, is originally from St. Regis and grew up there. Her father had the lumber mill which is where the park is now located. She and my grandfather still have her child hood home there although they live in Great Falls." Durkin added, "My grandparents and my family gather in St. Regis often to visit. My uncle has a part-time place across the driveway and my great-aunt lives there full time. I spend most of my summer in St. Regis, and nearly every weekend in the winter, and as much as possible during spring and fall."
His Aunt, Caroline Pratt Carter is a St. Regis resident. She wasn't the least bit surprised when she heard about a swimming challenge that Durkin decided to embark on last year. She remarked, "Carter has always been a fish and he likes the cold.
Durkin's endeavor? To swim in the St. Regis River once a month for an entire year.
And though he claims to be a strong swimmer, Durkin can't quite recall where he got the idea from to take a dip all throughout the year. "It was just a whim. I used to jump in every October as a farewell to the swimming season. Then, last year I thought why not do it in December? That thought evolved and, in the Spring, I thought it would be fun to swim in the river every month of the year," he concluded.
His Aunt Caroline quipped, "Carter's grandmother keeps the thermostat at 80 degrees or above, so he likes to cool off, Carter just loves to "go to the Joe!"
With just swim trunks on, Durkin does his monthly polar plunge regardless of how cold it may be. He described, "I get in, get completely under, and get out. During cold months, I take a thermometer and measure the water temp." He completed his December dunk just days before Christmas. In December the water temperature was 34 degrees and it was 32 degrees for his swim on January 2. Durkin noted, "This month, my Dad had to break ice for me to get to the deep section so I could get under the water."
After his freezing foray Durkin shared, "I normally jump around for a bit with a towel and get in the car. I sat by the heater at home for about 15 minutes in January to get rid of the chill."
His thrilling monthly swims have become a family affair. Durkin said, "I have strong support from my family. For my December swim, I had my parents, brother, sister, uncle and aunt watch me. It was really snowy so most of them stood on the bridge and my parents and I walked down the river bank for my swim."
"It does scare my mother a bit in the super cold temps, but I go in for a very short time and am not in danger. It is usually a festive family gathering," Durkin replied.
He began his year of swims during warmer weather, in June of 2021. He has accomplished each month through January 2022. If all goes as planned he will be done in May 2022 with four months to go.
And rain or shine, snow or freezing cold, Durkin committed, "Skipping is not an option for me."
Carter noted of her nephew, "He is also a hardcore downhill biker and has been on the Lookout Ski team since he was a little kid. He is a pretty good golfer too. Carter just does not like to sit still."
On those who know of Durkin's frigid goal, he stated, "A couple school friends know and they think I am crazy." But don't worry, he knows what he's doing. "I prefer to swim in open natural bodies of water and have been swimming in the St. Regis River most of my life," he added.
When Durkin isn't wading in the river, you'll find him up at Lookout as a competitive skier, and he's also an avid downhill mountain biker.
"When I am in St. Regis during the summer, I frequently bike at Silver Mountain Resort," he said. "I have some Enduro bike trails around St. Regis I enjoy too. I also enjoy hiking and just being outdoors."
After high school Durkin will attend the University of Montana in Missoula, so he'll still be close to his second home of St. Regis to come back for more adventures, no matter what season it is.
Recent Headlines
---