Quest complete for two Flathead High students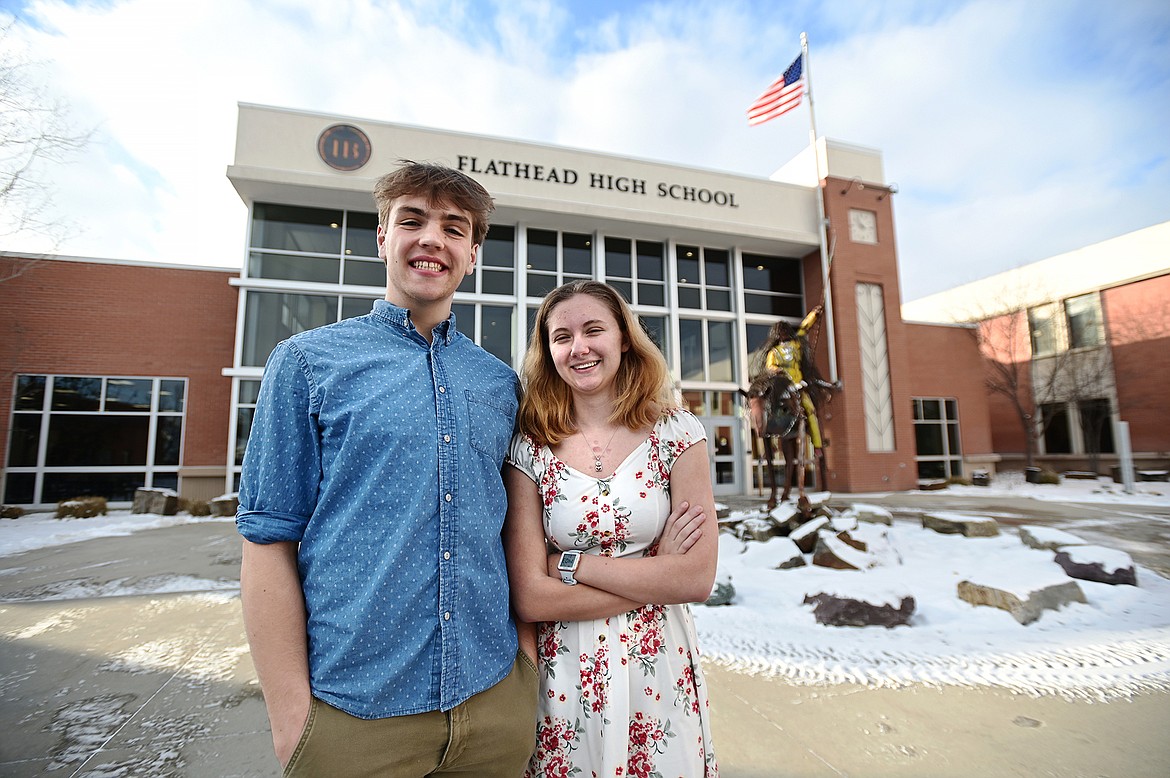 QuestBridge scholarship recipients and Flathead High School seniors Luca Zoeller and Maayana Sattler on Friday, Dec. 17. (Casey Kreider/Daily Inter Lake)
by
HILARY MATHESON
Daily Inter Lake
|
January 30, 2022 12:00 AM
When Flathead senior Maayana Sattler found out she was named a QuestBridge Scholar, she went to one of her speech and debate coach's classrooms and collapsed with excitement when sharing the news.
The stress from where the money would come to pay tuition, room, board, meals, textbooks, and travel expenses — had lifted. She will receive a full-ride to attend Swarthmore College in Pennsylvania as a QuestBridge National College Match scholarship recipient.
She wasn't the only Flathead High School student to receive the life-changing news. Senior Luca Zoeller was also named a QuestBridge Scholar and will attend Colorado College as a College Match Scholarship recipient.
QuestBridge's National College Match program connects high-achieving high school seniors from low-income backgrounds with full four-year scholarships to prestigious liberal arts colleges and research universities.
Out of more than 16,500 applicants, QuestBridge, a California-based nonprofit, selected 6,312 finalists. Of that number, the nonprofit's 45 college partners matched with 1,674 finalists — the most to date — who were recognized as scholarship recipients, according to a press release.
This group of high school seniors has an average unweighted GPA of 3.93 and 92% are in the top 10% of their graduating class. Financially, 95% come from a household with an annual income under $65,000. The majority — 81% — are among the first generation in their families to attend a four-year college in the U.S., which includes Zoeller and Sattler.
"My family is from Mexico so we've always had the American Dream and I'm finally the one who gets to accomplish that for them and that's — it makes me all emotional — it's, it's amazing for my family for me to be able to have this opportunity," Sattler said.
Zoeller said he was thankful for the support of his family and teachers assisting him through the process.
"It isn't just me that's put this together. It's been all my family who has helped me. We've had to have five or six letters of recommendation. Mr. Kelly spent hours researching it. I mean, all my teachers helped me out," he said. "It's really a culmination of other efforts of people trying to help me and it's pretty sweet that so many people could come together and do that."
Flathead Career Center Director Mike Kelly, was floored, but not surprised, that two Flathead students made the cut in the competitive program, describing the two students as "very curious, bright learners," a hallmark trait of QestBridge Scholars. He believes it's the first time Flathead has had two students selected. A total of four Flathead students submitted applications this school year.
Outside of grades, students must bring something unique to the table, Kelly said.
In addition to that curiosity and passion for learning, QuestBridge Scholars are usually described as having agency, courage, compassion, gratitude, integrity and purposefulness.
Kelly is the driving force behind encouraging Flathead students to apply. When Kelly initially learned about the QuestBridge programs, he knew it was worthwhile to dedicate the time to helping Flathead students achieve their dreams.
"It makes me emotional," Kelly said pausing, "These are kids, who, because of their lack of finances, do not have a shot at going to Swarthmore or Colorado College. They could get in, but they'd be so far in debt."
The application process is lengthy. Sattler estimates it took two months and several revisions before she felt it was up to par to turn in. During the process, Zoeller and Sattler were able to rank a maximum of 12 QuestBridge partner colleges and universities.
"The first college or university that picks them, then they're committed to going there," Kelly said. "They want students who are going to build their college community."
Prior to being considered for the scholarship program, both students were selected and completed QuestBridge's College Prep Scholars Program as juniors. Through the program, they received essay feedback and guidance through the college application process in addition to visiting college campuses, which was done remotely due to the pandemic.
"SUCH A huge weight has been lifted off that now I have the ability to not stress about that. Once that happened I was like what am I supposed to do now," Sattler said.
Zoeller added, "Yeah, it was like what's next."
For the first two months of her senior year, Sattler was working 30 hours a week and attending high school full-time to cover personal expenses at home to alleviate some of the financial stress her family was experiencing. She's since been able to cut back to working two days per week to participate in extracurriculars.
Zoeller said he always knew he would attend college and so did his grandma, with whom he lives. He said she encouraged him to seek out scholarships. But before QuestBridge, he realized he still would have to take on some debt even with scholarships and financial aid.
"She knew that I wanted to go to college and I needed to go to college, but the money was difficult," he said. "It's pretty cool I can get in with one scholarship."
Zoeller said the scholarship gives him the ability to also help out his family.
"For me, it's nice, because I know I'm going to have to take care of my grandma, and my mom as well," Zoeller said. "It's nice to know I can graduate college and not be in debt."
With the major obstacle of finances out of the way, both seniors can focus on classes, activities and interests to discover what they want to major in since both are undecided.
"You know, when you've got seven ideas you have to whittle it down," Sattler said smiling. "I'm really hands-on. That's why engineering was kind of an idea, but then I started taking calculus and I now am rethinking everything."
"I'm just interested in everything," she added, then illustrating her point with eagerness in her voice, continued, "I was also looking at anthropology because it's super cool how you can tell so many different things about people from their bones. I'm also looking at marine biology because I love penguins so much it's not funny. I was looking at majoring in Spanish because I'm fairly good at it and my family is from Mexico. I was also thinking of welding."
Zoeller is also undecided on a major, but is interested in music and wants to play basketball at college. Kelly also noted Zoeller's creativity and read out loud a sample of the student's writing he used in Zoeller's recommendation letter as an example.
"That's kind of that curiosity of learning I can't emphasize that enough," Kelly said. "These two they just delve into things.
"Whatever they do — it'll be grand," Kelly said.
When asked if they had any dreams they hoped to achieve, Sattler said, "I mean, it feels like I have reached the dream at this point."
Recent Headlines
---