Wolf hunting and trapping down despite added opportunities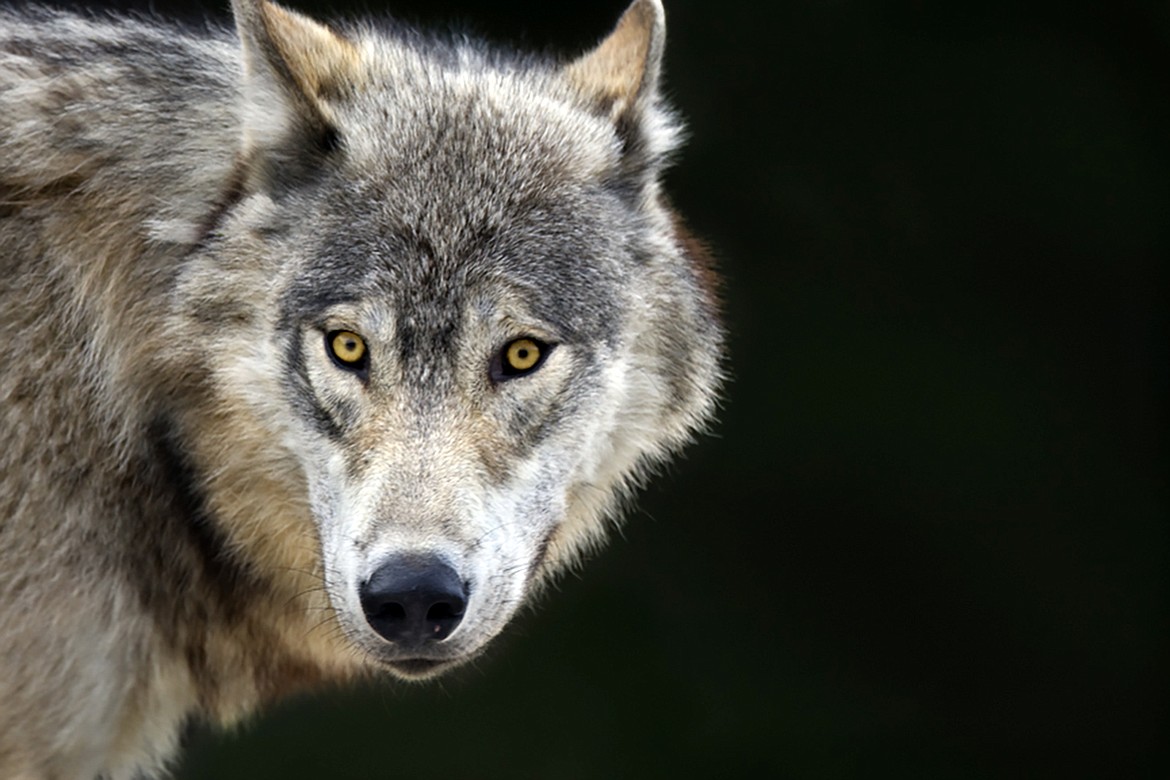 A wolf stops for a brief moment inside Yellowstone National Park. (Jeremy Weber/Daily Inter Lake)
by
JOHN MCLAUGHLIN
Daily Inter Lake
|
January 30, 2022 1:00 AM
Following years of record regional harvests, hunters and trappers in the northwestern corner of the state have so far achieved less than a third of total state-sanctioned wolf kills for the season.
The state Fish and Wildlife Commission set its Region 1 wolf hunting and trapping threshold this year — quitting the use of a "quota" — at 195 animals.
Year-to-date, the Region 1 effort, mostly comprising Lake, Sanders, Lincoln and Flathead counties, tallied 52 wolves tagged so far, according to state Fish, Wildlife and Parks Department data available Friday.
That's down from the 101 killed in the region by this time last year, according to FWP.
The season's regional harvest lull comes amid added hunting and trapping opportunities offered by the state.
Achieving the total 195-wolf threshold ultimately would trigger the commission to meet and reassess regional harvest efforts, to include public comment.
Statewide, the wolf hunt is generally on par with past seasons, with 181 of 450 wolves tagged as of Friday, according to the FWP data.
Wolf hunting and trapping near Yellowstone National Park, in District 3, however, was nearly tapped out as of Friday afternoon, at 78 wolves harvested of the 82 allowed for the season.
Commissioners met and opened public comment Friday to fervent wolf hunting protest, later voting unanimously to close all of Region 3 once the prescribed 82-wolf threshold is met.
Wolf hunting and trapping is otherwise set to last through March 15. Hunters and trappers this year are allowed 10 wolves per method for a total of 20 wolves per person.
Other added opportunities this season include more permits being allowed per hunter, as well as the use of snares for the first time since wolf hunting resumed in the state more than a decade ago.
FWP Regional Information and Education Program Manager Dillon Tabish said snaring remains somewhat limited. Tabish said, for example, use of snares remains illegal on public lands within the state's lynx protection zone largely lying within Northwest Montana.
There, Tabish said the flat harvest so far could stem from myriad issues.
All told, he said final numbers for the season will help tell the story, namely via how many licenses were sold.
Until then, Tabish said, he's heard a number of potential causes driving down efforts on the ground.
That includes heavy snowfall in late December followed by a bitter cold snap that likely created harsh trapping conditions.
Fuel prices also have been a concern, Tabish said.
"I've heard some folks talk about gas prices," he said. "It's expensive to get out and, you know, check your trap lines. It requires a lot of travel."
Tabish noted that participation reportedly appears lackluster. He said wolves also are getting more and more privy to trapping efforts.
"Wolves are smart," Tabish said. "We saw this after wolf trapping began more than 10 years ago. After a couple years, you know, the wolves wised up to trap lines and trap sets.
"Any trapper who goes after wolves will tell you that trapping wolves is about as hard as it gets," he said. "You need to basically have your A-game. Otherwise, that wolf or that wolf pack is going to smell you out and avoid your traps."
Like those during the Friday commission meeting, some have contended that greater wolf harvest opportunities prove too harsh, if not illegal.
Of late, a lawsuit now contends the state failed to properly address certain harvest proposals. Trap Free Montana Public Lands and Wolves of the Rockies filed the lawsuit last month.
It asked a judge to eliminate the use of infrared and other night hunting aids and to prevent FWP from allowing aerial hunting and spotting for wolves.
The groups are asking for a temporary restraining order until the case can be decided. A hearing date has not been set.
​​FWP Chief Legal Counsel Becky Dockter said the agency would deny the claims.
The agency and its commission created the rules based on legislation that sought to reduce Montana's wolf population to "sustainable" levels.
Under the legislation, the commission may enact certain regulations in areas where wolf densities are highest, including "hunting on private lands outside daylight hours with the use of artificial light or night vision scopes."
However, the lawsuit said the use of night vision aids was not included in draft rules.
The lawsuit also says a prohibition against hunting or spotting wolves from aircraft, which was included in the 2020 rules, was removed from the 2021 regulations without public comment.
— The Associated Press contributed to this report.
Reporter John McLaughlin can be reached at 758-4439 or jmclaughlin@dailyinterlake.com
Recent Headlines
---