Today's Achievers, Tomorrow's Leaders: Racing toward her goals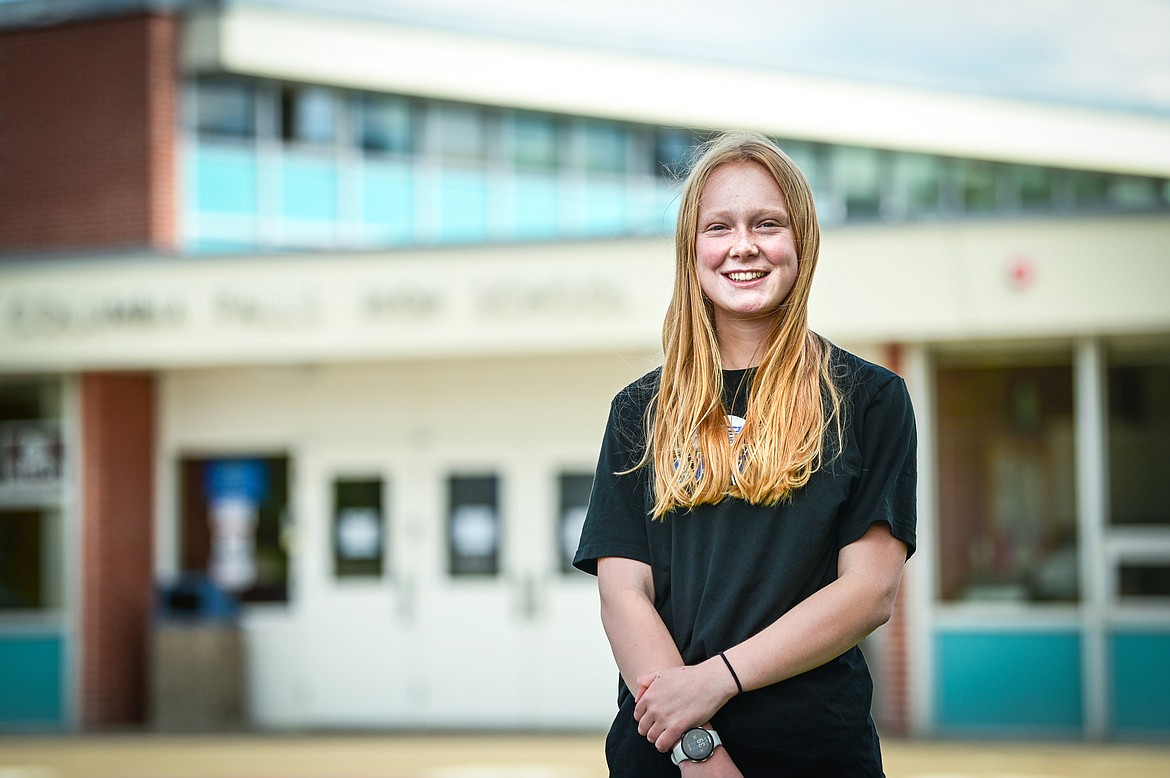 Columbia Falls High School graduate Julia Martin outside the school on Wednesday, June 22. (Casey Kreider/Daily Inter Lake)
by
HILARY MATHESON
Daily Inter Lake
|
July 1, 2022 12:00 AM
When Julia Martin sets her sights on a goal, she achieves it through diligence and a positive attitude.
This is what Columbia Falls High School coach Jim Peacock noted in his letter nominating Martin as a Today's Achievers, Tomorrow's Leaders honoree, listing her many pursuits and achievements in academics, athletics, music and community service.
"Julia Martin is a skilled young lady and has impressed me with her personal drive," Peacock stated in the letter.
Martin recently graduated from Columbia Falls High School with a weighted GPA of 4.2.
Peacock, who coached Martin in cross-country and track and field, noted how she continually challenged herself.
"Her junior year, Julia made a change in events and began racing distances in track.
"I have learned Julia is an individual that does not shy away from hard work. She strives for self-improvement, sets lofty goals, and works relentlessly to achieve them. Her junior season, Julia grew from a novice runner to eventually earning a qualification to the Montana state track and field championship meet, an honor reserved for the top twenty individuals in her event," he stated.
After finding success in track and field, Martin, who had also competed in soccer for three years, was motivated to try cross-country her senior year. As an upperclassman, she naturally fell into a leadership role.
"She set a personal example of how to work hard, maintain a positive attitude, have a happy disposition, support others and display sportsmanship, all while learning how to personally navigate a new sport. In short, Julia Martin was the type of senior leader that helps those around her achieve success evidenced in the fact that her team won the Montana state cross-country championship this fall. Her drive and self-belief also earned her an individual 21st finish at the Montana state cross-country championships, an outstanding achievement for a first-year runner," Peacock said.
Martin defines a good leader as someone who takes a team approach.
"I would say someone who is a good leader works to make the whole group better — so instead of bossing people around and maybe making a certain individual better, or themselves better — they're making the entire group better so the group can have more success," Martin said.
She listed good communication and "people skills," as traits of an effective leader, in addition to someone who is understanding, sympathetic and aware of a group's individual talents and approaches to doing things — traits she hopes to embody.
As a Today's Achievers, Tomorrow's Leaders honoree Martin received $200 to donate and chose the money to go to the high school cross-country team.
"I feel like the cross-country team just welcomed me with open arms and it was just a really great thing to be a part of so I wanted to give back to them," she said.
DURING HIGH school, served in leadership positions as senior class vice president and vice president of the high school's National Honor Society chapter.
Martin also participated in pep band, jazz band, percussion tech, wind ensemble, Model United Nations and Conservation Crew, a club that seeks to implement and raise awareness about eco-friendly and sustainable practices in the school such as composting and recycling.
"It was just something I got interested in because I feel we need to prioritize protecting our environment," Martin said.
For the past two years, Martin organized a virtual 5K Turkey Trot event in Columbia Falls to benefit the local food bank.
"I just saw during the pandemic the Turkey Trot that we [family] usually do got canceled and so in the fall of 2020, I organized my own Turkey Trot to help raise food for local food banks. We were to raise over 1,000 pounds of food for the food bank over the last two years and I've had good success and it's nice to see the community come out," she said.
She also volunteered to fill backpacks with food through Lands to Hand that are distributed to students to ensure they have enough food to eat over the weekend. Additionally, she was a member of the Gateway to Glacier Trail Building crew.
How did she balance it all?
"It took some work. I will admit that. I had a lot on my plate, but I think that's really good to prepare me for college and it forced me to manage my time well," she said.
Martin plans to attend college and pursue a career in a science, math, technology, or engineering field after spending a year abroad in Seville, Spain to accomplish her next goal.
"I've taken Spanish for five years and one of my personal goals is to be fluent in a second language," she said. "While I travel abroad I will be living with a host family so I'm really excited to be immersed in a different culture and see a whole new perspective on things."
Reporter Hilary Matheson may be reached at 406-758-4431 or hmatheson@dailyinterlake.com.
Learn More
Today's Achievers, Tomorrow's Leaders nomination criteria:
Eligibility: High school students in Flathead or Lake County.
Academics: Students who value their education by exhibiting academic responsibility (preferably have a 3.0 GPA or higher).
Character: Students who display integrity, compassion, service and excellence.
Citizenship: Students who nurture healthy communities through community service, volunteerism, or other contributions to their community and/or school.
Leadership: Students who take initiative and are role models for others.
Forms are available at https://www.logan.org
Recent Headlines
---