Carli Lloyd brings CL10 soccer clinic to Columbia Falls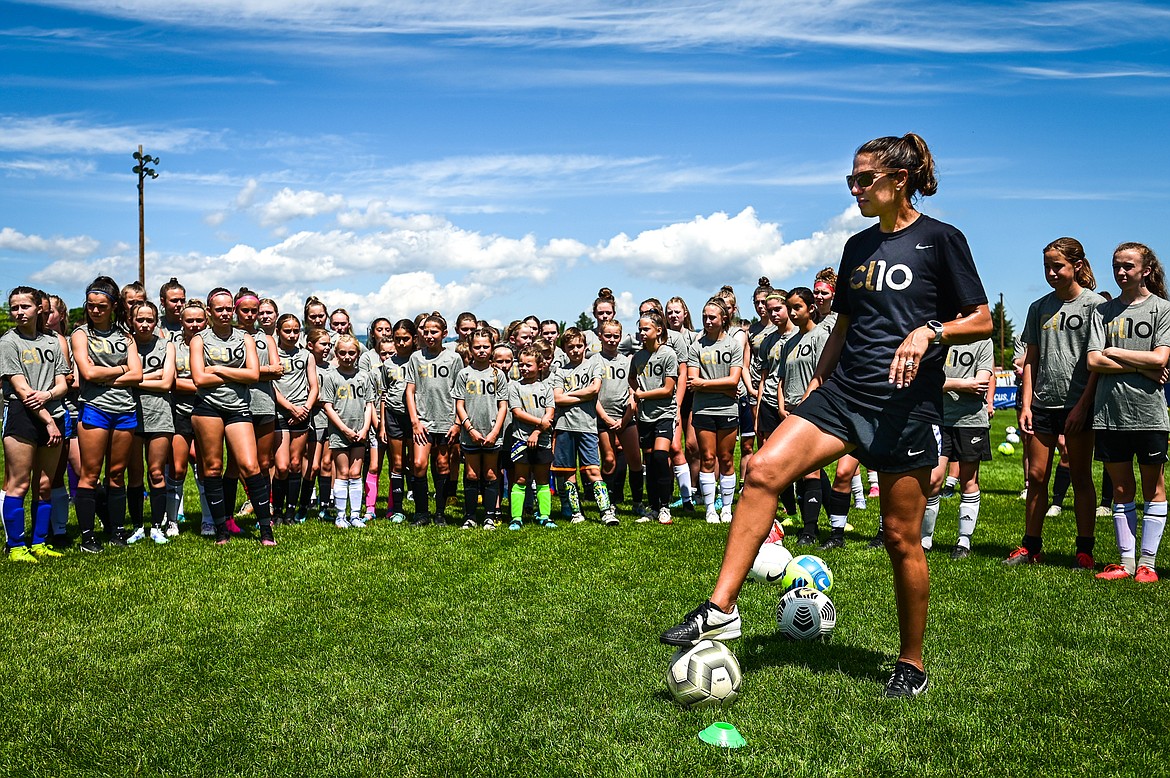 Carli Lloyd describes a drill to attendees of her CL10 Soccer Clinic at Flip Darling Memorial Field at Columbia Falls High School on Saturday, July 2. Lloyd is a former American professional soccer player; a two-time Olympic gold medalist; two-time FIFA Women's World Cup champion; two-time FIFA Player of the Year and a four-time Olympian. (Casey Kreider/Daily Inter Lake)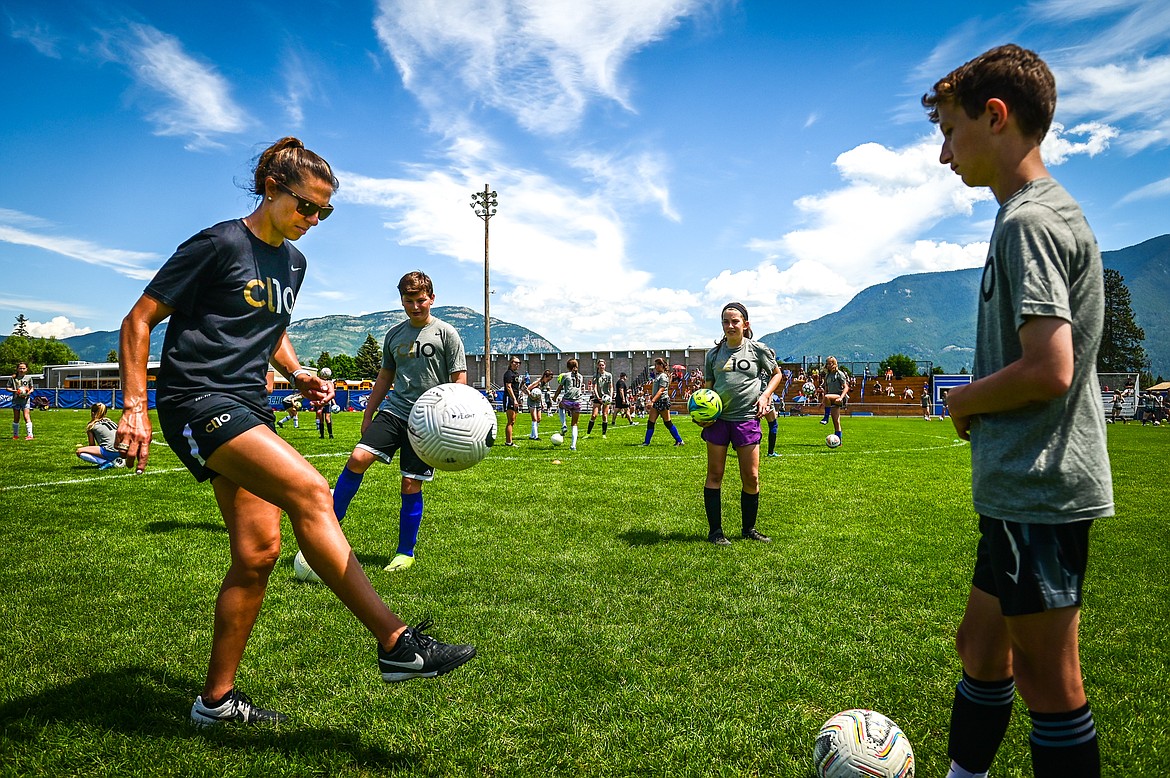 Carli Lloyd demonstrates a drill to attendees of her CL10 Soccer Clinic at Flip Darling Memorial Field at Columbia Falls High School on Saturday, July 2. Lloyd is a former American professional soccer player; a two-time Olympic gold medalist; two-time FIFA Women's World Cup champion; two-time FIFA Player of the Year and a four-time Olympian. (Casey Kreider/Daily Inter Lake)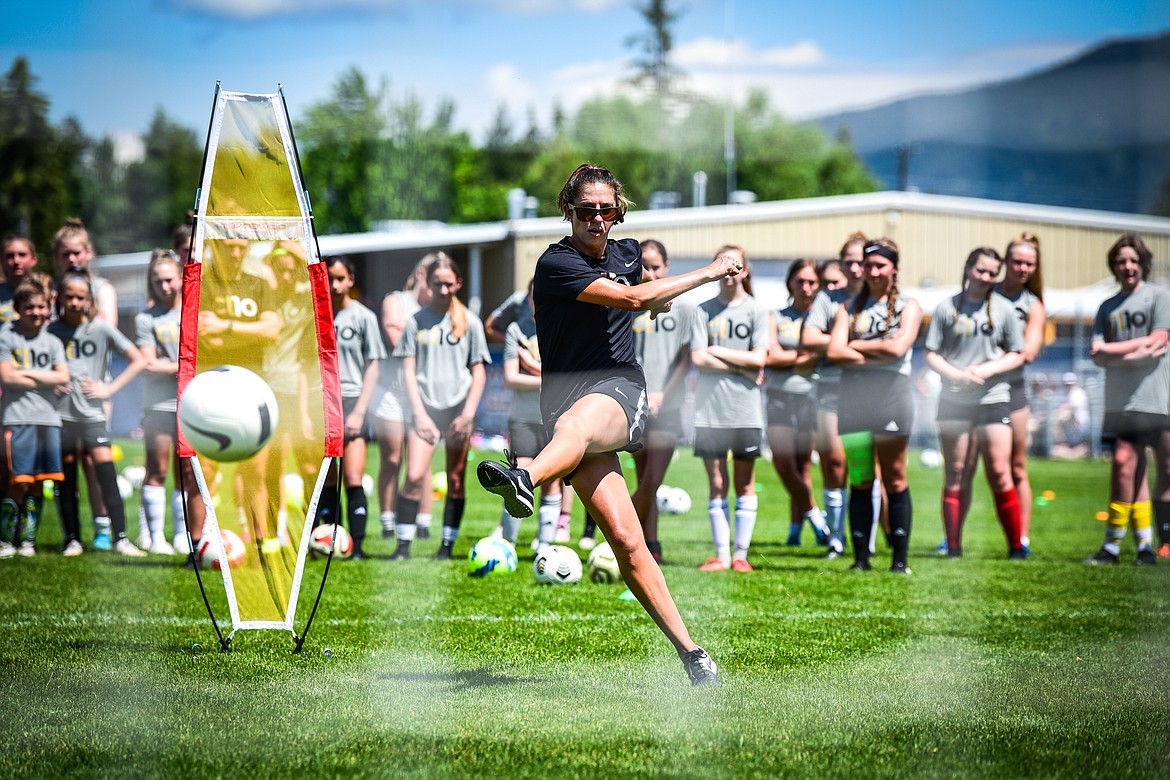 Carli Lloyd demonstrates a drill to attendees of her CL10 Soccer Clinic at Flip Darling Memorial Field at Columbia Falls High School on Saturday, July 2. Lloyd is a former American professional soccer player; a two-time Olympic gold medalist; two-time FIFA Women's World Cup champion; two-time FIFA Player of the Year and a four-time Olympian. (Casey Kreider/Daily Inter Lake)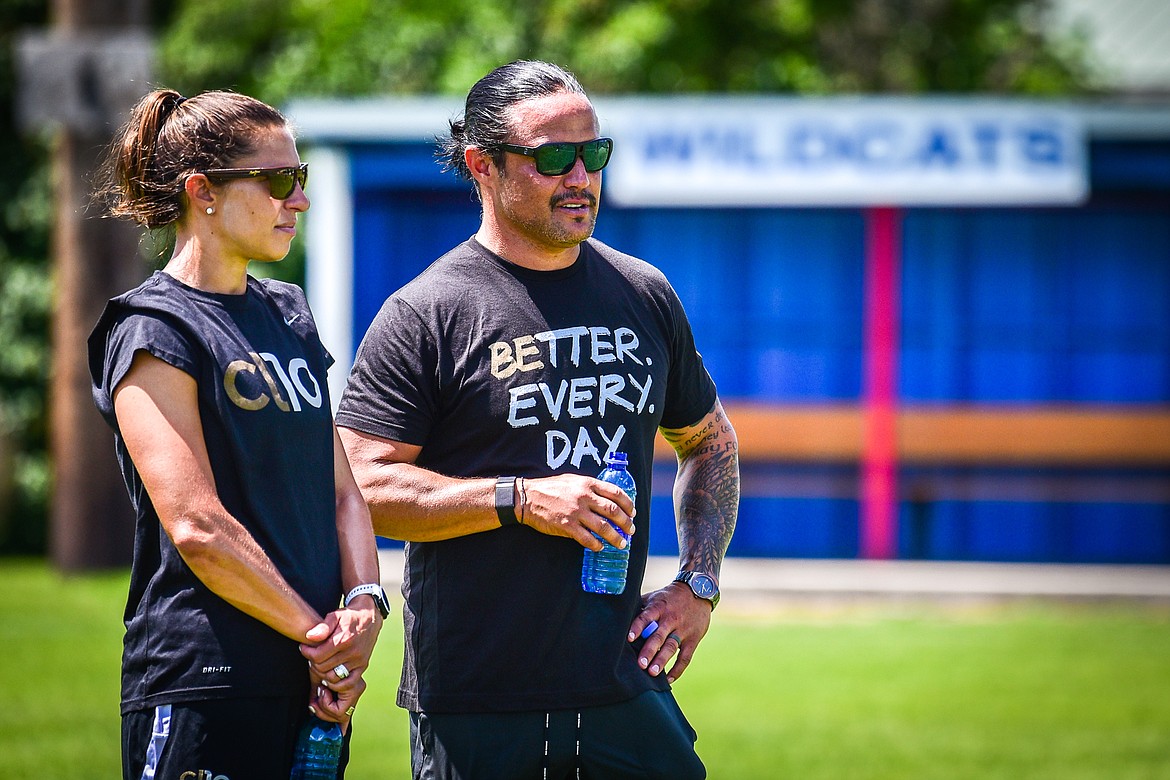 Carli Lloyd and Columbia Falls High School boys head soccer coach O'Brien Byrd talk and watch drills during Lloyd's CL10 Soccer Clinic at Flip Darling Memorial Field in Columbia Falls on Saturday, July 2. Lloyd is a former American professional soccer player; a two-time Olympic gold medalist; two-time FIFA Women's World Cup champion; two-time FIFA Player of the Year and a four-time Olympian. (Casey Kreider/Daily Inter Lake)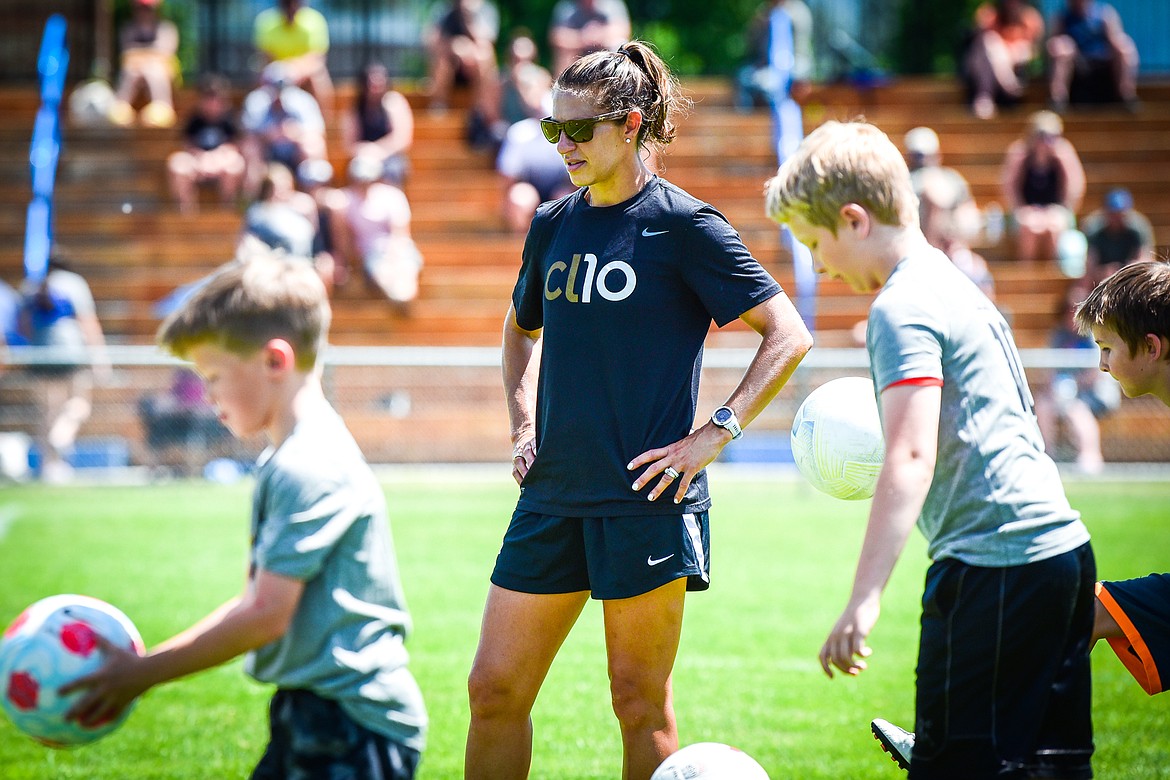 Carli Lloyd watches as kids perform a drill at her CL10 Soccer Clinic at Flip Darling Memorial Field at Columbia Falls High School on Saturday, July 2. Lloyd is a former American professional soccer player; a two-time Olympic gold medalist; two-time FIFA Women's World Cup champion; two-time FIFA Player of the Year and a four-time Olympian. (Casey Kreider/Daily Inter Lake)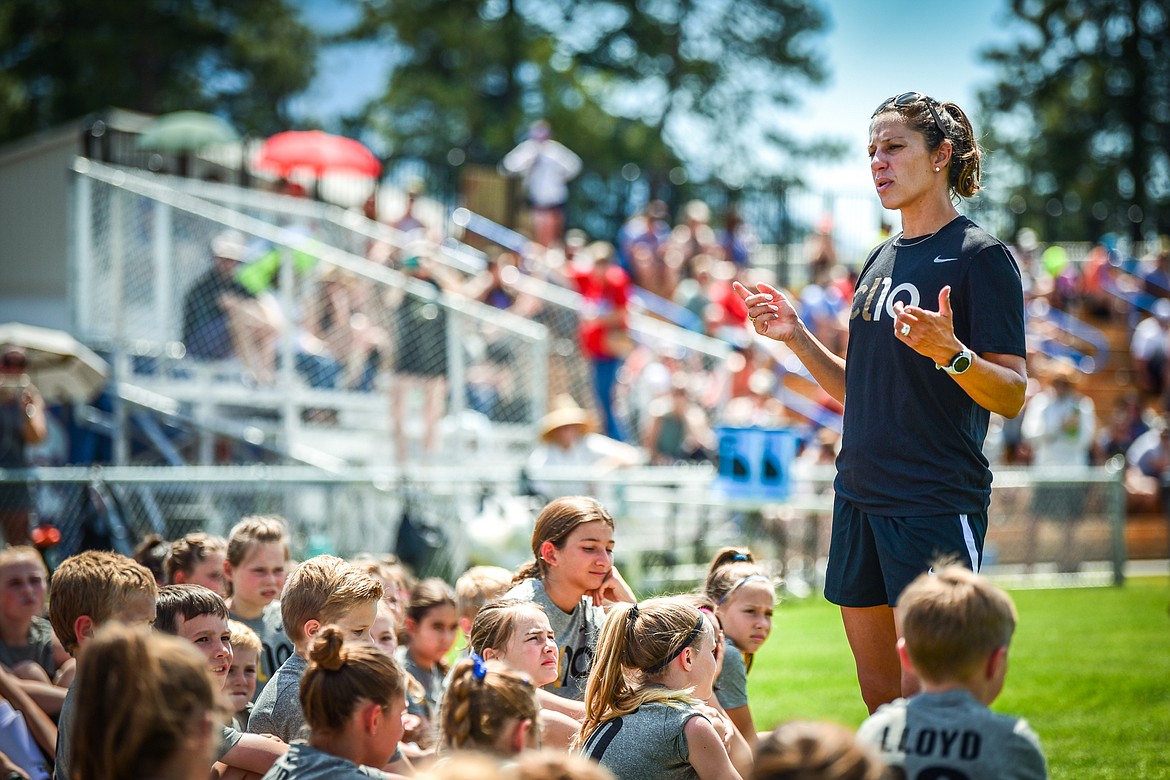 Carli Lloyd talks to kids at her CL10 Soccer Clinic at Flip Darling Memorial Field at Columbia Falls High School on Saturday, July 2. Lloyd is a former American professional soccer player; a two-time Olympic gold medalist; two-time FIFA Women's World Cup champion; two-time FIFA Player of the Year and a four-time Olympian. (Casey Kreider/Daily Inter Lake)
An attendee takes a shot on goal during a drill at Carli Lloyd's CL10 Soccer Clinic at Flip Darling Memorial Field at Columbia Falls High School on Saturday, July 2. Lloyd is a former American professional soccer player; a two-time Olympic gold medalist; two-time FIFA Women's World Cup champion; two-time FIFA Player of the Year and a four-time Olympian. (Casey Kreider/Daily Inter Lake)
Previous
Next
by
KATIE BROWN
Daily Inter Lake
|
July 2, 2022 11:35 PM
COLUMBIA FALLS — Carli Lloyd held court at Flip Darling Memorial Field in Columbia Falls on Saturday for the first-ever CL10 Soccer Clinic held in Montana.
Yes, that Carli Lloyd. The two-time Olympic gold medalist, two-time FIFA Women's World Cup champion, two-time FIFA Player of the Year and four-time Olympian Carli Lloyd.
Columbia Falls boys soccer coach O'Brien Byrd struck up a friendship with Lloyd at the 2015 World Cup and asked her for years when she would have a clinic in western Montana.
But the timing had to be right. Try as she may, with her playing schedule and other commitments as a pro soccer player, Lloyd couldn't make it work, but Byrd continued giving her the hard sell on coming to Montana.
And then things finally fell into place.
Lloyd, arguably the most impactful big-game player in national team history and certainly one of the most decorated, played her final game for the USWNT on October 26, 2021.
"I kept telling him [Byrd], 'Look, I'll come out here. I'll make it happen. But I wanna be able to enjoy myself. So I want to come out here when I'm retired.' And that is exactly what I'm doing," Lloyd said. "I'm eating some barbecue, having some nice cocktails and doing things that I haven't been able to do because I don't want to risk injury."
Byrd wasn't sure how it would happen, but Lloyd kept her word.
"She got a hold of me in December and she said, 'Hey, we booked a VRBO. Let's do July 2nd, 2022.' I was like, 'Oh my gosh.' So actually honestly, after she said yes, the rest was pretty easy."
Lloyd and her staff coached a total of 360 players from ages 8-18 in three sessions on Saturday.
Participants were split into groups by age and rotated through the different elements, with Lloyd occasionally demonstrating a few skills as an example.
Addressing the parents and guardians of the players during the midday session, Lloyd outlined several things she hoped to accomplish during the camp and thanked everyone who came.
"My goal is to take them through skills and drills that I did while I was playing and training," she said.
At the end of the session, Lloyd imparted knowledge she gained from her years as a high-level player, and then took questions from the attendees, all eager to pick the brain of the American soccer legend.
One bold young man asked, "Who's better? You or [Lionel] Messi?"
Lloyd chuckled, but took it in stride and responded that Messi was better, and that there was no one else close to his level.
Montana isn't a hotbed of professional sports and school-age athletes don't have access to the same opportunities that those in larger cities do. The CL10 clinic provides that and then some to soccer players across the state.
"It's a really special opportunity, especially for Montana kids, not just Flathead Valley kids," Byrd said, and noted there were kids there from Billings, Great Falls, Bozeman, Helena and Missoula. "It's more special for these kids because we live in small-town Montana, all of us do. And they certainly watch these amazing athletes on TV and in World Cups and in the Olympics, just like everybody else. But here we are with a great chance to be around someone like that. It's pretty epic."
Soccer is rapidly growing in popularity in the valley for high school and club teams. Whitefish is coming off its fourth straight boys state A title, and the Glacier girls won their first state championship in 2020. Byrd's Wildcats were runners-up to Whitefish in the championship game the last two years and still have the horses to make another run to the chipper.
"One of the big things that O'Brien said is, this is a great opportunity for all these kids here," Lloyd said. "And that's what I said – I want to come and I wanna put on a great clinic and you know, just help inspire."
A visit from someone of Lloyd's caliber benefits everyone and is a sign of the progression of Montana's soccer culture.
"I've gotta plug Columbia Falls," Byrd said. "It's pretty cool that when she finally came out here, it was here. She took a look around our facility yesterday and said that as far as high school facilities go, this is really, really awesome."
The CL10 clinic was previously held in Lloyd's home state of New Jersey and in Dallas. Her playing schedule made it tough to make time for doing the clinics more often, but Lloyd says now that she's retired, she's utilizing her points of contact in different places and turning her clinic stops into road trips.
That's what Lloyd and her crew did on their way out to Montana. They loaded up into a motorcoach and made stops along the way.
"It's been great," Lloyd said. "Honestly, I love it here. We've toured around South Dakota, Wyoming, Montana, and it's been spectacular."
Speaking of retirement, Lloyd is looking forward to getting home and relaxing poolside after her next clinic in New Jersey.
"Retirement has been great," Lloyd said. "I've been at peace with the decision. The crazy thing is I've been busier since I've retired. I really have not stopped since I retired in November of 2021. I've been able to spend more time with my husband, friends, family, travel, do things, and it's been amazing."
And maybe she'll be back again next year.
Recent Headlines
---