Airport expansion to accommodate 20-plus years of growth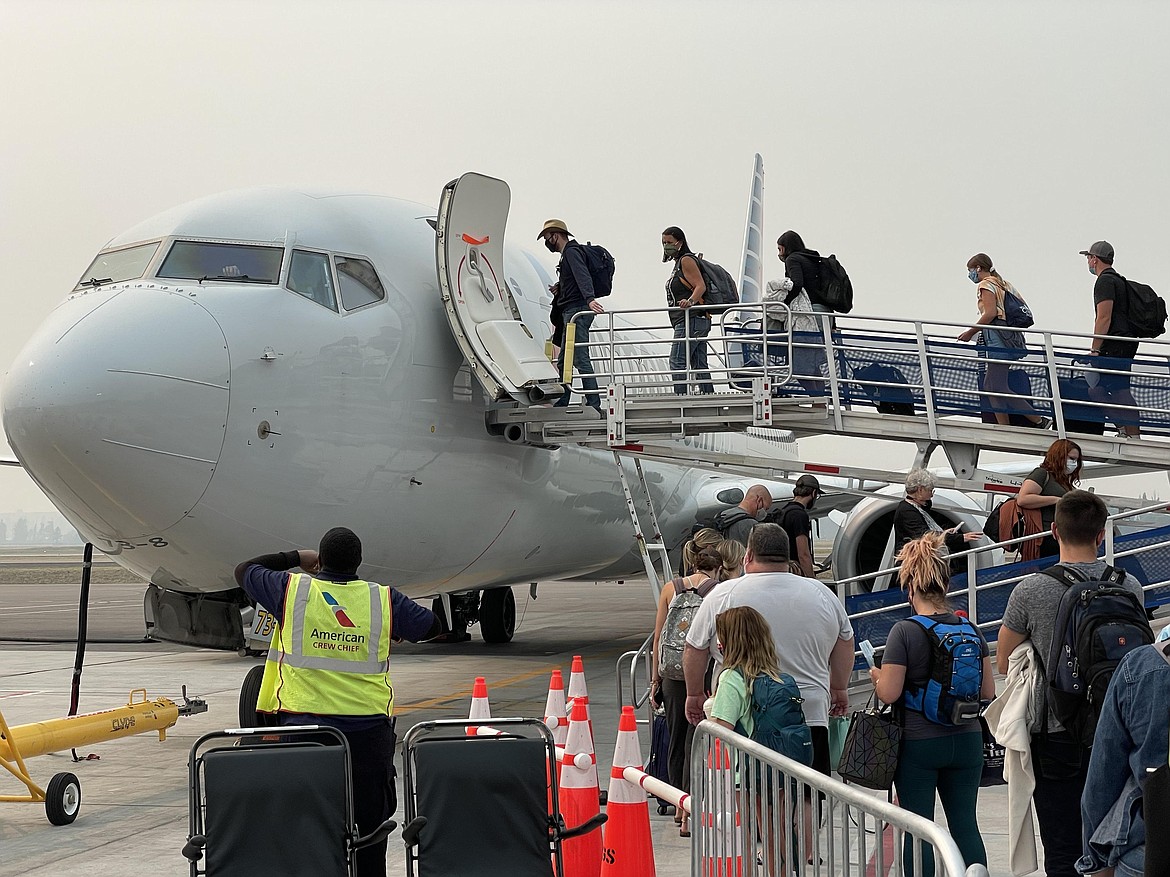 Passengers load an aircraft at Glacier Park International Airport in Kalispell in this 2021 file photo. (Matt Baldwin/Daily Inter Lake FILE)
by
SUMMER ZALESKY Daily Inter Lake
|
July 3, 2022 12:00 AM
A $115 million expansion project underway at Glacier Park International Airport is an indication of the region's growing population and popularity as a tourist destination. And while the Covid-19 pandemic put the effort on hold in 2020, as air travel resumes and visitation to the valley soars again, the project is rapidly moving forward.
Top of mind for airport director Rob Ratkowski and his team is creating a more efficient space.
"In 2004, we had 160,000 in-plane passengers. This year, we will see 450,000. We take that seasonality and summer peak very seriously, and we are making that the design standard for the new space. We want the community to have a good facility."
Current complications at the airport include significant congestion and limited seating in the terminal, which create a crowded first and last impression of the Flathead Valley for passengers, Ratkowski said. Limited aircraft parking and gate sharing is causing delays and logistical issues between carriers, and there is no headroom for airline and non-airline companies to boost revenue.
The expansion project is focused on developing the airport's core infrastructure and growing functional areas to accommodate 20-plus years of growth.
"We're not just bumping for more space," Ratkowski said. "After this, we can do efficient rapid gate expansion. If we need to crank out a little $15-$20 million gate project, we can build that in later."
"We want to vastly improve the passenger experience," Ratkowski continued. " It will look great and feel great. We'll have a full service bar and restaurant, gift shop, coffee shop and more vehicle and aircraft parking. Everything will be bigger."
While it is typical for the summer season to see an influx of passengers, Ratkowski and his team analyzed a new trend last year.
"Last year, summer tourism leveled off and we saw huge gains in the off-season. We actually had our parking lot overflow on a random weekend in March," he said.
According to Ratkowski, the increase of airplane passengers in the off-season reveals a shift in the local economy.
"New residents are using the airport during the off-season," he said.
IMAGES OF the new facilities reveal a distinctly Montana design with elements of stone, wood, steel and glass that allows for natural light and vistas of the mountains.
Phase one of the project spans June 2021 until summer of 2024. Phase two will overlap in the summer of 2023 and continue into fall of 2024.
"We are on budget and on schedule. Phase one is 27% complete," Ratkowski said. "We should be done in fall of 2024, unless we get another windfall of federal money which would move the project back."
With the expansion of the airport, airlines now have the capacity to add new routes. Airlines at Glacier Park International include Sun Country, United, Delta, American, Alaska, Allegiant, and Frontier. However, staffing shortages and fuel prices continue to cause issues for carriers.
"Oil is expensive and airlines are still scrambling to get pilots back," Ratkowski said.
JetBlue recently pulled out of Glacier Park International, dropping two flights to New York. Other direct flights, such as to Atlanta and Charlotte, have also been dropped. However, Ratkowski sees carriers reassigning aircraft to historic business routes, which they anticipate will create strong off-season traffic.
Glacier Park International currently ranks second in the state for passenger traffic behind Bozeman Yellowstone International Airport.
"I have a lot of faith that our industry is going to be just fine," Ratkowski stated. "People want to be face to face, and when you need an airplane there is no other tool that can satisfy that need."
Business reporter Summer Zalesky can be reached at szalesky@dailyinterlake.com
Recent Headlines
---