Fourth of July weekend offers a wide range of fun activities around the Flathead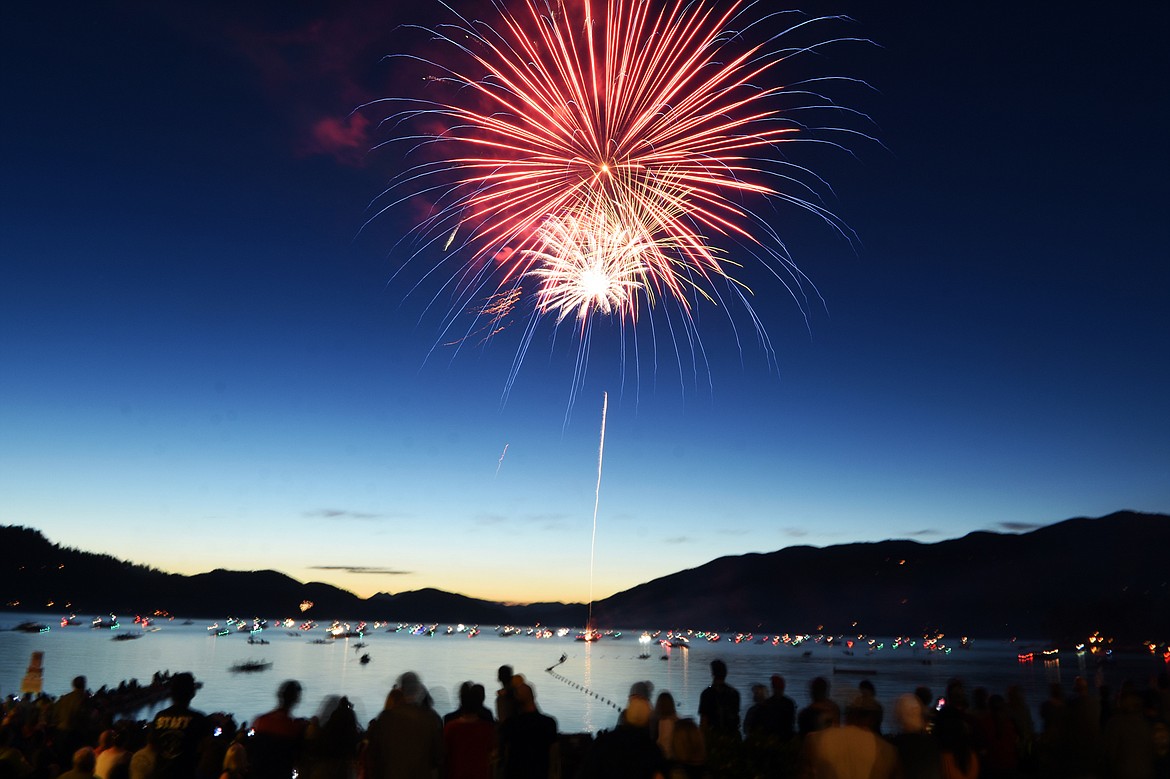 Thousands gathered at Whitefish's City Beach to see the annual Fourth of July fireworks display over Whitefish Lake on July 4, 2018. (Heidi Desch/Whitefish Pilot)
by
CAROL MARINO
Daily Inter Lake
|
July 4, 2022 12:00 AM
There are plenty of festivities and fun community events planned on and around the Fourth of July weekend. Here's a look at what's happening in the Flathead Valley and beyond.
Kalispell's Fourth of July Parade starts at 10 a.m. downtown and is being sponsored by the Flathead Marines.
For more information or for a Parade Entry application, email info@flatheadmarines.com. There will be a $40 entry fee to help cover the expenses.
If you or someone you know wishes to volunteer to help the day of the parade the Flathead Marines would appreciate any assistance. Call 406-249-2448 and speak with Patrick.
Following the parade, bring your friends and family over to the Conrad Mansion Museum for its annual Fourth of July Old Fashioned Ice Cream Social from 11 a.m. to 2 p.m. (or until the ice cream runs out).
The event is open to the entire community with free ice cream donated by Kalispell Kreamery.
Along with the ice cream, there will be food trucks, lemonade, and $5 self-guided tours of the Conrad Mansion's interior.
For further information, call the Conrad Mansion at 406-755-2166 or visit the website www.conradmansion.com.
From May 15 to Oct. 15 the Conrad Mansion is open for tours from 9 a.m. to 4 p.m.
Area 406 Music & Arts Festival returns to the Flathead County Fairgrounds 6 p.m. to midnight Friday, July 1, and Saturday, July 2, for two days of dance music for those 18 and older.
The 2022 edition features nationally known electronic dance music and hip-hop acts including Megan Hamilton,
Area 406 will feature over 20 of the region's biggest DJs and live acts across three stages, a silent disco, food trucks, a vendor village, live art installations, aerial acrobatics and more. On-site camping is available.
Tickets $120 in advance and $150 the day of the show, available at www.area406festival.com/tickets
Bring the family to Bigfork's Fourth of July Parade and celebration. This year's parade theme is "Community First." The parade begins at noon with members of the military. They will pause at the Bigfork Inn to present colors while the National Anthem is sung.
Parking for the parade will be in the field at the intersection of Montana 35 and Montana 82. From this parking area only, free shuttle service is available to downtown Bigfork from 8 a.m. to 5 p.m. For everyone to have a clear view of the parade, there will be no cars allowed downtown after 8 a.m. on the Fourth.
The 43rd annual Whitefish Arts Festival takes place over Fourth of July weekend in Depot Park and is sponsored by Whitefish Christian Academy.
The festival maintains a long tradition of high quality arts and fine crafts by artists from across the country. There is always a variety of Montana-style art available.
Admission to the Arts Festival is free and hours are as follows:
Friday, July 1, 10 a.m. to 6 p.m.
Saturday, July 2, 10 a.m. to 6 p.m.
Sunday, July 3, 10 a.m. to 4 p.m.
The Whitefish Chamber's annual Fourth of July spectacular is launched from a floating barge 300 feet off the shore of Whitefish City Beach, on Whitefish Lake.
The fireworks display begins at dusk (appoximately 10:30 p.m.), but City Beach will be busy all day long with pre-fireworks activity, including kayak and paddleboard rentals, a variety of food and snack vendors, and plenty of space to spread out and relax.
Parking at (and near) City Beach is extremely limited, so the Chamber suggests that you walk, bike or take the free shuttle bus service that will run between downtown Whitefish and City Beach from 7 to 11:30 p.m. on the Fourth. The buses will load on Central Avenue, in front of the O'Shaughnessy Performing Arts Center.
Traffic control will be set up by 7 p.m. on roads surrounding the beach area. The boat launch at City
Beach as well as the Prevention and Decontamination Station will close at 7 p.m. Decontamination
must be performed prior to launching in Whitefish Lake for watercraft that have ballast tanks or bags. The boat launch at Whitefish Lake State Park will close at 9 p.m.
​​The Lakeside Fourth of July Fireworks Show is a touchstone summer event on Flathead Lake and an annual family tradition for many generations. This unique show launched from a floating barge off the shore of Lakeside brings excitement to both locals and visitors alike.
The fireworks show begins at 11 p.m. and can be viewed from Lakeside Marina or from watercraft on Flathead Lake.
Polson's Fourth of July fireworks show will take place from 10 to 11 p.m. Saturday, July 2, at the Polson Fairgrounds (320 Regatta Road) this year.
Polson's annual parade will still take place downtown from 11 a.m. to 2 p.m. July 4.
For over 100 years, Troy, Montana (population 950) has thrown a traditional Fourth of July celebration. Each year it has grown and now more than 6,000 people visit the town annually to take part in this free, family-friendly event.
The celebration includes a parade at 11 a.m., a Cruisers Car Show at noon, food vendors, craft vendors, live music all day, and the largest fireworks display in the region. There will be a variety of musicians throughout the day. It all takes place in the beautiful setting of Troy's Roosevelt Park on the Kootenai River.
The fireworks show gets underway at 11 p.m. Bus service will be available starting after the parade. Pick up and drop off will be at Morrison Elementary, Troy High School, Troy Activity Center, and Roosevelt Park.
Recent Headlines
---