Troy graduate honored for hostage rescue in Africa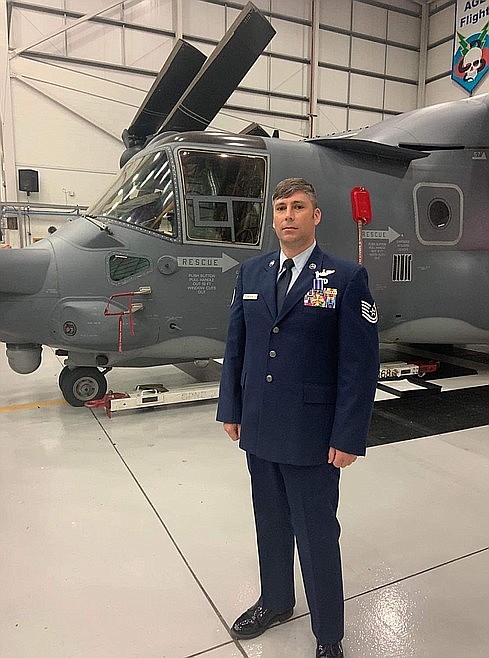 U.S. Air Force Technical Sgt. Kris Goyen received the prestigious Distinguished Flying Cross for his work in helping bring rescue an American citizen who was taken by armed kidnappers. (Courtesy photo)
by
SCOTT SHINDLEDECKER
Hagadone News Network
|
July 8, 2022 12:00 AM
They used to call him "Gump" but now they can call him an American hero.
Kris Goyen, 37, is a graduate of Troy High School. He and his family moved from Oregon when he was 2.
He is currently a Technical Sgt. in the U.S. Air Force and was recently honored for his actions in the 2020 rescue of an American citizen taken hostage by armed kidnappers in Niger, a country located in West Africa.
Goyen recently received the Distinguished Flying Cross for his work in the rescue effort. According to the Distinguished Flying Cross Society, it has a little more than 6,200 members who have received the medal.
Goyen was part of an elite Special Forces team that rescued Philipe Nathan Walton on Oct. 31, 2020.
Walton, according to a story in militarytimes.com, was taken hostage by a group of armed men. Walton lived with his wife and young daughter on a farm near Massalata, a small village close to the border with Nigeria. The kidnappers demanded a ransom from Walton's father.
Niger and Nigeria share a long border. More than three-fourths of Niger, which is north of Nigeria, is covered by the Sahara Desert, and the Sahel, which has become a hotbed of Islamic militants.
But the kidnappers' efforts were thwarted by the team that included elite commandos from the Army, Air Force, Marines and Navy SEALs.
According to an Oct. 31, 2020 story on abcnews.go.com, President Donald Trump called the rescue mission a "big win for our very elite U.S. Special Forces" in a tweet and the Pentagon lauded the rescue mission in a statement.
Secretary of State Mike Pompeo said at the time: "Thanks to the extraordinary courage and capabilities of our military, the support of our intelligence professionals, and our diplomatic efforts, the hostage will be reunited with his family. We will never abandon any American taken hostage."
Goyen, 37, is a 2003 Troy High School graduate who played football for the Trojans. He earned 6-B District honors as a defensive end in 2002.
"I'm just doing my job," Goyen said in a phone interview Saturday. "I'm not one to be chasing medals.
Goyen said everyone involved in the mission was all business, but after it was completed, the feelings changed.
"We were all very excited and there is a lot of satisfaction at getting done without any of us or the hostage getting hurt," Goyen said.
His proud mother, Bonnie Hobbs Goyen, said everyone called Kris "Gump" after the character Forrest Gump in the 1994 movie of the same name because of his easygoing nature.
"When he'd get a sack or make a big play, they'd even call him "Gump" over the loudspeaker," Bonnie said with fond recollection.
But the easygoing teen who'd help neighbors bale and stack hay in the summer is now a man who puts his life on the line for his country and its citizens.
Goyen went to Rocky Mountain College in Billings on a football scholarship. He studied aviation and then joined the Air Force.
"I'm very proud of him," Bonnie said. "He's very humble, and he says he's just doing the job he was trained to do.
"But it does make me nervous only just now knowing his life was in danger."
In the narrative that accompanied Goyen's medal, it read in part:
"Air Force Technical Sgt. Kristopher W. Goyen distinguished himself by extraordinary achievement while participating in aerial flight as CV-22B Special Missions Aviator on Oct. 31, 2020. This operation was the longest distance hostage rescue conducted under a single period of darkness in Department of Defense history and was completed in 48 hours from the first notification.
"With minimal time prior to departure to develop a thorough plan and account for all contingencies, Sgt. Goyen used all available resources and aided his crew while in flight to solve the complex problem of traversing through desolate airspace and terrain. Without the use of aircraft navigation or cockpit flight displays, Sgt. Goyen assisted in performing a non-standard aerial refueling and executing a night formation landing, guided by his wingman, into marginal weather and visibility conditions. After his disabled aircraft landed at a remote base, he rapidly transferred minimum force equipment and an operable weapon to his mission-capable wingman, expediting their departure to support the rescue operation."
The transfer of the operable weapon was one of many keys to the mission's success.
"The mount for a .50 caliber gun on one of the aircraft had broken, so I took the gun and mount, which weighs about 220 pounds, and ran to it so it could be replaced," Goyen said.
Goyen covered 400 yards in a matter of seconds with the gun that was used to provide defensive cover when the team was being shot at during the rescue.
"While we were on the Osprey, we were dealing with not having instrumentation, no bathroom, hypoxia, but there was a lot of teamwork between the highest experienced crew members to get it done.
"Once you sit down and think about it you say to yourself, 'That was really frightening.'"
Goyen is scheduled to return to the U.S. today and later, to Montana. It's a day his mother is looking forward to.
"When he does return to Montana, he camps for a week, regroups and then goes back at it," Bonnie said. "I just wish I could see him more."
Bonnie perfectly summed up how most people likely feel about Kris.
"He's quiet, but he's a pretty amazing kid."
Recent Headlines
---