Whitefish Mountain Resort sees progress on new chairlift installation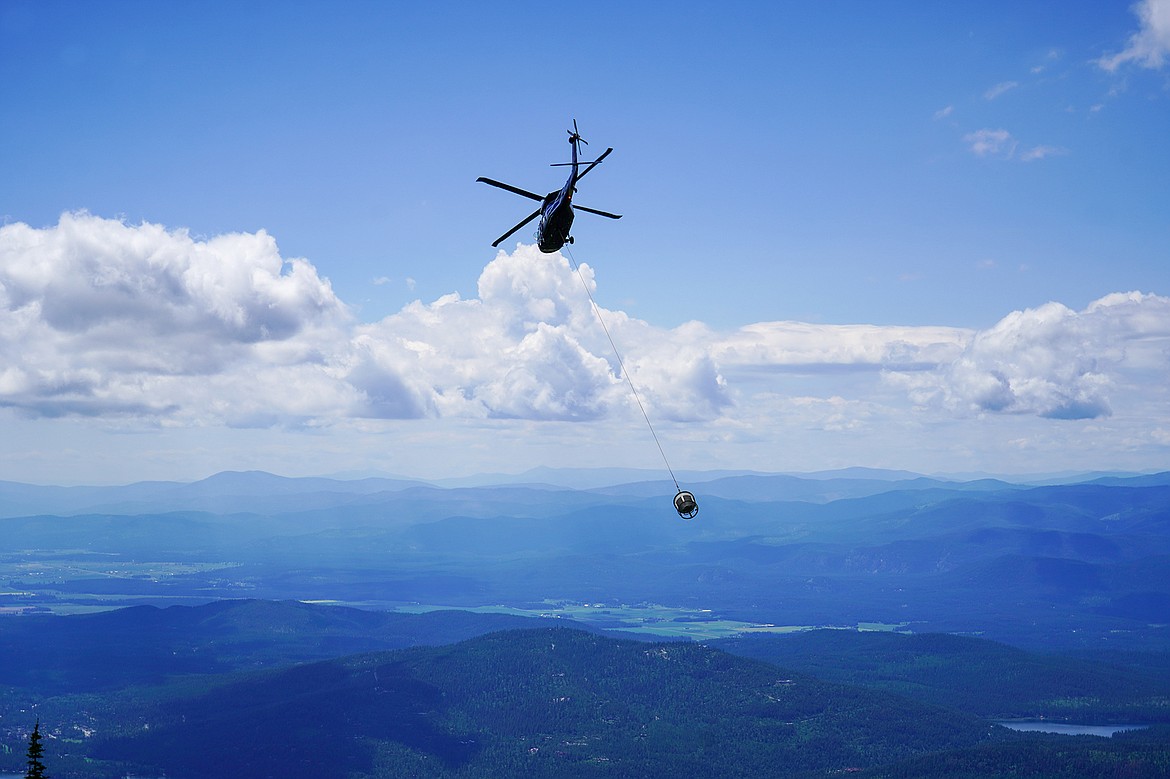 A Black Hawk helicopter hauls a bucket of wet concrete to the top of the new Chair 4 lift line at Whitefish Mountain Resort on Friday, July 8. (Photo courtesy of Whitefish Mountain Resort)
by
WHITNEY ENGLAND
Whitefish Pilot
|
July 17, 2022 12:00 AM
Work is underway on installing the new six-person chairlift at Whitefish Mountain Resort.
Crews recently closed a large portion of the mountain as a Black Hawk helicopter hauled wet concrete and concrete forms to the top of Inspiration Ridge. Forms were set and workers poured concrete that will become the top terminal of the new Chair 4 that is planned to open for the 2022-23 winter season.
The second day of concrete work for the new chair was set to take place Thursday.
"The chopper will be moving concrete forms from the Fir parking lot to several tower placements on the mountain," Whitefish Mountain Resort officials said.
The new Chair 4, dubbed the Snow Ghost Express, will provide direct access to the upper terrain at Whitefish Mountain Resort and help alleviate traffic on other lifts, according to the resort. As most of the parking is located at the Base Lodge area, the new six-pack lift will take guests up the mountain quicker without the need to ride beginner lift Chair 6 to reach Chair 1 for transport to the summit. A trip on the new lift will last 7 minutes and cover 2,200 vertical feet.
The old Chair 4 was a much smaller lift that crews recently removed; that chair was installed in 1978 before the Base Lodge was built.
The company building the Snow Ghost Express lift line is Leitner-Poma of America, headquartered in Grand Junction, Colorado, and has been charged with several chairlift and gondola projects across the country for many years. Leitner-Poma has been working on the lift for several months and poured concrete foundations for several of the 25 towers that will support the new lift.
As work continues, partial closures of the mountain and some summer activities could occur.
The resort recently opened Chair 1 mountain biking trails for advanced and expert riders. The resort says that intermediate trails from the summit will require significant reroutes and will open as soon as possible, but likely not until August.
Recent Headlines
---