Creston woman recognized by elite club for senior dressage riders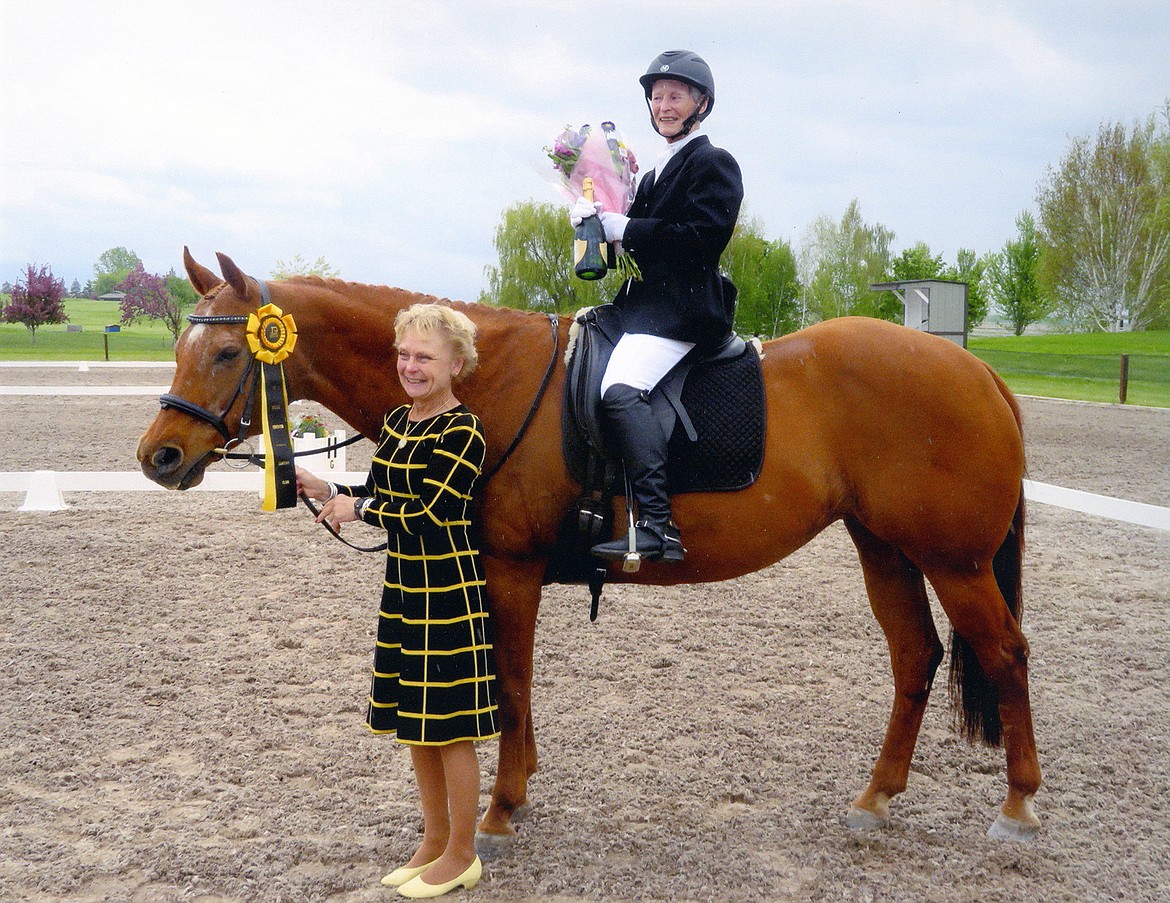 Marlene Mims was recently inducted into the Century Club of the Dressage Foundation, an elite, nationally recognized club for senior dressage riders. She is the first person in Montana to achieve the honor. (Courtesy photo)
by
Summer Zalesky Daily Inter Lake
|
July 22, 2022 12:00 AM
Marlene Mims has always loved horses.
"When I was eight years old, my dad would find people who had a horse, and he would take me to ride their horse in trade for a bale of hay," Mims said. "And my dad did that every Saturday, and I would ride other people's horses."
Later she worked at a boarding stable where as a teenager she would take people on trail rides. "I didn't get my own horse until I was 17," Mims said. "That was my first horse. And then I had horses all my life."
Mims, 80, was recently inducted into the Century Club of the Dressage Foundation, an elite, nationally recognized club for senior dressage riders. She is the first person in Montana to achieve the honor.
The Century Club started in 1996 to encourage riders 65 or older to continue their practice. To become a member, riders and their horses must have a combined age of 100 years or more, compete at a show or event, and be scored by a dressage judge or professional.
Mims and her horse Good Friday Eclipse, known as Friday, participated in the first-level dressage competition at Rebecca Farms and won her class. With over 500 members in the Century Club, Mims was surprised to find out she was the only member in Montana.
"[The Dressage Foundation] was amazed. They looked in all their records and couldn't find anybody else that had done it. It was quite a surprise to me," Mims said.
Though she'd been riding most of her life, it wasn't until 2008 that Mims, of Creston, discovered the sport of dressage.
Considered the "highest expression of horse training" by the International Equestrian Federation, dressage is where a horse and rider are expected to perform from memory a series of predetermined movements. Both a method of training horses and a competitive sport, competitions are held at all levels from amateur to the Olympic Games.
"I came up to Polson and was staying in a barn and I saw these people doing this strange stuff. And I said 'What are they doing?' And they said, 'Well, that's dressage,'" she recalls.
Shortly after, Mims started with a trainer to learn the basics. After moving to Bigfork, she trained with Linda Snyder who has been Mim's greatest supporter.
"If it hadn't been for Linda, I would not have done the Century Club because I was thinking of chickening out, but Linda said, 'You can do it,'" Mims said.
Mims participated in her last competition riding on June 4 at the Rebecca Farm Dressage Show. After winning her class, she was honored by friends and family as well as professionals.
"I will never forget what the judge wrote on the back of my test," Mims said. "She said 'It was an honor to judge your ride. You are an inspiration to all of us riders. Thank you.' And I cried. This was my swan song."
Though Mims has finished competing, she loves working as the manager at Glacier View Ranch and continues to ride her horse Friday at least four times per week. According to Mims, horseback riding is a therapeutic and aerobic exercise that stimulates several muscle groups.
"I am in excellent health. I have all my original parts. Nothing artificial," she laughed.
When she's not riding, Mims loves reading, doing puzzles and working in the yard.
"But my main thing is the horse and my children," she said. "I have four children that are all grown, of course, and they say, 'Mom, keep riding.'"
Mims has gained mountains of wisdom in her many years of horsemanship and the advice she hopes to pass on to other riders is to never give up.
"Follow through on your dream," she said. "It's there for you, but you have to have the will and the initiative to follow through."
The lessons Mims has learned about patience and perseverance through her friendship and bond with horses have made every challenge worth it.
"I will ride as long as I can," she said. "I will not give it up. It's my passion. Horses are my passion."
Reporter Summer Zalesky may be reached at szalesky@dailyinterlake.com.
Recent Headlines
---