Greater Valley Health provides myriad of services for patients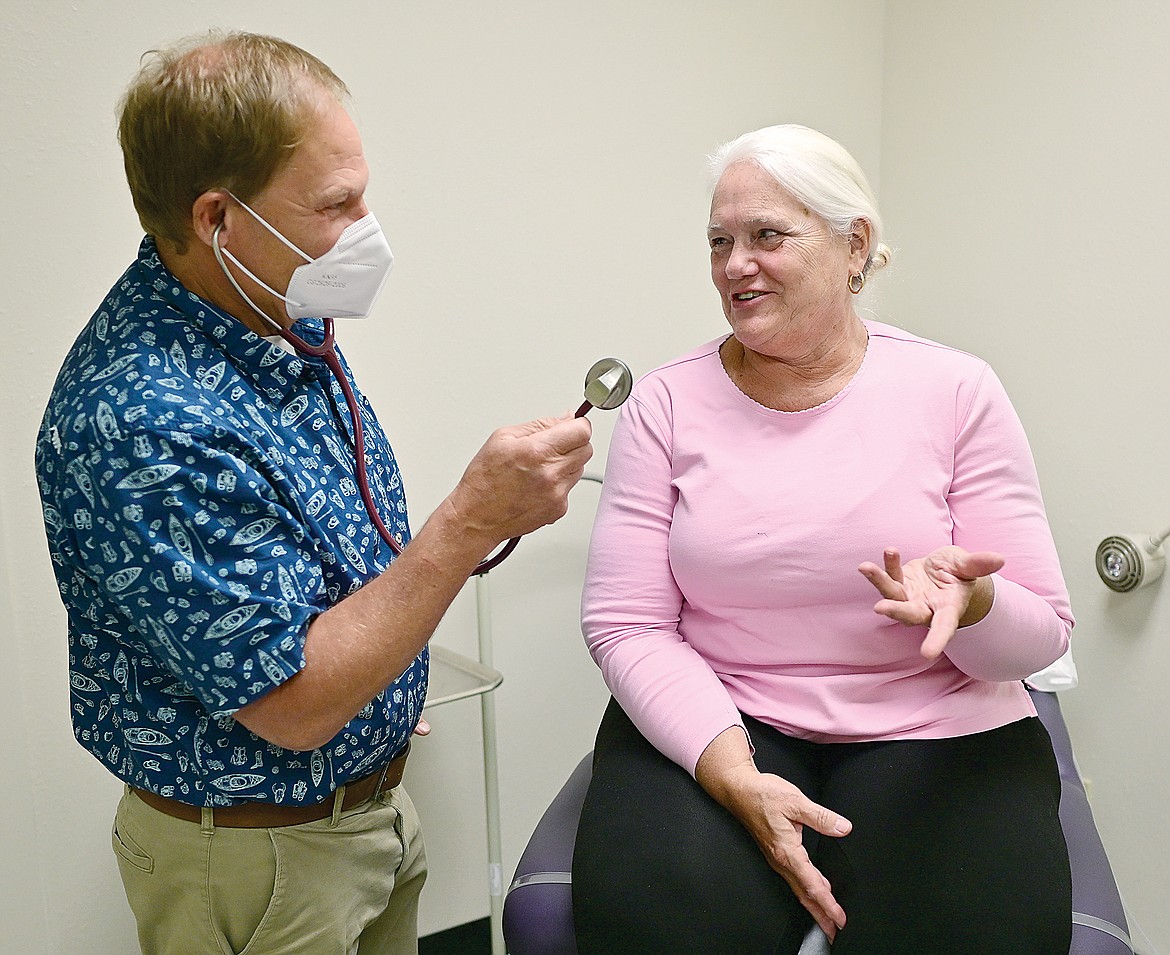 Dr. John Tremper chats with patient Deanna McAtee at the Greater Valley Health Clinic Hungry Horse. (Chris Peterson/Hungry Horse News)
by
CHRIS PETERSON
Hungry Horse News
|
July 24, 2022 12:00 AM
You can visit a dentist. A doctor. A psychiatrist and now, a pharmacist in two valley locations. It also doesn't turn away anyone based on their ability to pay.
Since parting ways with Flathead County a year ago, the nonprofit Greater Valley Health is seeing exponential growth, CEO Mary Sterhan said last week.
The split with the county was mutually agreed upon. The county wanted out of the health clinic business and the clinic wanted more flexibility to make, and adapt to changes.
The service, however, "has essentially stayed the same," Sterhan said.
"We still work very closely with the (county) health department," Sterhan, a Columbia Falls native, said.
The center was a critical component of providing healthcare and vaccinations during the pandemic, Sterhan noted.
The challenge now is getting patients back into the routine of regular checkups. Greater Valley Health runs clinics in Hungry Horse and Kalispell, serving about 8,000 patients, Sterhan said.
While it does provide healthcare to anyone who needs it, there is a misconception that a person has to be of lower income to visit a doctor or therapist at one of its clinics — anyone can visit a clinic and it does accept all types of commercial insurance.
Still, payment plans and loan forgiveness are part of the center's healthcare model.
"That's the core principle of federally qualified health centers," Sterhan said. "We see folks regardless of ability to pay. We will always work with patients."
The center has impressive staff numbers, with four physicians, five mid-level providers like nurse practitioners, four dentists and a host of support staff.
It also provides training for medical students through the Washington, Wyoming, Alaska, Montana and Idaho medical school program.
The clinic also recently acquired Sykes Pharmacies in Kalispell in and Columbia Falls. The Columbia Falls Sykes Pharmacy is located in the Cedar Palace Medical Center.
The pharmacies, like the clinic, go the extra mile for their patients, Sterhan noted. For example, if a patient has a daily prescription regime, the pharmacist will put the pills in blister packs, so patients don't need to keep track of multiple bottles of meds.
Sterhan said the center is now looking at outreach to bring healthcare to more remote locations of the valley, possibly through a mobile facility.
In the longer term, they would like to set up a supporting foundation and eventually, a new Kalispell location.
The center has also expanded to serve school students, with clinics at Evergreen Elementary and Linderman schools.
Sterhan has spent years in the healthcare field. She previously worked at North Valley Hospital as its senior director of quality and Planetree health at the hospital.
It's a philosophy that centers on the well-being of the patient first.
In the post-Covid world, Sterhan said the clinic has been reaching out to its patients directly, as some folks simply stopped going to the doctor for regular checkups during the pandemic.
They're also treating "long haul" Covid patients, whose symptoms stay months, sometimes even years, after contracting the disease.
There is no judgment with any sort of care.
"They're treated respectfully when they come here," Sterhan said, "And that's the difference."
The Kalispell clinic is open five days a week; the Hungry Horse clinic is open Mondays, Tuesdays and Thursdays.
To make an appointment, call the clinic at 406-607-4900.
Recent Headlines
---