ImagineIF staff honored for response to challenged books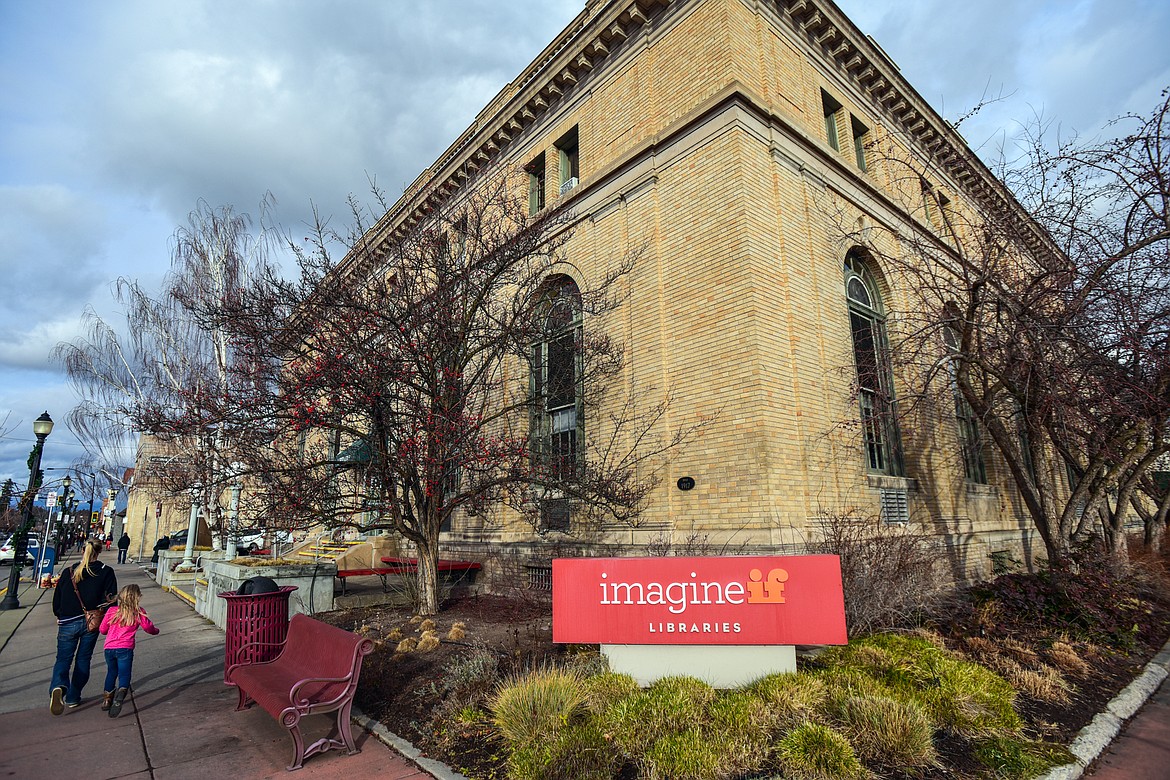 ImagineIF Library in Kalispell on Thursday, Dec. 2. (Casey Kreider/Daily Inter Lake)
Librarians at ImagineIF learned this week that they will receive the Pat Williams Intellectual Freedom Award for their response to challenges against two now controversial books — "Lawn Boy" and "Gender Queer" — next month.
The Montana Library Association will bestow the award on Assistant Director Sean Anderson, Collection Services Librarian Kat Wilson, Teen and Adult Services Librarian Starr White and former interim Director Martha Furman during its Aug. 5 awards ceremony in Missoula.
According to a release from ImagineIF, The Pat Williams Intellectual Freedom Award is conferred upon "an individual or group who has made significant contributions during the past year to the enhancement of First Amendment rights or upon an individual whose body of work over time has made significant contributions to the enhancement of intellectual freedom."
Board trustee Carmen Cuthbertson was the first to challenge the book "Gender Queer" last year — she was appointed to the board by county commissioners earlier this month — which sparked debate over what is deemed appropriate for library shelves. Advocates of their removal said "Gender Queer" and "Lawn Boy" depict obcentities and pedophilia. "Lawn Boy," by Jonathan Evison, is a semi-autobiographical coming-of-age novel and "Gender Queer: A Memoir," by Aia Kobabe, details the author's journey through gender identity.
In February, the board chose to keep "Lawn Boy" in the library's collection, but voted to "indefinitely postpone" a decision on "Gender Queer" until the library can change its policies in a way that would likely allow for removal of the book.
Board Chair Doug Adams said he and his fellow trustees welcomed the award.
"We the trustees are pleased to hear that our library staff has been recognized to be deserving of an award by their peers and their profession, and that we appreciate their passion and enthusiasm," Adams said.
ImagineIF Libraries received several nominations from library staff across the state of Montana, praising the library system for "upholding the freedom to read." Director of Lewis & Clark Library John Finn said the ImagineIF staff remained professional during the challenges and adhered to the precepts that guide librarians.
"They have held up the right to read for all members of the community in an inclusive way," Finn said in a statement. "Patrons in Flathead County should feel proud that they live in a community where their freedom of choice to read what they wish is being upheld by professional librarians and a freedom loving staff."
Anderson said the award makes him very proud of the entire ImagineIF team, adding that everyone has been affected by the controversy surrounding the book challenges. The recognition of the Intellectual Freedom Award is a reminder of "the importance and impact" of their work at the library, he said.
"It obviously feels good to get some recognition, especially since the last year or so has been so difficult. It is an affirmation of our work at ImagineIF, but it's a reminder that we are not the only library handling materials challenges," Anderson said. "If our experience can help offer some direction to others in similar situations, then I'm glad. We're very proud to receive this award, and we will use it as motivation to continue fulfilling our long-standing obligation to provide free and fair access to books and information to all of Flathead County."
Recent Headlines
---