Critical fire weather fans Elmo blaze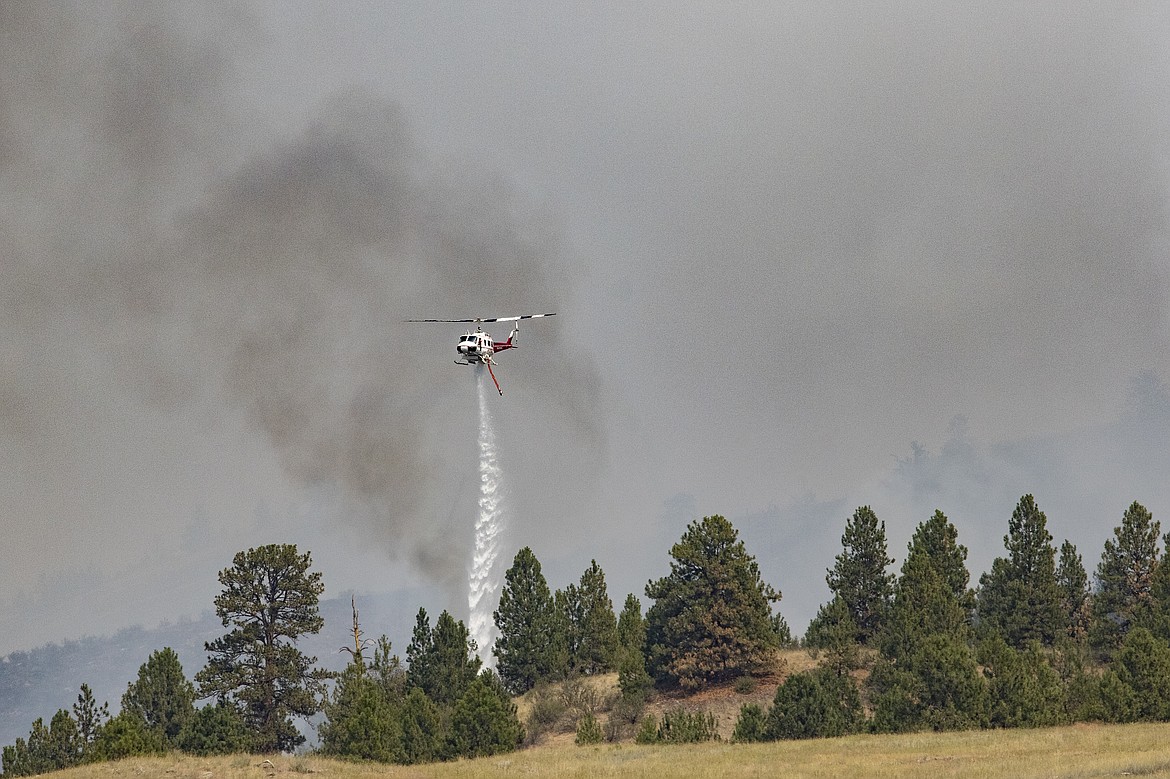 A helicopter drop water on the Elmo Fire burning west of Flathead Lake near Elmo on Saturday, July 30, 2022. (Rob Zolman/Lake County Leader)
by
Daily Inter Lake
|
July 31, 2022 12:00 PM
Dangerous fire weather threatened to fan the Elmo Fire on Sunday as the blaze continued to expand its footprint west of Flathead Lake.
Infrared mapping put the fire at nearly 11,000 acres on Sunday morning, an increase of about 4,000 acres from the previous day. The human-caused blaze started July 29 in grass and quickly expanded into thick timber west of Elmo and north of Montana 28.
A red flag warning was in place Sunday for the Flathead Reservation. Gusty winds, low humidity and an unstable atmosphere were expected to result in critical fire weather through the evening. Northwest winds of 15 to 20 mph, with gusts up to 30 mph, were possible. Relative humidity was between 8% and 15%, with high temperatures climbing into the upper 90s.
The Northern Rockies Coordination Center daily report noted that about 20 structures were threatened by the Elmo Fire, but none had burned as of Saturday.
Evacuation orders along Montana 28 were lifted on Saturday evening and the highway reopened to traffic. Residents near Black Lake and Lake Mary Ronan were advised to be prepared to leave if the fire shifts directions, the Lake County Office of Emergency Management warned.
Big Arm State Park was reopened to campers and visitors Sunday. Lake Mary Ronan State Park remains closed while the area stays under an evacuation notice.
A public meeting will be held Monday at 7 p.m., at the Elmo Pow Wow Grounds on U.S. 93.
Montana Red Cross has opened a shelter at Linderman School, 312 4th Ave. E. in Polson, for those displaced by the fire. 
An estimated 214 firefighters were on the scene. The blaze was being managed as a Type 3 Incident, with a Type 2 team set to arrive Sunday.
On Saturday, fire crews were able to hold the fire north of Montana 28. Smoke jumpers worked the west and east sides of the fire, while heavy machinery worked to build fire lines. The fire was most active on the north and northwest flank, according to a daily report from the CSKT Division of Fire.
Sunday's efforts focused on holding established fire lines and building new fire lines.
An aerial attack was expected to continue Sunday, utilizing aircraft scooping water from Flathead Lake.
The cost thus far to battle the blaze was estimated at $400,000.
Meanwhile, in northern Lincoln County the Weasel Fire cropped up Saturday afternoon. It was estimated at 13.5 acres in a remote area of the Kootenai Forest near Camp Creek and Snowslide Creek.
For the latest fire information visit www.mtfireinfo.org.
Recent Headlines
---