Doctor's personal experience inspires different kind of clinic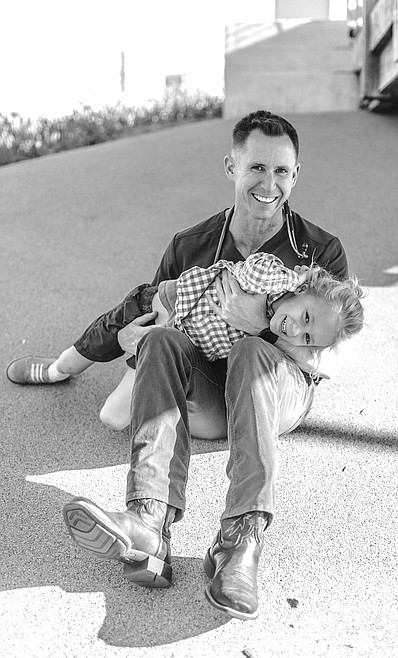 Dr. Daniel Gragert started Bluebird Health to better serve his patients. (Courtesy photo)
by
SUMMER ZALESKY Daily Inter Lake
|
July 31, 2022 12:00 AM
Bluebird Health was conceived out of necessity for Dr. Daniel Gragert to give his patients the kind of care that he, unfortunately, never received.
At the beginning of 2021, as Gragert was considering several job offers with intense hours and high pay in traditional medicine, he received devastating news: a cancer diagnosis. During his treatments for melanoma, Gragert had the misfortune of experiencing the healthcare system as a patient where he often felt unseen and unheard.
"I was so appalled at how inhumane the whole thing was. I just wanted my doctor to call me and he never did. And the whole thing just lacked any kind of humanity. It made me look at how I also practice medicine," Gragert said.
Shortly after his cancer diagnosis, Gragert's wife conceived their second child and Gragert took a step back to reevaluate his priorities. He realized he wanted to spend more time with his family and practice medicine in a more intimate environment with his patients. To accomplish these goals, Gragert started his own clinic with Bluebird Health.
The innovative model of health care practiced at Bluebird Health is known as direct primary care. This model allows physicians to cut out the middleman and have a direct relationship with patients. From commercial pharmacists and insurance companies to administrative and billing, patients are often paying more than just their doctor's salary to receive traditional preventative care.
"I think we are much closer to an evidence-based medical clinic than I'd ever practice under insurance-based care," Gragert said.
Direct primary care is relatively new, Gragert notes, and was launched by physicians looking at "taking back medicine."
"It's principally general physicians, internists, and family medicine doctors, but it's for those kinds of generalists to limit the third party intervention which just seems to be a huge blow on the system," Gragert said.
According to Gragert, high-volume facilities are often the reason patients feel unseen.
"When you're seeing 30 patients a day, it's just not really practicing good medicine. It's in order for these facilities to make whatever they want or to appease stakeholders," Gragert said.
At Bluebird Health, Gragert is able to cap how many patients he sees to provide patients with more attentive care. In general, Gragert sees four patients per day as opposed to 20 to 30 in a regular clinic.
"Our clinic is small. It's just a few people, and we know all of our patients typically on a first name basis," Gragert said.
Because Bluebird Health doesn't bill insurance, their overhead is a fraction of a typical clinic's giving patients more affordable care.
"We do all of our medications in house and we give it to patients at wholesale cost," Gragert said.
Patients who receive care at Bluebird Health pay a monthly subscription of $65 for adults and $35 for children.
The American Academy of Family Physicians holds conferences to educate physicians on direct primary care and the model is receiving wide recognition in the medical world.
"[Direct primary care] is growing pretty significantly," he said. "We have a great product. We just have to make sure people are aware of it. There's this idea that it's somehow outside of the traditional medicine which it's not."
Managing his own practice also supports Gragert's family-focused lifestyle.
"I get to have my kids with me at the clinic. Our 6-year-old, he's my doctor's assistant," Gragert beamed. "My kids have inspired me fully. They are the reason for everything that I do. And I want to make sure that I leave a legacy or shoes big enough for my kids to feel because they are far better human beings than I could ever imagine."
Gragert's practice can be found at 104 Westview Pk Pl, Kalispell. Gragert can be reached via phone at 406-344-1001 or email at info@bluebirddpc.com. To find out more about Bluebird Health or the direct primary care model, visit bluebirddpc.com.
Reporter Summer Zalesky may be reached at szalesky@dailyinterlake.com.
Recent Headlines
---