The Kats of '83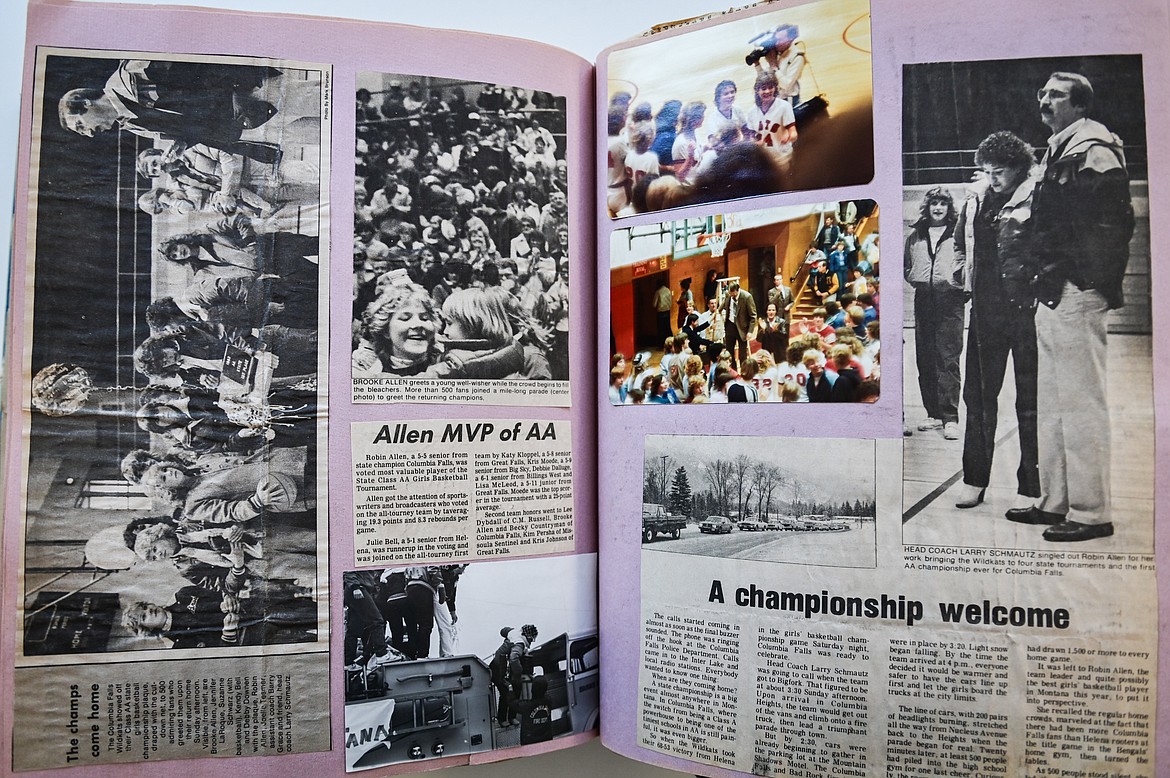 Pages in a scrapbook detail the Columbia Falls girls basketball state championship season of 1983. (Casey Kreider/Daily Inter Lake)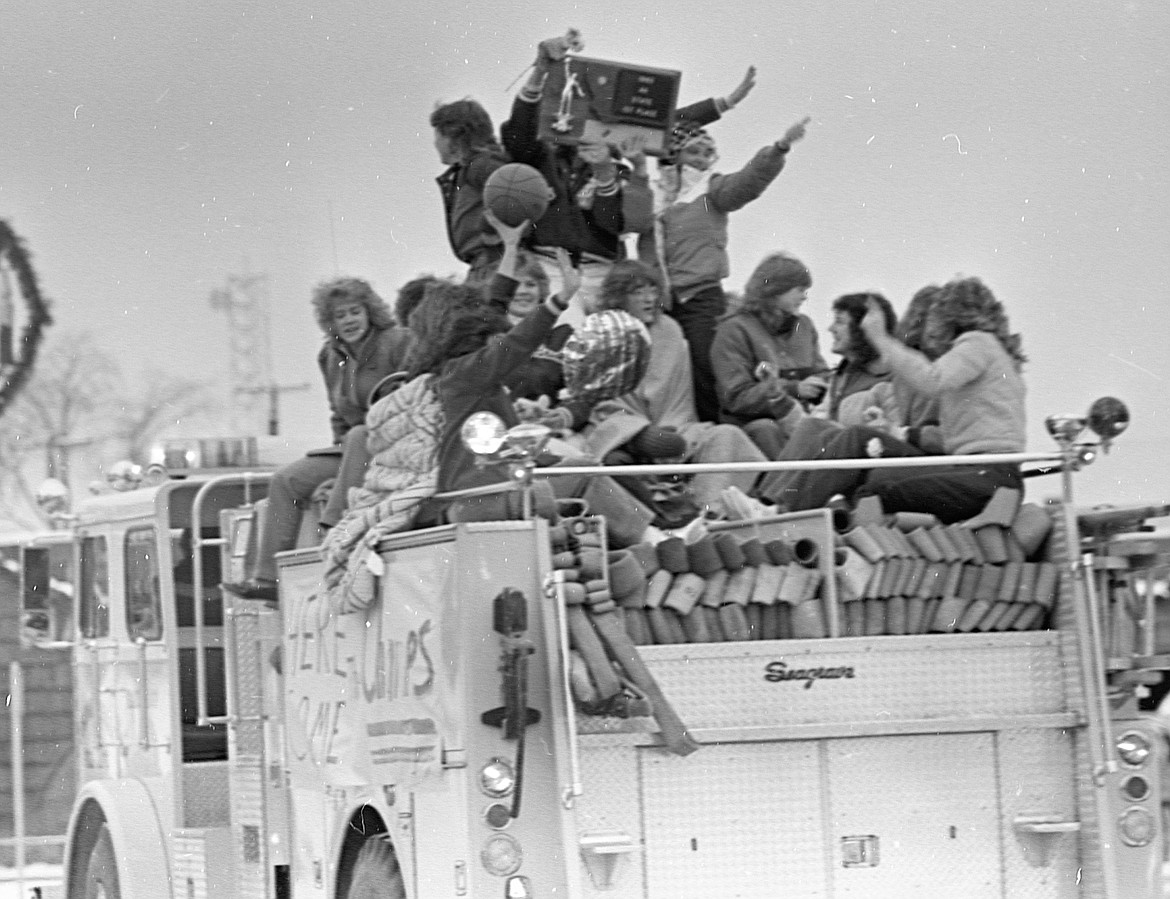 The Wildkats got the obligatory championship firetruck ride through Columbia Falls. (Photo courtesy of Hungry Horse News).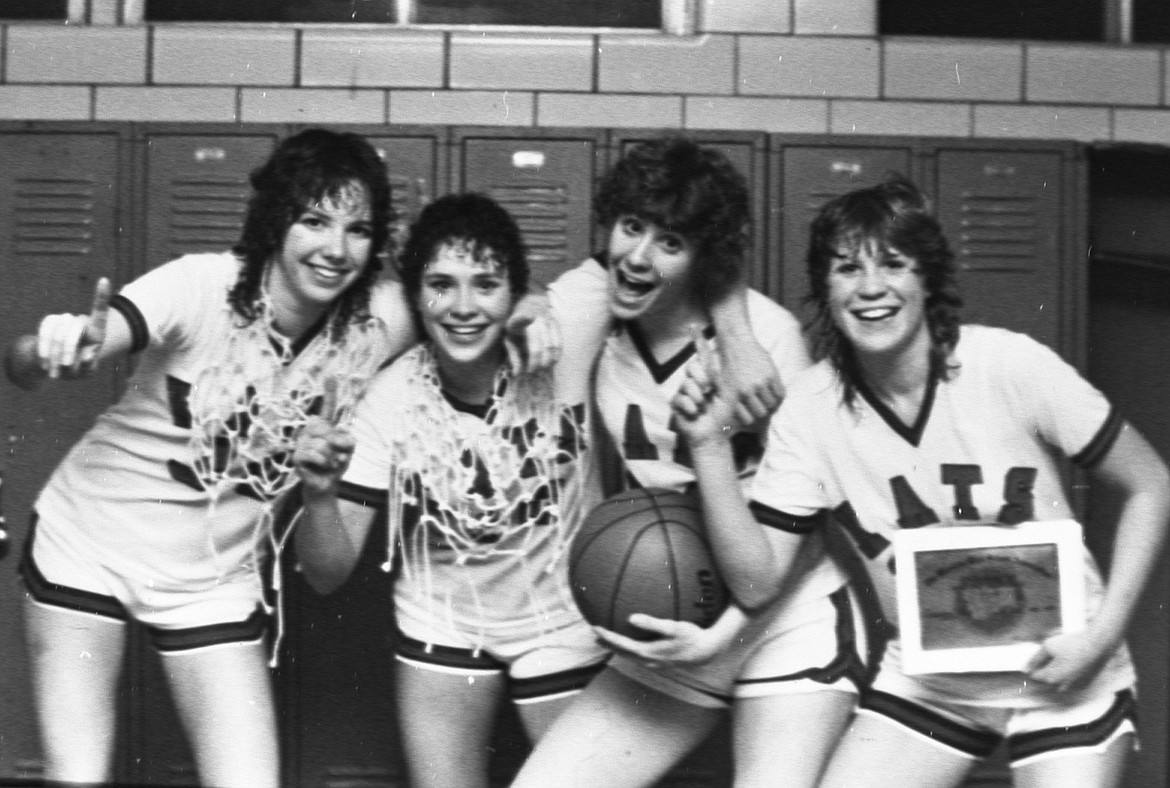 The final four, seniors (from left) Becky Countryman, Robin Allen, Debby Downen and Kendy Bell ham it up in the locker room after beating Helena for the title. (Photo courtesy of Hungry Horse News)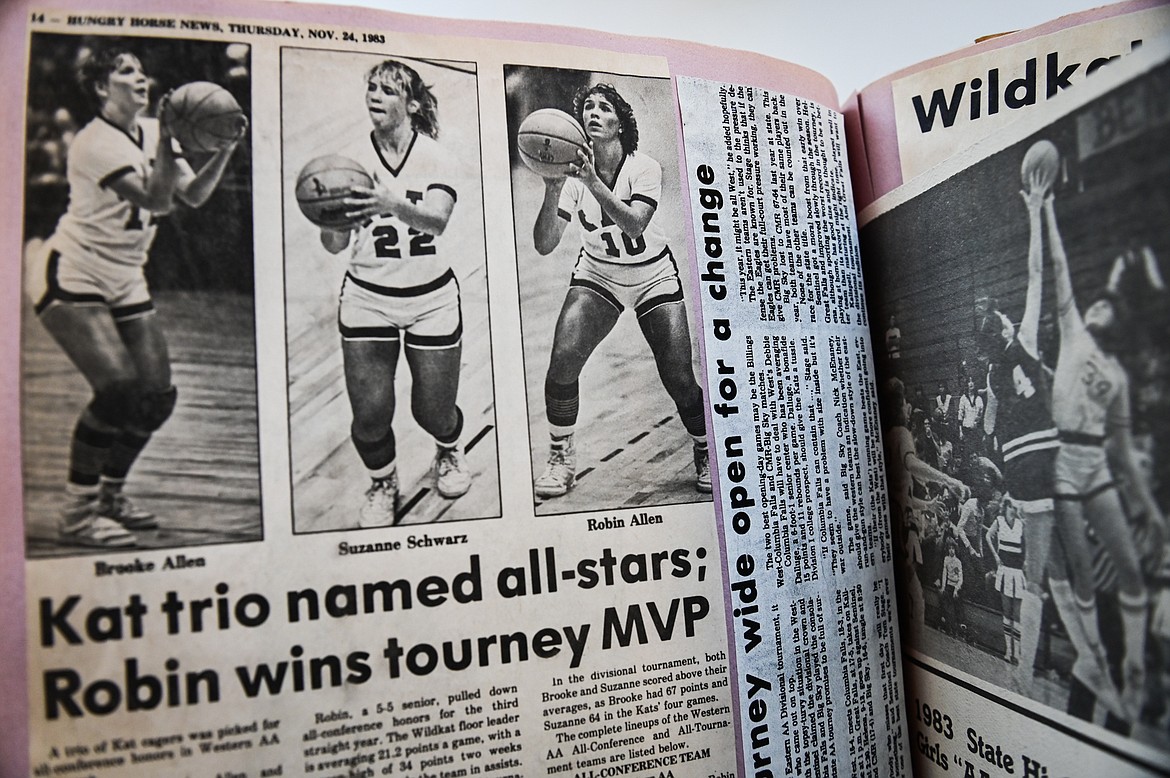 Pages in a scrapbook detail the Columbia Falls girls basketball state championship season of 1983. (Casey Kreider/Daily Inter Lake)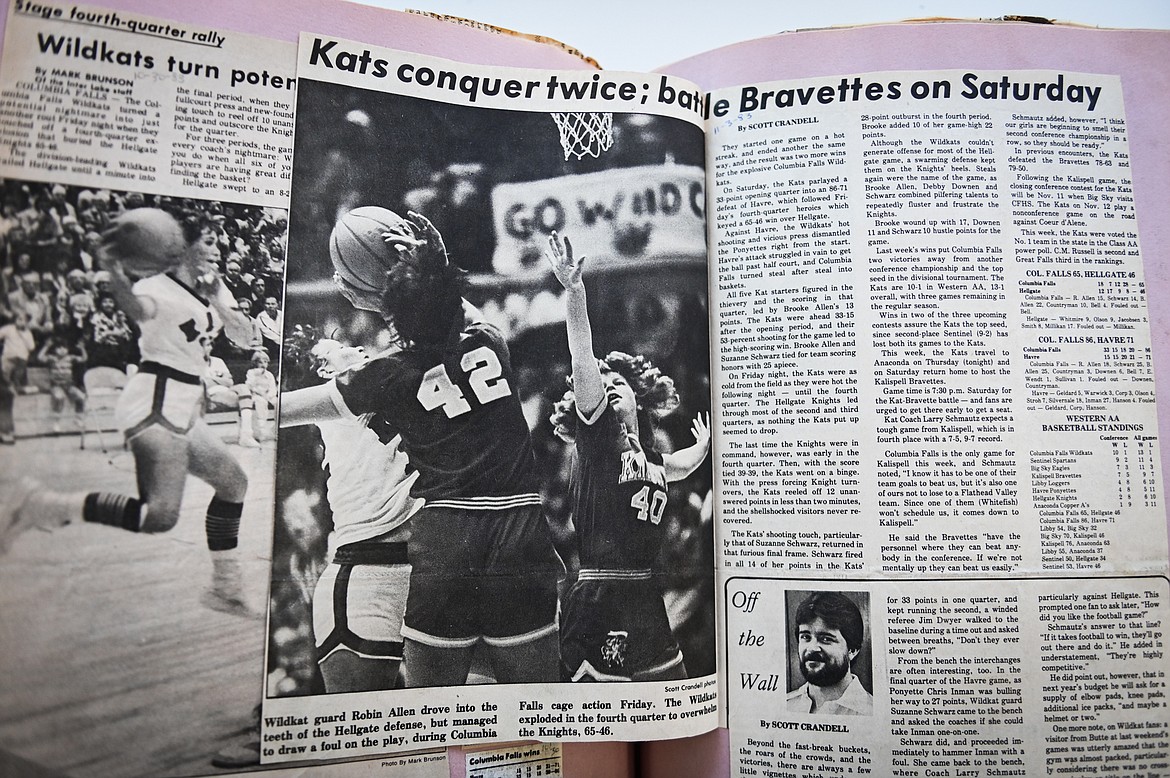 Pages in a scrapbook detail the Columbia Falls girls basketball state championship season of 1983. (Casey Kreider/Daily Inter Lake)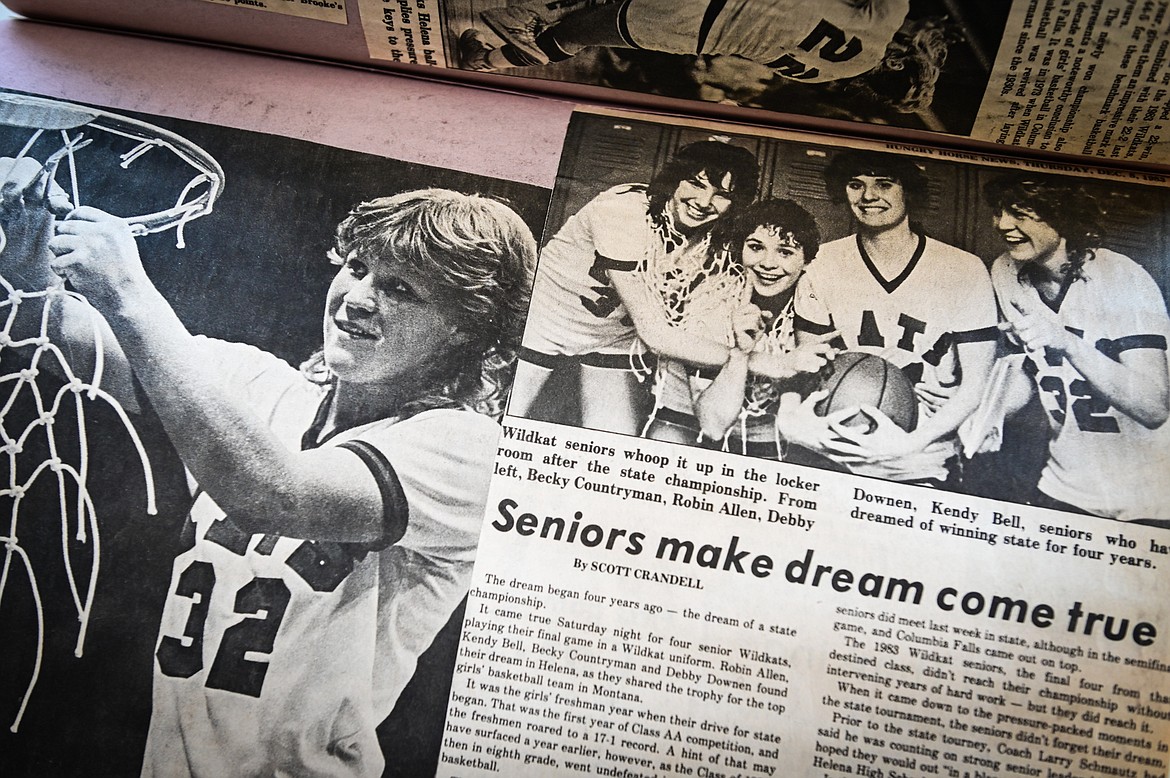 Pages in a scrapbook detail the Columbia Falls girls basketball state championship season of 1983. (Casey Kreider/Daily Inter Lake)
Previous
Next
by
FRITZ NEIGHBOR
Daily Inter Lake
|
July 31, 2022 12:39 PM
"One thing I've got to say about our team, we're fun to watch. We play risky ball. We're not afraid to make a bad pass. As fast as we can go and still be controlled, that's how we like to play."
— Larry Schmautz in the Daily Inter Lake, Sept. 30, 1983.
In 1977 the Montana High School Association announced that the Class A level of girls basketball in the state would split into two: AA and A. This would match boys basketball and, in theory, the 16 biggest schools would be in AA. For a time, Columbia Falls and Whitefish were both ticketed for the jump.
In the end, just Columbia Falls played AA, starting in 1980-81, and if others were worried about having the classification's lowest enrollment (a reported 725 in 1980), well, let's just say the girls were ready.
The Kats made state all six years the school played in AA, and in 1981 they pushed unbeaten Great Falls High to the buzzer in a first-round game at state, losing 58-55. This was a harbinger.
The Bison would go on to win the second of three straight AA titles that season, but in 1983 that streak ended. Because the Wildkats won it all.
We've talked to several of the mainstays of that team, which played six girls a majority of the time. Four seniors led the team: Becky Countryman, Robin (Allen) Barnhart, Debby Downen and Kendy (Bell) Jensen.
Suzanne Schwartz was a junior mainstay and Brooke (Allen) Cates was a sophomore leader at shooting guard; her sister Robin ran the point.
Larry Schmautz, who coached the Kats on the hardwood and in track, died suddenly in 2005 at age 62. He was coming up on his 41st birthday when Columbia Falls got its first championship. Barry Grace, an assistant coach in the 80s, stepped in for this article.
You could say it all started with a freshman team that — despite losing Countryman to a foot injury — went unbeaten.
BECKY COUNTRYMAN: I had a broken toe. I wanted to try and play soccer, and I think it was the first game or practice or whatever, and I kicked the ball the same time another girl kicked it and I broke my toe. It was awful, because basketball was my passion. I remember sitting in class with my foot on the desk to elevate it, thinking, 'Man, I really want to play basketball and I just did myself in.' Needless to say, I never played soccer again.
ROBIN ALLEN BARNHART: I think it had been the goal from our freshman year: Becky had a broken leg or foot, and the team still went unbeaten. Debbie Downen said, 'We're going to win state as seniors.'
DEBBY DOWNEN: Barry Grace was our coach and I think we went unbeaten. We always called ourselves the Final Four. There had to be 12 of us originally and it was Becky, Robin, me and Kendy that made it through. Barry Grace's wife sewed little stars on our uniforms for hustle points that year. Our uniforms were covered in stars.
KENDY JENSEN: We all knew each other growing up. Mr. Grace, he gave us stars for our uniforms. He had goals for us and the more stars we had on our uniform the better we'd played.
Mr. Schmautz would come down and watch us in junior high, too, and that was kind of a big deal. Because the girls teams were always good.
BARNHART: A lot of us were gym rats and we played with the guys. Robin and I definitely, all the time. And it was adult guys. Dennis Olsen, Don Olsen. John Giacamino. Ron Vaughn, the musical director, had the sharpest elbows in the valley. If you had first pick, you took Ron Bond, because he set the hardest screens. Dave Cornelia. Cary Finberg. And my dad. Before school, after school, on the weekends. We played all the time from a very young age. By the time we got to high school we were tougher than your typical team.
JENSEN: Robin and Brooke's dad was my dad's best friend. We went camping together all the time growing up. Debbie and I were born the same day, in the same hospital (in Whitefish). There was not one of us that came in from somewhere else. We were all best friends.
Halfway through that 1980 season Robin Allen was playing with the varsity team. The Kats went 0-2 at state, and then 1-2 the next season. In 1982 they won their first 11 games, finished the regular season 17-1 and won the Western AA Divisional. Then came a State AA semifinal loss to a 10-13 Bozeman High team. They recovered to beat Missoula Hellgate in the third place game and finish 22-2, and now the 1983 Kats weren't going to sneak up on anybody.
BARNHART: It was tough to improve on the year before. I think we surprised everybody my junior year. Shouldn't have got beat by Bozeman, to be honest. I think there was a lot of pressure on us to do well (in 1983). That's why I think that Big Sky loss was good for us. I'm sure Coach Schmautz reminded us that we weren't as good as we thought we were.
COUNTRYMAN: I just remember how we all stuck together as a group and really persevered. We had been playing so long together and we just really knew each other. And our parents — our parents were the biggest supporters. We had so many parents and just fans following us around. It made a big difference.
BARNHART: We were the smallest AA school and played all those big schools. It meant a lot to us. Our gym was packed every game. And talk about a sixth man — we couldn't have had a better community supporting us.
Missoula Big Sky, with future Lady Griz Kris Moede and Marti Leibenguth on the court, was formidable. The Eagles knocked off Columbia Falls 73-62 the third week of the season. A week later the Kats scored the last nine points of the game — six by Schwartz — to beat the Karen Deden-led Sentinel Spartans. That was the start of a 15-game winning streak.
JENSEN: (On Schwartz) Good teammate. When Robin wasn't in, she'd basically be the point guard.
BARNHART: We lost to Big Sky early-early. That was probably one of the best things to happen to us.
DOWNEN: Robin had the key to the gym from Coach Schmautz. Before one of the games against Big Sky, we played almost a full game against the guys, five on five. Because Big Sky was that tall.
BARNHART: That year we killed people all year long. We were definitely a team to beat. We shouldn't have been overlooked, because we destroyed teams.
Two nights after dropping Sentinel, the Kats beat Havre 80-58. They ended up breaking 70 points 15 times. They handled Flathead twice, 79-50 and 79-63. On Nov. 12, they played their last regular-season game at Coeur d'Alene, which was just starting its season. Columbia Falls pulled away from a tie after three quarters to win 66-56; the Vikings went on to win the Idaho 5A state championship in February,
DOWNEN: That was all Robin and Brooke. Mostly Robin. I was more the defensive girl. I think I averaged 4.5 fouls a game. Definitely wasn't my forte, offense.
CATES: Robin hit that shot at the top of the key that is now the three-point line, like it was a layup.
At Divisionals the Kats started off with a 79-55 win over Anaconda and then, whoops: Flathead beat the Kats 87-85 on Joan Hensley's 10-footer with 5 seconds left.
BARNHART: We got upset, really. Then we had to come back and play two games on Saturday, and beat Hellgate first. The second one we had to play Big Sky (which beat C-Falls again, 72-59). Those were our three losses. We had played Kalispell three times already and beat 'em all three times. That was a devastating loss.
DOWNEN: That was horrible. We were expected to take divisionals and we barely made state. In our yearbook that year, there's a picture from divisionals of all of us crying.
The Wildkats took the West's No. 4 seed into State, but theirs wasn't the only upset: The top two teams from the East, Great Falls High and Great Falls Russell, both lost at divisionals. First up at state for the Kats was Eastern champion Billings West, led by center Debbie Dalluge.
BARNHART: The thing I remember about that week is we had to practice on Thanksgiving day. We were all looking at Coach Schmautz, like, 'We're practicing on Thanksgiving?' He said, 'We're working harder than everybody. Nobody else is practicing today.'
CATES: We had this coach that was just amazing. Legendary. You have all this talent, but you have to put it together. There wasn't a kid that he coached that wouldn't absolutely run through a wall for him. He could coach anybody. He could, literally. Coach Schmautz pushed us, and I just loved him. Oh, God, I wish he was still alive. I used to visit him every time I'd get home.
JENSEN: (Schmautz) was pretty direct. He and Robin had a different relationship than a lot of us girls, because Robin was such a leader. She just knew basketball inside and out. Without Robin, we'd never do it. She knew what he was thinking and he knew what she was thinking.
BARNHART: Coach Grace came out to practice and he was Debbie Dalluge. He just worked Becky Countryman all week, getting her ready. It paid off. Becky had just a phenomenal game against Billings West. Really just carried us.
COUNTRYMAN: I just remember the pure frustration, because Barry was relentless. Of course at that age you don't understand how they're trying to prepare you. I remember how relentless he was just bumping me and pushing me. I'm grateful because that's exactly how she played me, and it was hard. She was hard. And he was preparing me for that.
DOWNEN: There was nobody that really came in for Becky. She was a lefty and we always played to her side and if she came out for a righty it messed us up.
CATES: Debbie Dalluge. She was amazing. We had Becky Countryman. Not D-1 stock but man, work ethic — she defended Debbie and it was her great game.
Dalluge managed 12 points and Columbia Falls cruised, 65-48. Cates had 23 points, Allen 18 and Schwartz 17. Next up was Great Falls, working on a fourth straight state title. The Kats beat the Bison 67-60 behind 24 points from Jensen and 18 from Cates.
CATES: I know their big gun was Katy Kloppel. Great Falls was just loaded. I knew Coach (Dick) Kloppel and knew the team, and they were just a dynasty at that point. That was a nice second night win for us.
BARNHART: They'd been beaten early in the season, but everybody still looked at them as the gold standard. Katy Kloppel went to Houston, and Brooke to be honest just kind of shut her down (Kloppel had 10 points). Kendy Bell came off the bench and shot lights out in the fourth quarter.
CATES: I remember my job was to shoot. I also remember Kendy Bell coming in and she just shot lights out.
DOWNEN: This is a horrible thing to say, but I wasn't playing well, and (Schmautz) pulled me and put Kendy in and she kept scoring and scoring and scoring. So I was like, 'I don't want to go back in.' I think I already had four fouls anyway.
CATES: Debby — I think she fouled out of every game. Gosh, she was tough. Tough as nails.
JENSEN: We all kind of rotated. I wasn't a point guard, but I was a wing, and a forward. We all just kind of rotated. Whoever was hot stayed in. That's kind of how it was.
BARNHART: We joked when we played down in Helena: Whoever's last out of town, shut the lights off. Helena had a lot of people there, but we had more. It was something pretty special and fun to be a part of.
Helena, 11-13 on the season and a year away from winning the 1984 state crown, was the state championship draw. The Bengals led early but fell to the Kats, 68-53. Barnhart scored 22 points and was named tournament MVP. Cates added 18 points.
CATES: Then we had to play Helena High for the championship. On their court. The whole weekend was amazing. They had us by 11 or 13 in the second quarter (and by nine in the third) and in those days, there was no 3-point line. They decided to press us, which was a big mistake, because the press never affected us. Because Robin. Then we just jumped on them and made a run.
DOWNEN: I just remember our chaperone, JoEllen Estenson, she made sure we were in our rooms all week. Then after we won state, we never saw her at all (laughs). I think it was just as much fun for my mom, and all the parents followed us everywhere. It was never an away game for us, because we always had huge crowds.
BARNHART: You didn't compete against boys basketball then; you had your own season. And I still feel that's the best way to go. I really think Montana was doing it right.
CATES: It was just such a celebration, with the entire town of Columbia Falls. When you have good sports teams, it just brings them all together.
DOWNEN: The fire truck took us around. One of the cheerleaders, Shannon McChesney — it's Trinastich now — her dad Dennis was the fire chief.
CATES: What a great place to grow up. Every single game that gym was packed to the hilt. Standing room only. And after the games we'd head up to the Night Owl. That's just what we did. It was so fun.
DOWNEN: We didn't have to compete with boys basketball, and our games were Thursday and Saturday and football games were Friday, and so there was nothing else to do really. We didn't have to compete with the crowds at all.
All but Schwartz among the top six players went on to coach basketball at some point. Cates played basketball and competed in track at Oregon, and Barnhart played hoops at Gonzaga. These days Cates still coaches at West Linn (Ore.) High School. Countryman owns an optical shop. Jensen married a fifth-generation rancher and lives outside Lavina. Downen is a physical therapist in Spokane. Barnhart, formerly a lawyer, is an assistant high school principal in Spokane.
CATES: Oregon was fun, but I blew out my knees. I blew my right knee out my very first day of practice. My entire first year of college I was in a cast. It ended up being fun. All the travel, everywhere, that was great. Track was great. It was a good experience. High school was definitely better.
COUNTRYMAN: To think that was 40 years ago. It seems like 10. I don't feel that old, but I'm like, old!
CATES: I so wish Larry was still alive because that would be the thing he's most proud of. All these athletes had this tremendous experience, and then went on to have successful lives.
COUNTRYMAN: It was an amazing happening. And it kind of set the tone for us going forward. We've all been very successful and we all keep in touch with each other. It was just a wonderful experience and I wish every kid could have what we had, the friendships that we had. There's nothing like cutting down a net.
Recent Headlines
---