Miracle League provides opportunities beyond baseball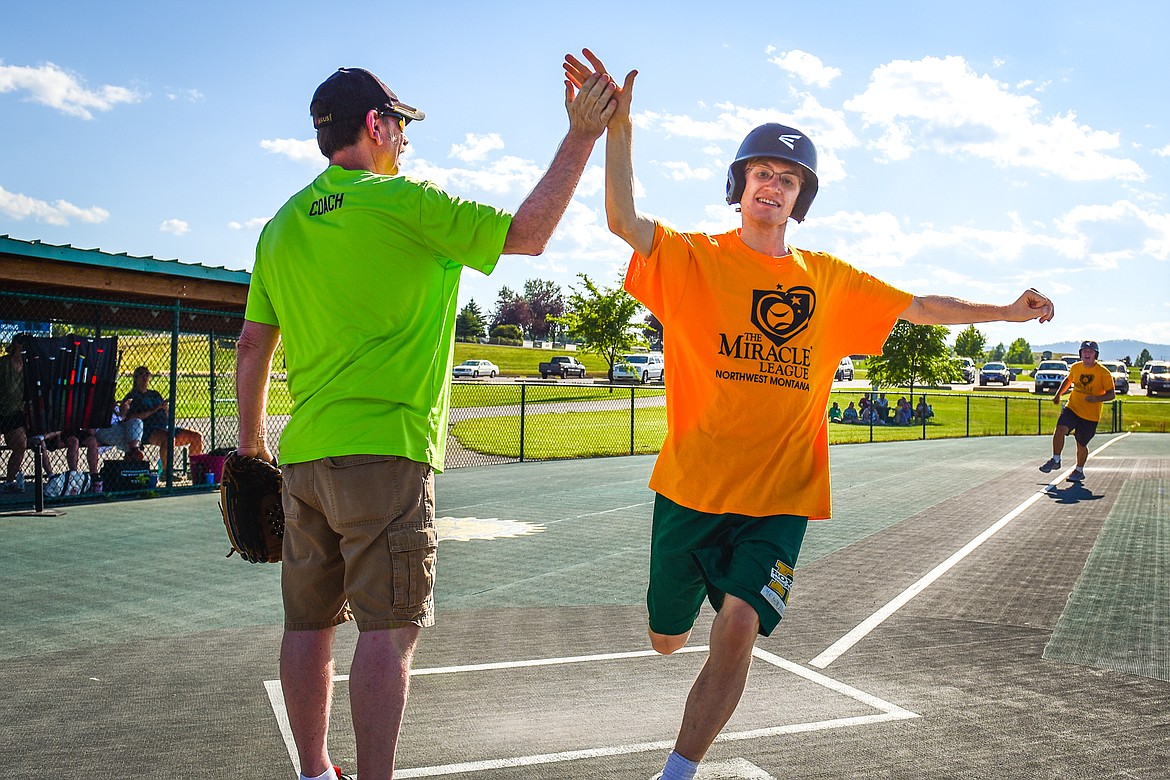 Matthew Zeleny of the Pirates gets a high five from coach, catcher and volunteer Rick Heitz as he crosses home plate during a Miracle League of Northwest Montana game against the Angels Grey at Kidsports Complex on Tuesday, July 27. (Casey Kreider/Daily Inter Lake)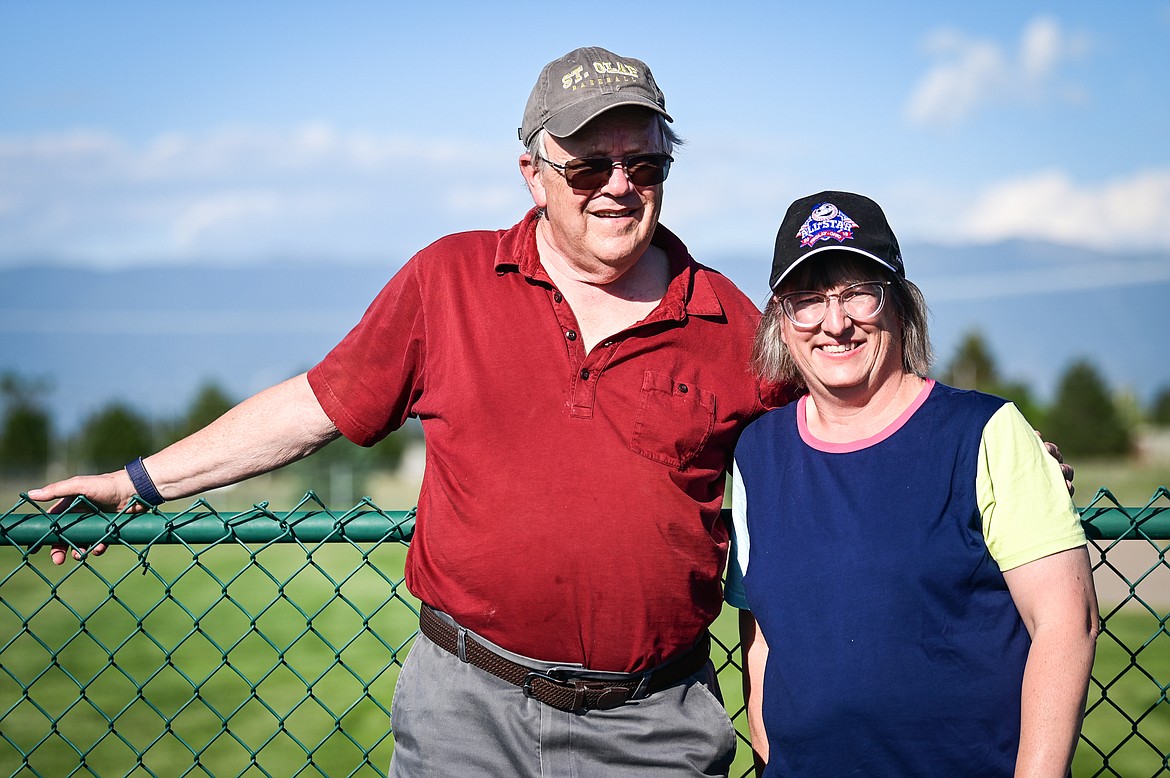 Dan Johns and Jennifer Johnson at Miracle Field at Kidsports Complex on Tuesday, July 26. (Casey Kreider/Daily Inter Lake)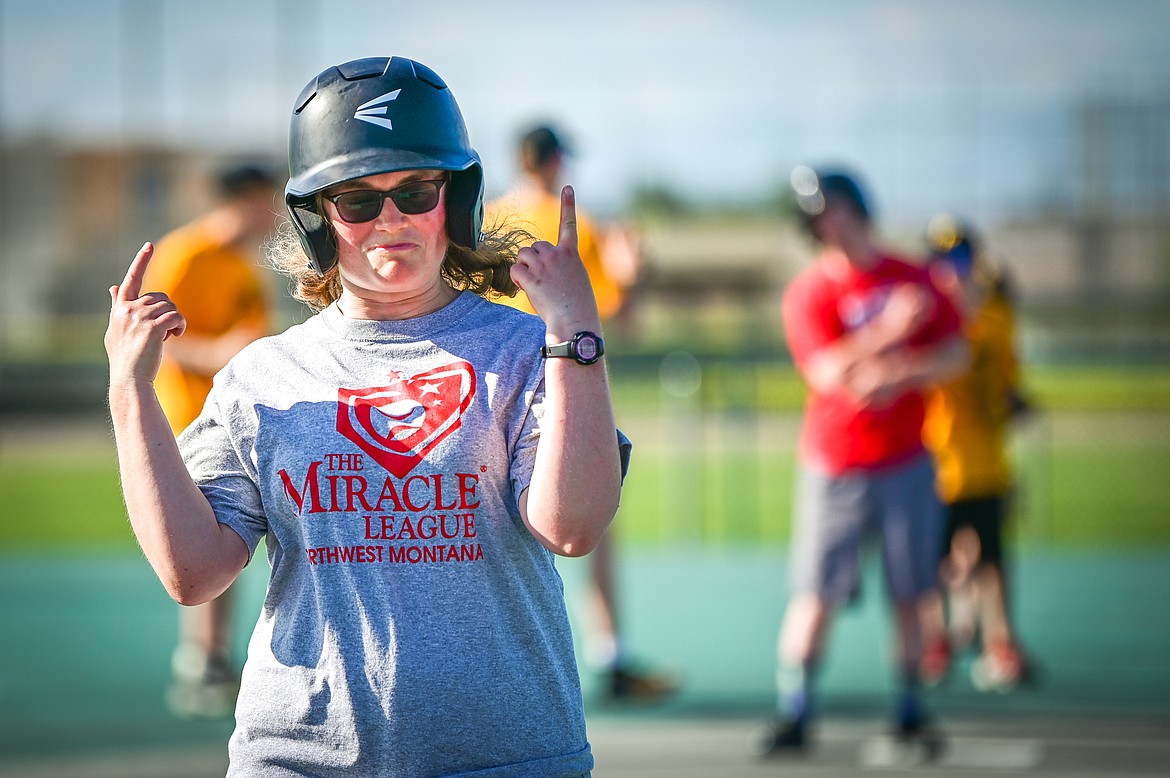 Carleen Koch with the Angels Grey team celebrates as she advances to third base as her team plays the Pirates in the Miracle League of Northwest Montana at Kidsports Complex on Tuesday, July 26. (Casey Kreider/Daily Inter Lake)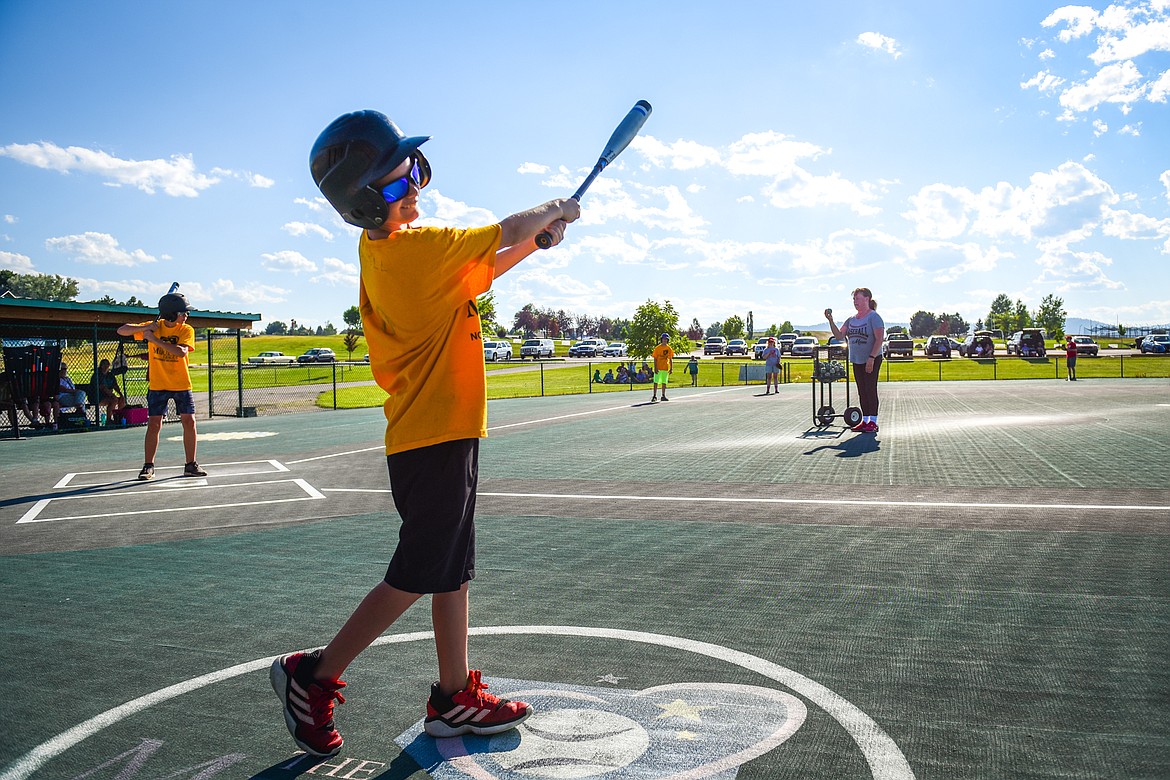 Ryley Shiell swings a bat in the on-deck circle as the Pirates and Angels Grey play in the Miracle League of Northwest Montana at Kidsports Complex on Tuesday, July 26. (Casey Kreider/Daily Inter Lake)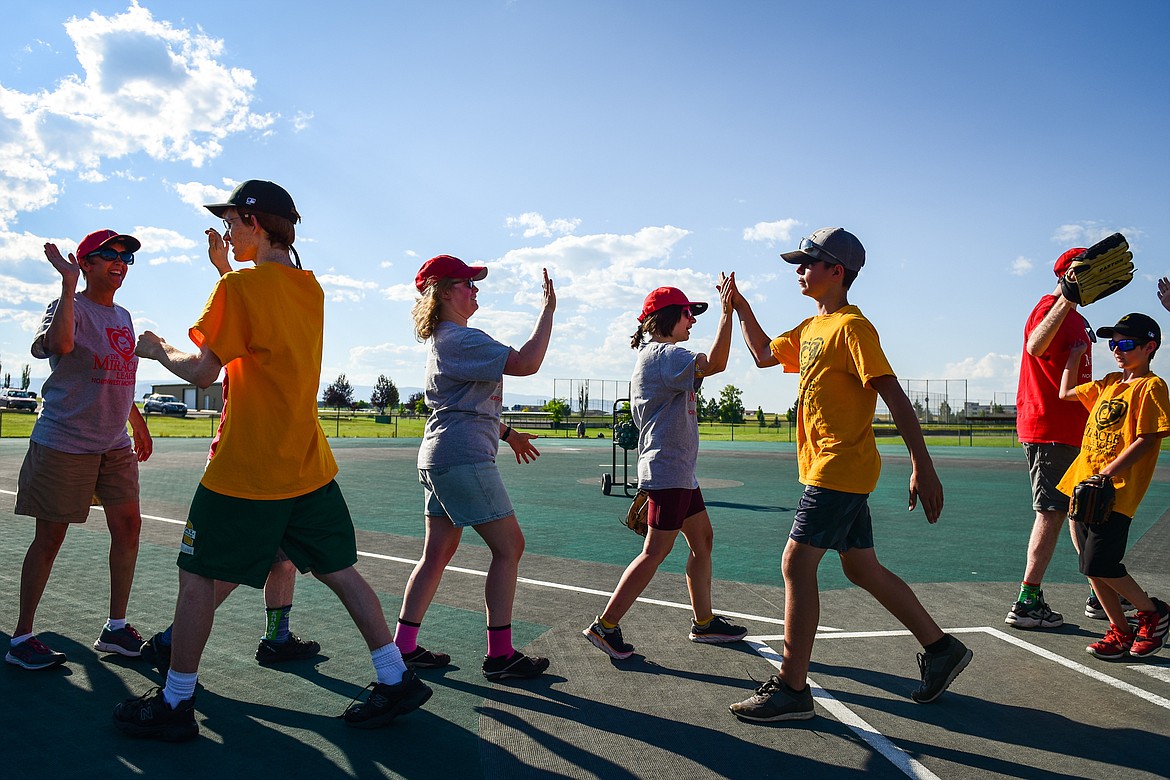 Players from the Angels Grey and Pirates teams slap hands at the end of a Miracle League of Northwest Montana game at Kidsports Complex on Tuesday, July 27. (Casey Kreider/Daily Inter Lake)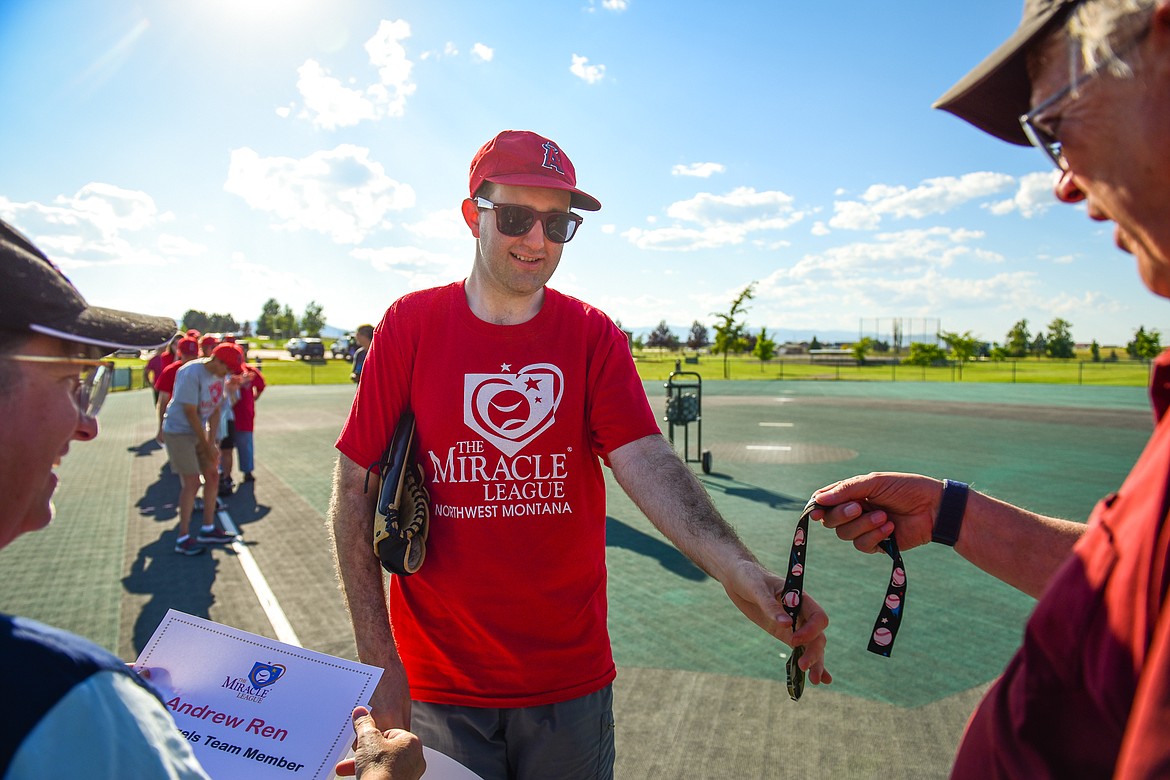 Derek Ball receives a certificate and an award from Jennifer Johnson and Dan Johns after a Miracle League of Northwest Montana game between the Angels Grey and Pirates at Kidsports Complex on Tuesday, July 26. (Casey Kreider/Daily Inter Lake)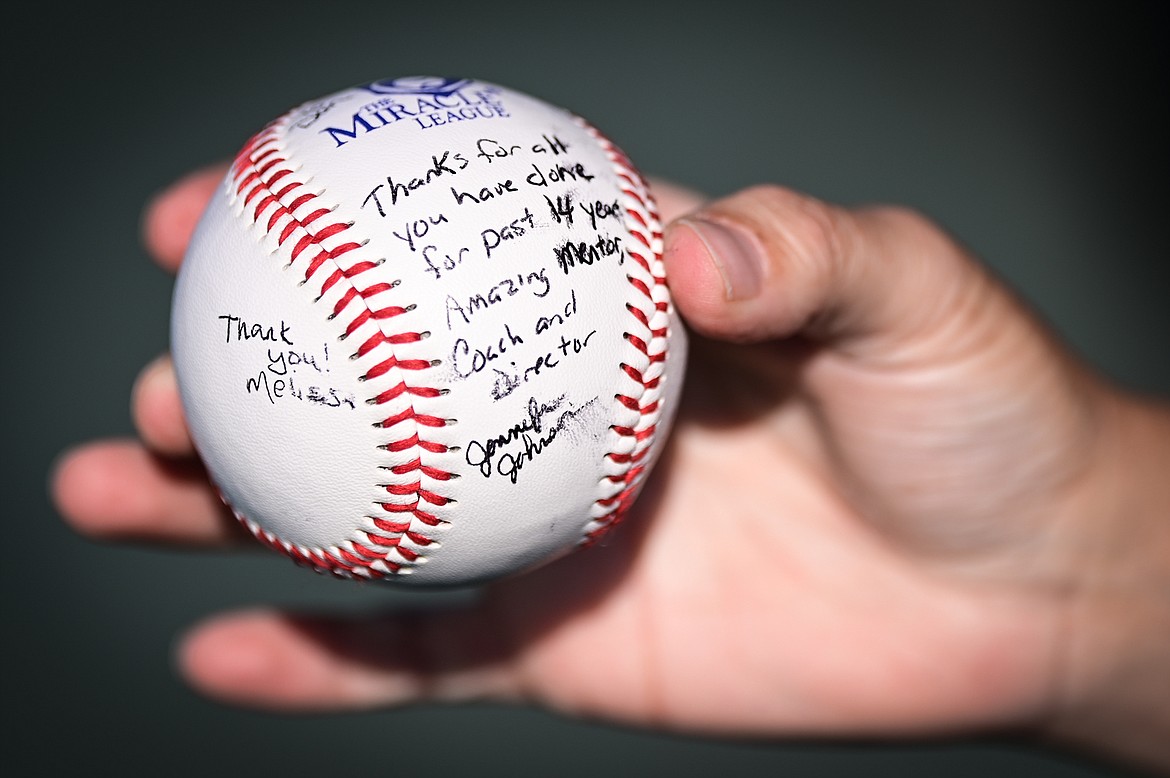 A baseball full of signatures, thank-yous and well wishes for Miracle League of Northwest Montana founder Dan Johns. (Casey Kreider/Daily Inter Lake)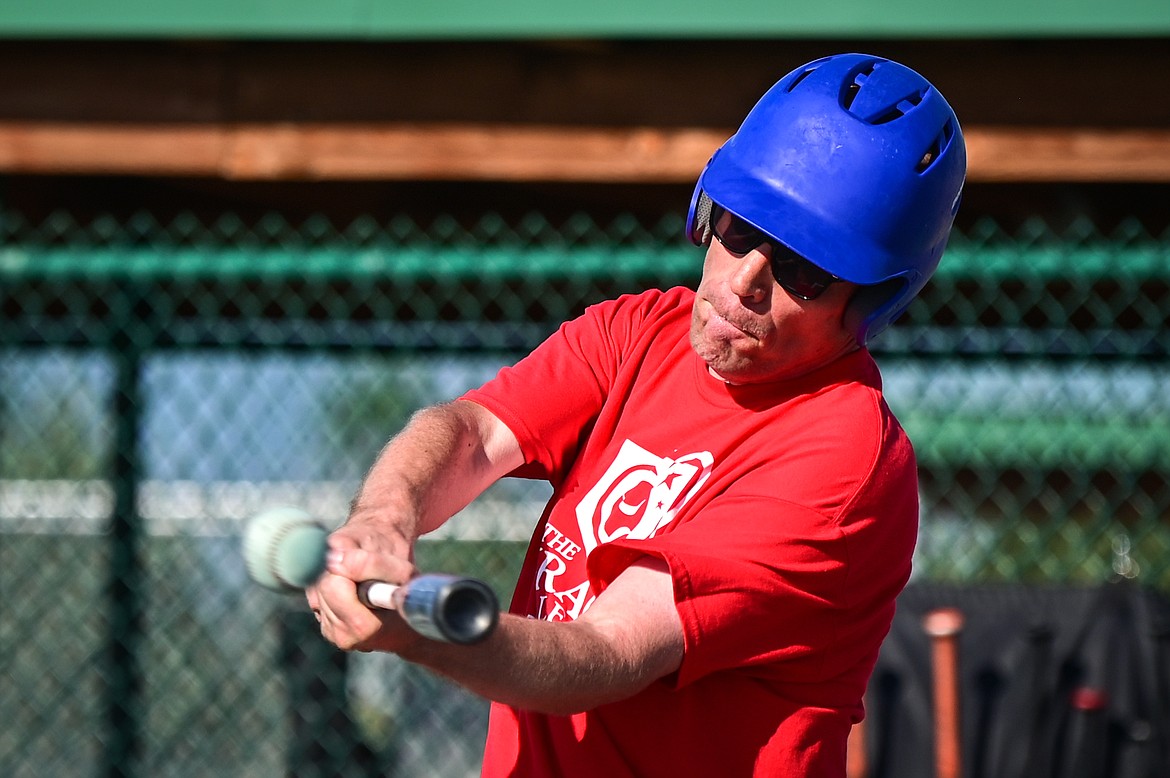 Ryan Trout connects on a home run as the Angels Grey play the Pirates in a Miracle League of Northwest Montana game at Kidsports Complex on Tuesday, July 26. (Casey Kreider/Daily Inter Lake)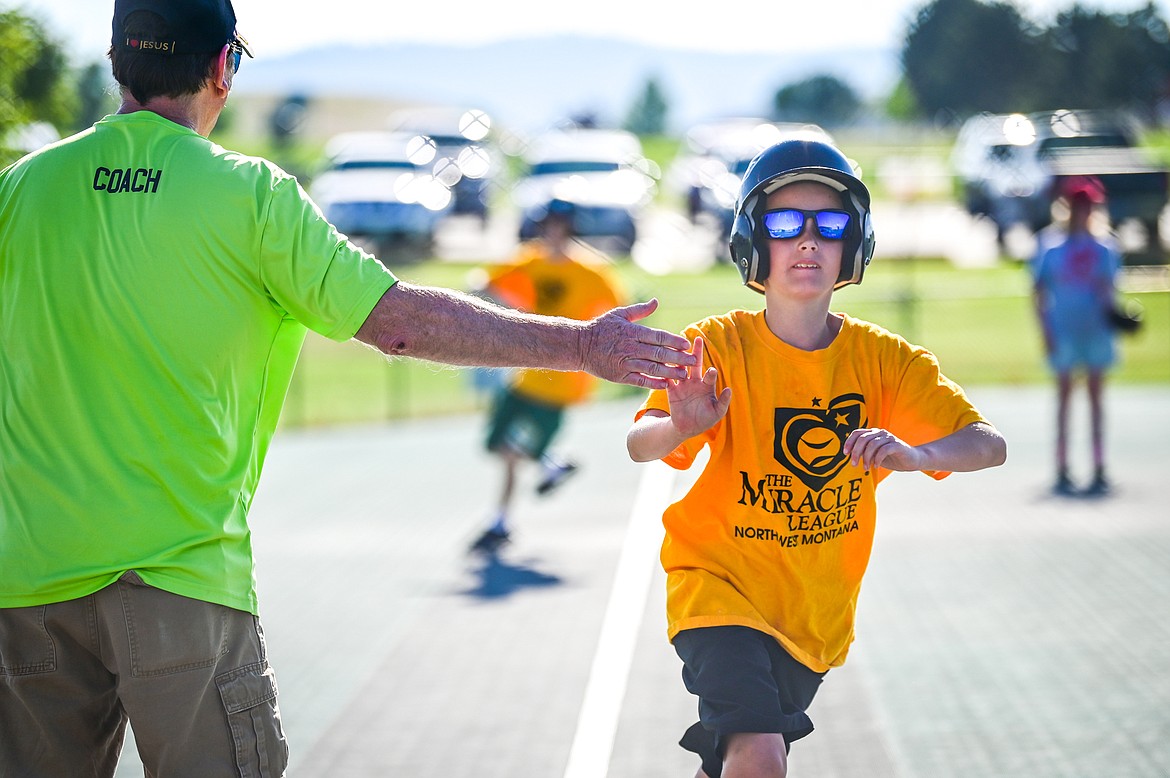 Ryley Shiell of the Pirates gets a high five from coach, catcher and volunteer Rick Heitz as he crosses home plate during a Miracle League of Northwest Montana game against the Angels Grey at Kidsports Complex on Tuesday, July 27. (Casey Kreider/Daily Inter Lake)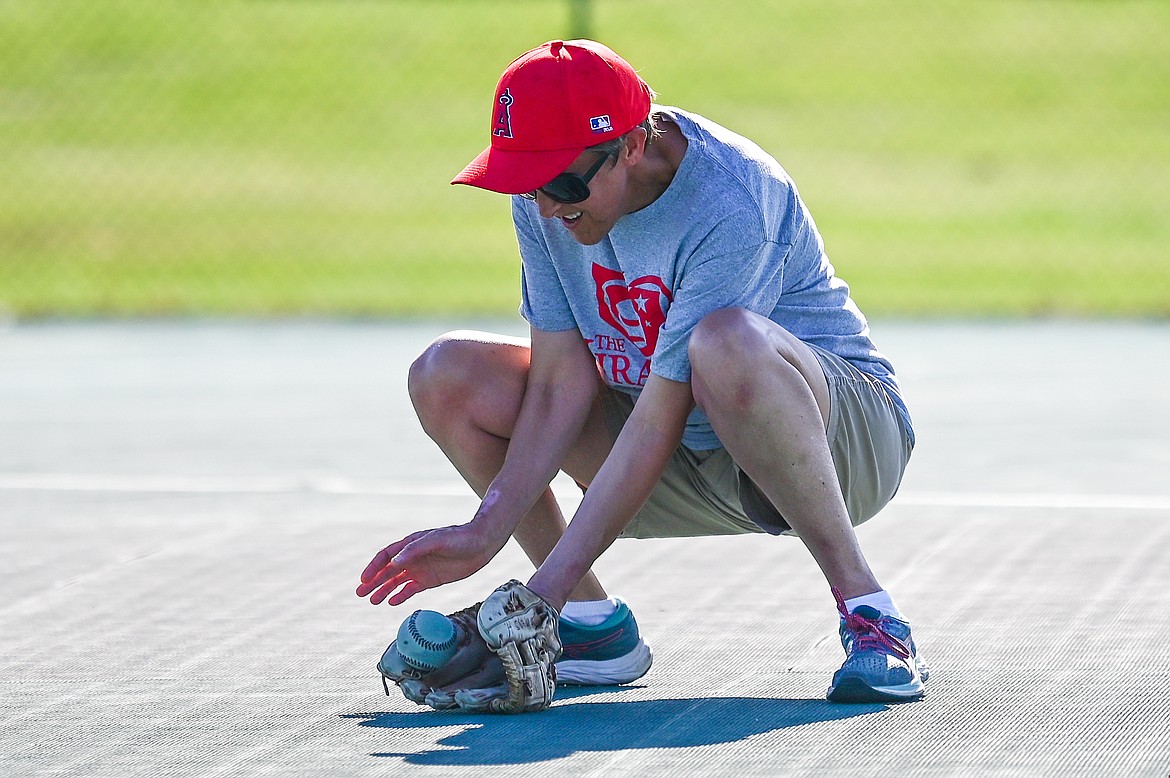 Jamey Herron of the Angels Grey team fields a grounder during a Miracle League of Northwest Montana game against the Pirates at Kidsports Complex on Tuesday, July 27. (Casey Kreider/Daily Inter Lake)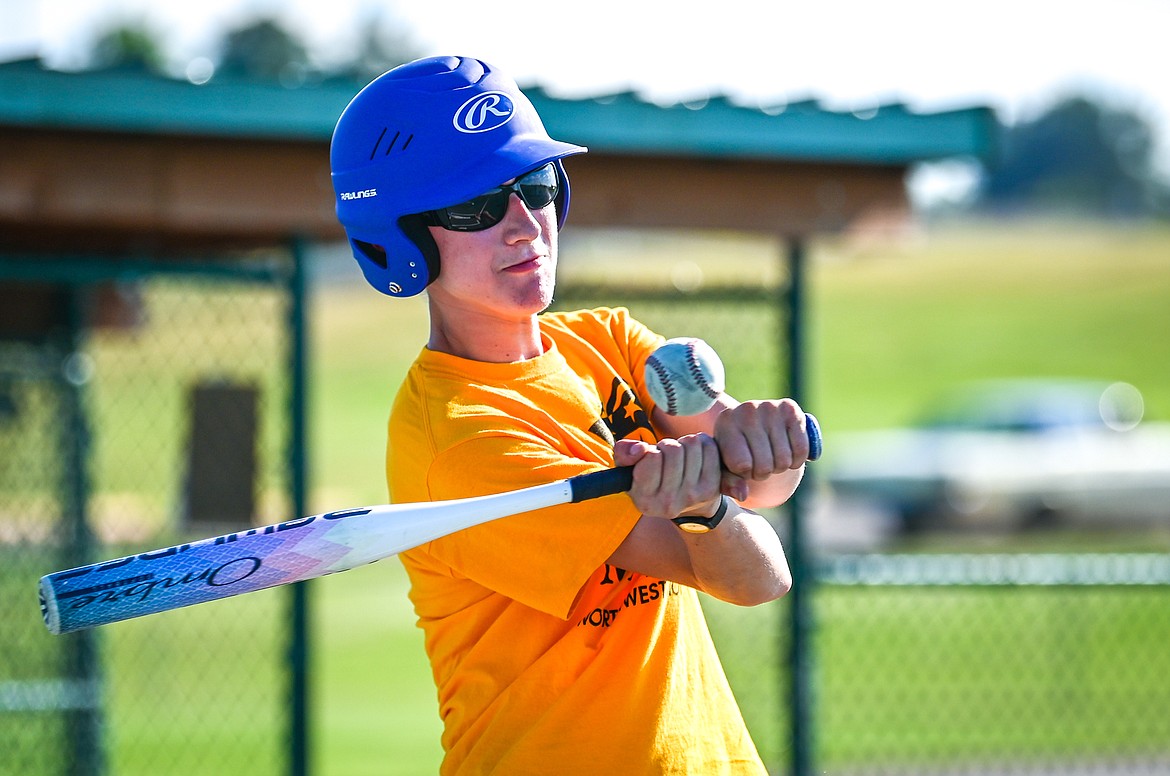 Vincent Hargrove with the Pirates connects on a pitch against the Angels Grey during a Miracle League of Northwest Montana game at Kidsports Complex on Tuesday, July 26. (Casey Kreider/Daily Inter Lake)
Previous
Next
by
LUKE SEYMOUR Daily Inter Lake
|
July 31, 2022 12:00 AM
Contagious laughter amongst the players and coaches of the Kalispell Miracle League filled the baseball diamond Tuesday evening as the sun began to set at Kidsports Complex.
"That's the best part about Miracle League," said Suzi Stark, a mother of one of the players, "Everyone here knows how to just focus on what they're doing and live in the moment. It's the best of what baseball could be."
The Miracle League, Kalispell's baseball league for athletes with special needs, hosted its final games of the season last week. The first match-up was between the Pirates and the Angels with the second game pitting the Angels against the Yankees with a medal ceremony and a pizza party held in between.
Stark says the teams involved in Miracle League know more about what makes baseball meaningful than some other leagues.
"There are no outs," Stark said "The pitcher throws as many balls as it takes for someone to hit and get on base and at the end of the inning, everyone on the team gets to run home and score a point. So the focus isn't on winning, it's all for the love of the game."
Another aspect that separates Miracle League from other baseball organizations is that any hit that bounces over the fence is a home run, and coaches and players from opposing teams are encouraging and supportive of each other.
The teams are made up of a diverse mix of players with different ages, capabilities and experiences. Many of the players' parents serve as coaches and the ones who don't still come out onto the field to help their children if they feel they need it.
The program is meant as an opportunity for kids and adults to get out and play baseball in an environment that they can't access anywhere else, said Jennifer Johnson, who co-directs the league with Dan Johns and also serves as head coach of the Giants.
Johnson, who has had two children with special needs and who have played in the league, says that some of the program's primary goals are to be as inclusive as possible and to meet everyone's needs while also making sure they have fun.
"We have players whose capabilities range from very high functioning to very low functioning but everyone is welcome and we're all here to have fun and to socialize," she said.
Miracle League accepts anyone from 6 years and older with no age cap.
"We usually get kids right after they come from kindergarten and also have had players as old as 60," Johnson said. "So if they want to play and they identify as somebody who would benefit from Miracle League we don't turn anyone away."
The average Miracle League season starts in mid-June and lasts up to six to seven weeks, usually ending in July.
JOHNSON UNDERSTANDS the necessity of programs like the Miracle League in helping people with special needs make friends and develop a community.
"There's not a lot of opportunity for these kids," Johnson said. "They don't get invited to many birthday parties or get involved with any activities outside of school. So this is a big deal for a lot of these kids when it comes to maintaining a healthy social life."
One of the people who has benefited from this program is Michael Stark, a 33-year-old who has Down syndrome. Stark says that in between Miracle League games where he plays for the Yankees, he splits his time between working as a dishwasher for MOD Pizza, playing basketball with his friends, and writing songs at home.
"I'm going to miss all my friends here, but I'm OK with being done," Stark said. "But just because I'm so busy."
Stark says that along with hanging out with his friends and getting to play with his dad, his favorite part of playing baseball is getting to bat because it's what he's best at, even though, according to his father Bill, his real talents lay outside of his athletic ability,
"He wants to do very well and he's a very capable player," Bill said. "But what he's really good at is being accepting of others and their capabilities."
Bill has also acted as his son's baseball coach for over 20 years. He says that although his son has done a good job at bridging the gap between the special needs community and the outside world, the Miracle League has offered an essential social event for both Michael and the special needs community at large.
"I've been a coach here for a long time and a lot of the friends we've made here are friends we've had for years," Bill said. "So even though the games are fun, we're really here for the bonds we've made over time. Those bonds last a lifetime."
For more information on the Miracle League, send an email to miracleleaguenwmt@gmail.com.
Recent Headlines
---