Columbia Falls senior takes a hands-on approach to life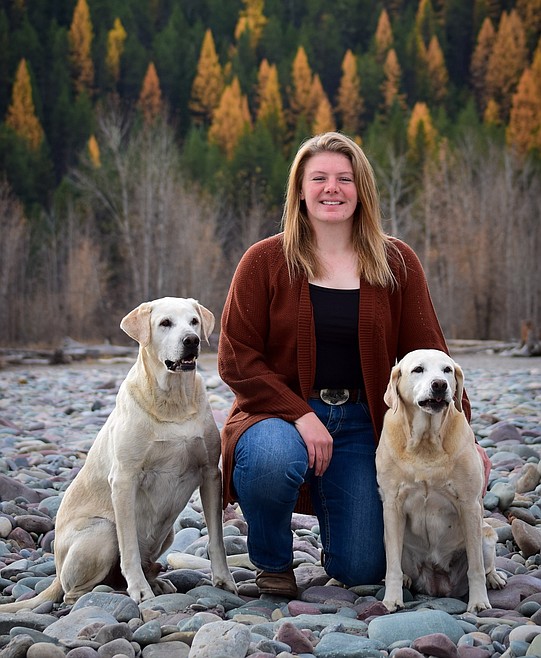 Columbia Falls High School senior Haily Mundel plans to study welding at FVCC in the fall. (photo provided)
by
JEREMY WEBER
Daily Inter Lake
|
June 1, 2022 1:00 AM
Haily Mundel loves working with her hands.
The Columbia Falls High School senior, who will graduate later this week, has always enjoyed being creative, but the metals and ceramics classes she took as a senior have truly unlocked her creativity.
"I like working with my hands and being able to create things," she said. "Being able to take something in your head and actually make it is so much fun. I enjoy ceramics because you are given a project, but you get to create it however you want to. You get to put a lot of yourself into it. I enjoy metals class as well, but you have to do things a certain way."
While three double-knee surgeries in junior high and another during her freshman year in high school kept her out of sports, Mundel says the experience made her tougher and more stubborn. Those traits have served her well in high school.
Described by her teachers as a hard worker and vocal leader, Mundel took on metals class as a senior, but put in many extra hours to learn the trade in a single year, according to welding and fabrication teacher Ben Schaeffer.
"It is always fun as an instructor to see students push their own limits. It has been a real honor to work with this young lady," Schaeffer said. "I hope Hailey was able to learn as much from being a part of the welding program as I was able to learn from her."
Mundel's creative side was on full display in her ceramic studio class, where her 3D relief tile sculpture "Montana Dream" won the 3D award in the Hockaday Museum of Art New Artists Show. Taking more than 40 hours to complete, the sculpture features many of the Montana outdoor themes Mundel has come to love during her summers working as a horse and mule packer in the Bob Marshall Wilderness.
"I wanted it to really represent me, who I am and what I like," she said. "I like the wilderness, so I wanted flowers to be a big part of it, along with the rivers and wildlife."

While Mundel says she plans to earn her welding certification at FVCC in the near future and explore that career path, she will take a ceramics class or two so she can keep her options open.
"I don't want to be stuck in one career for the rest of my life," she said.
As for incoming high school students, Mundel offers a few words of advice.
"Stay out of drama. It's just not worth it. Some people will tell you that it is not possible to avoid all the drama in high school, but I assure you it is possible," she said. "Also, be respectful to your teachers. That will make your life a lot easier. Do those two things and get your assignments done on time and high school is pretty easy."
As for her teachers, they will remember Mundel as the stubborn, hard-working student who overcame every obstacle to achieve her goals.
"Haily Mundel is a determined, goal-oriented young lady. Throughout high school, she has set goals for herself and did not quiver at the challenges she has faced in her life. She is quick to utilize the tools she has been taught to tackle any demanding task she is given," special education teacher Julia Whitman said. "Haily works hard and it shows through her accomplishments. With her growth mindset, she never settles for mediocre work and continues to strive to be her best."
Recent Headlines
---