Fallon holds razor-thin lead over Holmquist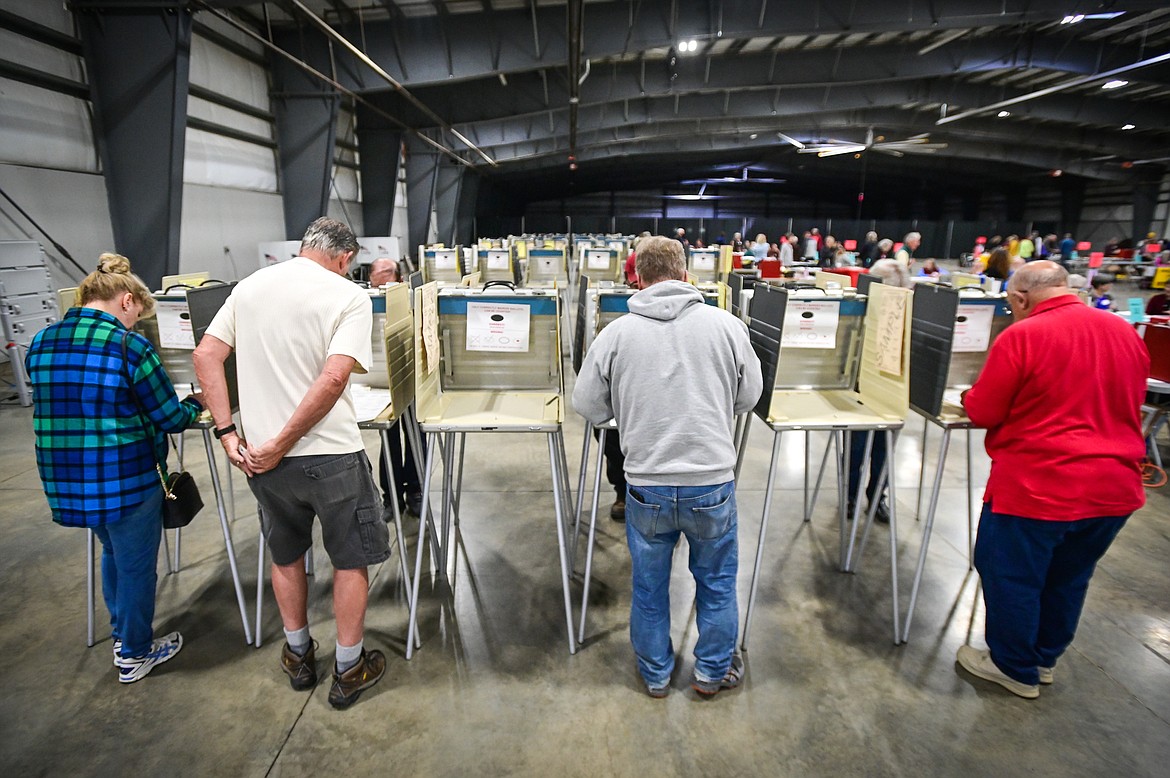 Voters fill out their ballots for the primary election at the Flathead County Fairgrounds in Kalispell on Tuesday, June 7. (Casey Kreider/Daily Inter Lake)
by
HEIDI DESCH
Daily Inter Lake
|
June 8, 2022 5:00 AM
Jack Fallon holds a razor-thin lead over incumbent Pam Holmquist in the GOP nomination for the sole Flathead County Commission seat up for grabs this year.
With absentee and Election Day ballots counted, Fallon's total came in at 7,405. Holmquist had 7,401 votes on Wednesday.
But whether that will be the final tally still remains to be seen. The Flathead County Election Department has until Monday to count provisional ballots and there's also the possibility of a recount in the race.
Former Kalispell Police officer Jason Parce netted 3,160 votes in the primary race, and local businessman Brian Friess took in 3,016.
No Democrats are in the running for the seat — or any other countywide seat.
A recount is not automatic unless there is a tie in a race. Under state law, a defeated candidate can request a recount when they lose "by a margin not exceeding 10 votes," or if the candidate "is defeated by a margin not exceeding 1/4 of 1% of the total votes cast" — whichever is greater.
The defeated candidate must file a petition for a recount "within five days after the official canvass."
Holmquist, who has served two terms on the commission, told the Inter Lake Wednesday that she hadn't inquired about the recount process, but was waiting on the results from the provisional ballots.
"They still have the provisional ballots to count so we will wait until that happens," she said.
Provisional ballots include absentee ballots that are not signed or the signature does not match the one on file with the election department or if the elector came to the polls to vote, but has an active absentee ballot. It also includes ballots where the voter registered late, or if the voter did not have the proper identification at the polls or their name does not appear on the official voter register, but believe they are registered to vote.
In other county results, county clerk and recorder incumbent Debbie Pierson earned 14,684 votes. Her challenger, Madelene Howard, netted 4,645.
For county superintendent of schools, Cal Ketchum took in 10,977 ballots while rival Erin Arneson came away with 8,368.
Flathead County primary results
42 of 42 Election Day Precincts Reporting
42 of 42 Absentee/ Early Precincts Reporting
DEM US REP 1ST DST
CORA NEUMANN 1,439
MONICA TRANEL 3,562
TOM WINTER 451
Write-In Totals 9
DEM PUB SVC COMMISSIONER DST 5
KEVIN HAMM 2,071
JOHN REPKE 2,786
Write-In Totals 12
DEM STATE SENATOR DST 4
KYLE WATERMAN 839
Write-In Totals 6
DEM STATE REP DST 3
ANDREA GETTS 554
Write-In Totals 1
DEM STATE REP DST 4
KIMBERLY PINTER 467
Write-In Totals 1
DEM STATE REP DST 5
DAVE FERN 1,152
Write-In Totals 3
DEM STATE REP DST 7
ANGELA KENNEDY 381
Write-In Totals 3
Total Votes Cast 237
DEM STATE REP DST 10
MARK H PHILLIPS 443
Write-In Totals 3
DEM STATE REP DST 13
COLLEEN HINDS 96
Write-In Totals 0
REP US REP 1ST DST
MITCH HEUER 544
MATT JETTE 1,969
AL "DOC" OLSZEWSKI 10,335
MARY TODD 1,970
RYAN K ZINKE 6,814
Write-In Totals 52
REP PUB SVC COMMISSIONER DST 5
ANN BUKACEK 6,626
DEAN CRABB 1,820
JOE DOOLING 3,961
DEREK SKEES 7,755
Write-In Totals 81
REP STATE SENATOR DST 4
JOHN FULLER 2,044
LEE HUESTIS 1,569
Write-In Totals 13
REP STATE SENATOR DST 5
MARK NOLAND 2,621
ROB TRACY 1,619
Write-In Totals 5
REP STATE REP DST 3
BRAXTON MITCHELL 1,331
LORENA WOOD 487
Write-In Totals 7
REP STATE REP DST 4
MATT REGIER 2,321
Write-In Totals 36
REP STATE REP DST 5
LYN BENNETT 791
BRIAN OWENS 625
Write-In Totals 18
REP STATE REP DST 6
AMY REGIER 2,346
Write-In Totals 38
REP STATE REP DST 7
DAVE INGRAM 670
COURTENAY SPRUNGER 800
Write-In Totals 3
REP STATE REP DST 8
DAVID DUNN 319
TERRY FALK 1,118
LYNNE M (OGDEN) RIDER 338
MARK TWICHEL 391
Write-In Totals 3
REP STATE REP DST 9
DAVID AUGUST 475
TONY BROCKMAN 767
CONSTANCE NEUMANN 700
Write-In Totals 3
REP STATE REP DST 10
BOB KEENAN 2,001
Write-In Totals 26
REP STATE REP DST 11
DEVON DECKER 423
RONALEE SKEES 753
TANNER J SMITH 1,520
Write-In Totals 4
REP STATE REP DST 13
PAUL C FIELDER 826
Write-In Totals 3
REP COMMISSIONER DST 2
JOHN T (JACK) FALLON 7,405
BRIAN M. FRIESS 3,016
PAMELA J HOLMQUIST 7,401
JASON J. PARCE 3,160
Write-In Totals 28
REP CLERK & REC/SURVEYOR/AUDITOR
MADELENE C. HOWARD 4,645
DEBBIE PIERSON 14,684
Write-In Totals 35
REP SHERIFF/CORONER
BRIAN HEINO 18,615
Write-In Totals 132
REP ATTORNEY
TRAVIS R. AHNER 16,636
Write-In Totals 166
REP SUPT OF SCHOOLS
ERIN ARNESON 8,368
CAL KETCHUM 10,977
Write-In Totals 26
REP TREASURER/PUB ADMIN/ASSESSOR
ADELE KRANTZ 17,646
Write-In Totals 70
SUPREME COURT JUSTICE 1
BILL D'ALTON 5,294
JIM RICE 17,778
Write-In Totals 59
SUPREME COURT JUSTICE 2
JAMES BROWN 11,293
INGRID GUSTAFSON 9,773
MICHAEL F. MCMAHON 3,542
Write-In Totals 33
DST COURT JUDGE DST 11 DPT 4
DAN WILSON 20,566
Write-In Totals 163
DST COURT JUDGE DST 11 DPT 5
DANNI COFFMAN 20,119
Write-In Totals 112
JUSTICE OF THE PEACE DPT 1
ERIC S. HUMMEL 20,578
Write-In Totals 100
JUSTICE OF THE PEACE DPT 2
PAUL SULLIVAN 20,174
Write-In Totals 150
KALISPELL FIREFIGHTER PROP KALISPELL
YES 2,618
NO 2,061
Recent Headlines
---