Bigfork standout Guse pulls double duty during All-Star season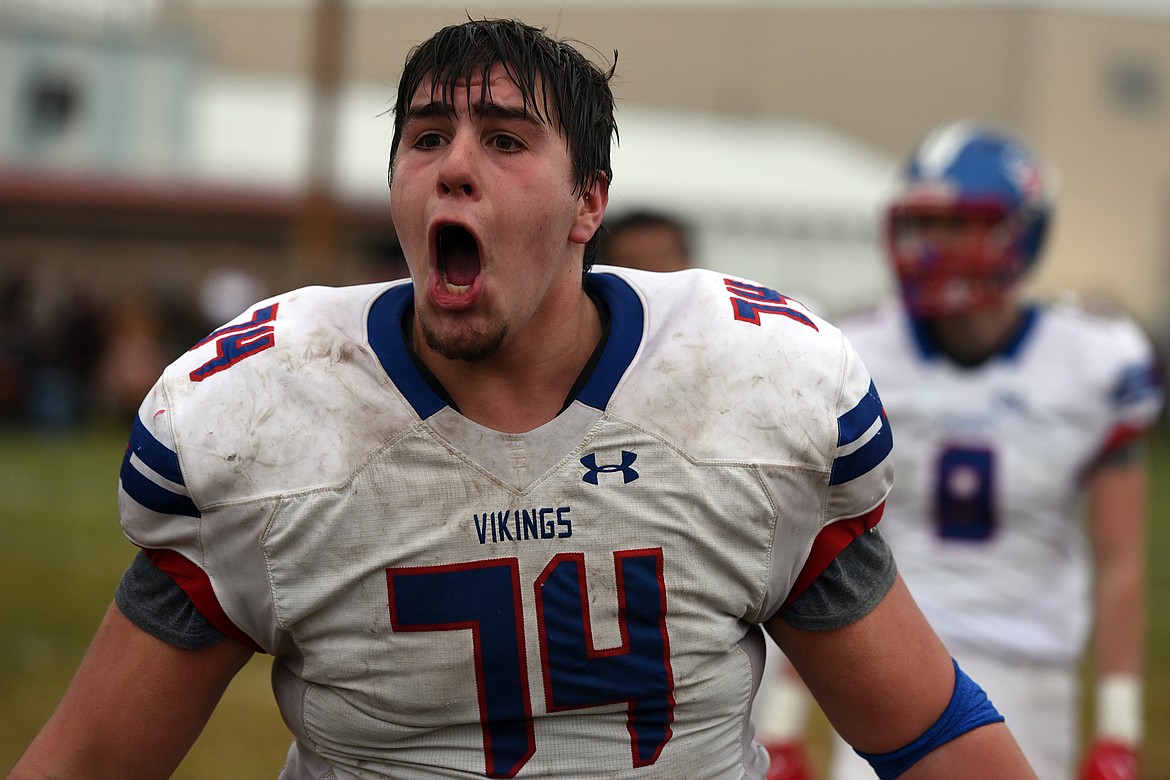 Braeden Guse reacts after the Bigfork Vikings beat Eureka in the State B semifinals on Saturday, Nov. 13, 2021. He'll play defensive line for the West in Saturday's Shrine Game. (Jeremy Weber/Bigfork Eagle)
by
FRITZ NEIGHBOR
Daily Inter Lake
|
June 16, 2022 11:20 PM
Braeden Guse's competitive fire burned hot last fall, when he and the Bigfork Vikings kept winning football playoff games on the road and earning a shot at the state title.
Last week he looked around and a lot of those athletes he competed against — Tristan Pyette, Blake Shoupe and Caden Zaluski of Florence, Trey Johnston of Glasgow, Gavin Pilkington, Carson Komac and Johnny Fehr of Eureka — were suddenly teammates.
Same thing this week: Guse (pronounced "GOOSE-ee") is playing defensive tackle for the West in the 75th East-West Shrine Game Saturday in Great Falls.
Pyette is also playing, along with fellow Florence standouts Zaluski, Luke Maki and Shoupe.
"Those Florence dudes, they're nice guys," Guse said Wednesday. "Pretty straight up dudes, and just good football players.
"It's kind of different — during the season you're trying to beat them any way you can. Then you play with them, and you realize how good of football players and teammates they are."
Guse is a large, talkative fellow. He stands 6-foot-3 and weighs 295. So it would be natural to be friendly around him, though the future Montana Tech Oredigger says it's not just that.
"When you're against them, you're trying to find reasons not to like them," Guse said. "Then you're teammates, and you end up making a lot of new friends."
"Braeden's a great kid," Bigfork coach Jim Benn said. "Tech is getting a good one.
"Obviously he was a huge part of our O-line. We asked a lot of him; a lot more than you do most kids. He really helped me as a coach. It doesn't hurt to be a large human being, but he really was a leader in our rough through the playoffs."
The season wasn't very far along when one of Bigfork's standout players took his own life.
"A tragedy," Guse said. "And then it was really about just playing one more week with our best friends. Each playoff game, even if we weren't the biggest or fastest or most talented, we decided to play one more week.
"It was a one-score game, we didn't care. We just kind of decided to win."
Guse's high school career might have ended in November, with Bigfork's loss to Florence in the State B championship. Then he was selected to the Shrine Game, and then he made Class B All-Stars for the North, which dominated the game — Bigfork's Patrick Wallen threw TD passes to two different Florence Falcons — 27-7.
That was last week. Now he's doubling up.
Benn coached in both games last year, and summed it up: To put it mildly, it was a little overwhelming."
Guse has no complaints, including about switching to nose guard this week even though Tech projects putting him on the offensive line. He played offense last week in Billings.
Now he's matched up against Hamilton's Jonas Johnson and Sentinel's Ramsey Knowles in drills.
"A little bit of a change," he said. "But I played a lot of it during the fall. The Shrine Game is the best of the best, and they definitely have the best offensive linemen.
I'm confident they have me in the right spot. It makes me a better football player to go against these guys in practice."
An excellent student with a 3.9 grade-point average, Guse was looking to study a STEM field in college. MSU-Northern and Carroll College showed interest, but when Montana Tech made an offer to go with its mechanical engineering program, he jumped at it.
"Tech had always been on my radar," he said. "The opportunity to play football and pursue that degree is a match made in heaven."
First things first. The East All-Stars await, at Memorial Stadium in Great Falls.
"Last high school game," Guse said. "It's got some weight to it. I respect a lot of these players and coaches. The fact that I was selected to go to this game, it's a huge honor."
Recent Headlines
---