Area river levels projected to decline beginning next week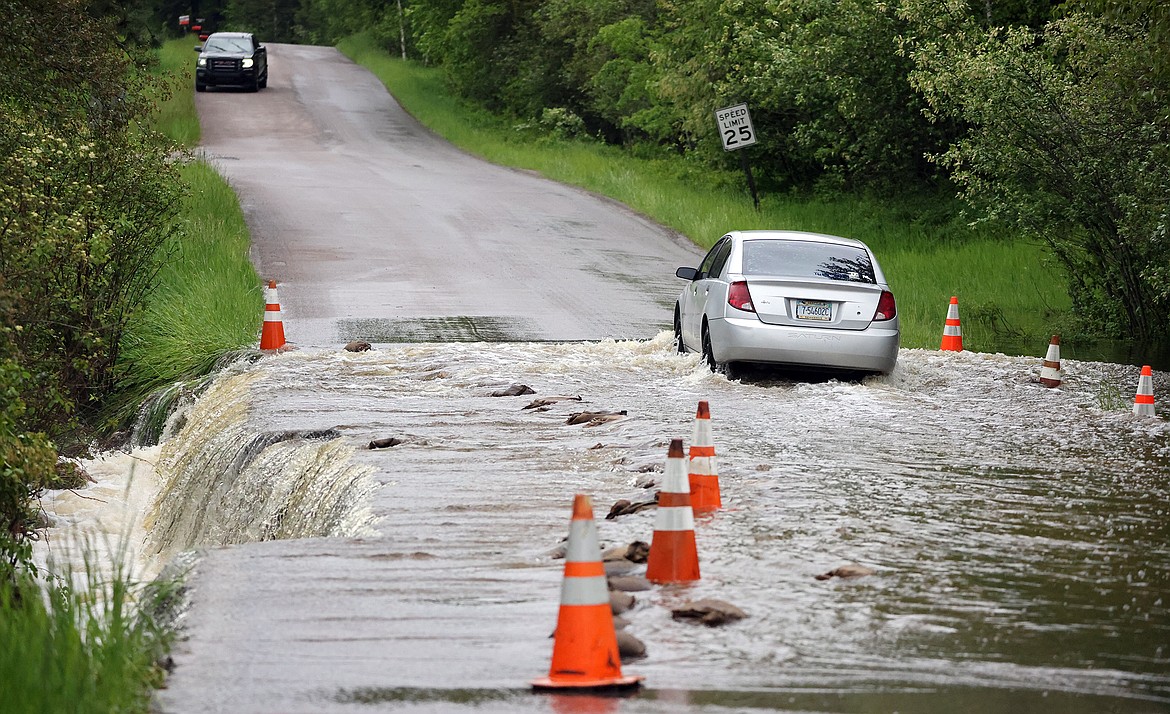 A car makes its way through the flooding along Garnier Creek on North Hilltop Road in Columbia Falls Wednesday, June 15. (Jeremy Weber/Daily Inter Lake)
by
Daily Inter Lake
|
June 18, 2022 8:00 AM
The Flathead River is expected to drop below flood stage by next weekend, according to the latest projection from the National Weather Service.
The main river at Columbia Falls was at 14.54 feet Saturday morning. It was anticipated to rise to nearly 15 feet Sunday morning before beginning a slow trend downward.
By Saturday, June 25 the river should finally dip below the 13-foot flood stage.
Likewise, the Whitefish River is projected to drop as the week progresses. The river at Kalispell was at 4.84 feet Saturday. It could climax at 5 feet Sunday morning — flood stage — before gradually dropping back down to 4 feet by next weekend.
The Swan River at Bigfork remained below flood stage Saturday at 5.44 feet, and is projected to stay near that level through Wednesday. Flood stage is 6.5 feet at Bigfork.
As of Saturday, evacuation notices remained in place for Leisure Road in Kalispell and North Hilltop Road in Columbia Falls. All other notices have been lifted.
West Side Hungry Horse Reservoir Road between Mazie Creek and Graves Creek Road remained closed, as well as access to Stillwater State Forest.
The National Weather Service remains concerned about the potential for some heavy precipitation across Northwest Montana on Sunday, which would increase flooding potential.
With rivers running cold and fast, the Flathead County Sheriff's Office encouraged people to stay safe over Father's Day weekend.
"The warm weather draws people outside, but it's important to remember that the rivers are moving fast and carrying a lot of debris," said Brian Heino, Flathead County Sheriff. "We encourage residents to make the safe choice and avoid recreating on the rivers until conditions improve."
The Sheriff's Office has established an information line at 406-758-2111.
Recent Headlines
---