Billie Rae Noyes Erickson, 88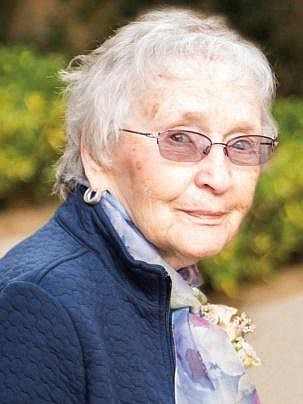 Billie Rae Noyes Erickson, a loving daughter, sister, wife, mother, grandmother, great grandmother and friend died May 28, 2022, at Brendan House in Kalispell of natural causes. She was 88.
Billie was born on October 28, 1933 in Havre, the first child of Carl and Charlotte Noyes. She was joined by sister Caryl in 1938. The family moved to Great Falls where Billie graduated from Great Falls High School in 1951. In 1954 she married Don Mortensen and they made Conrad their home, where they had two children, Donna and John. Billie moved to Chinook in 1956 following her divorce from Don. In 1959 she met and married Fred Erickson and moved to Great Falls, and expanded their family with sons Rick and Dan. Billie and Fred moved to Bigfork in 1976 with Fred's company Crop Hail Management. In the Flathead Valley, Billie found her home, raising her children and enjoying the beautiful scenery and her beloved hummingbirds. Billie enjoyed taking pictures, playing pinochle, fishing, camping and boating, helping at the Bigfork Summer Playhouse, and making Christmas candy with Fred. Billie and Fred divorced in 1987 and she moved to Missoula working at Zales. She decided to go into real estate and returned to Kalispell in 1990, working for Chuck Olson and Windemere Realty. Fred and Billie reconnected and remained companions and caretakers of each other until his death in 2006.
In 2016 Billie moved into Brendan House in Kalispell where she lived until her passing. Billie was a joy to be around, smart, witty and caring, and loved by all who knew her.
She is survived by her sisters Caryl (E.L) Luckett of Chinook, Renee (David) McLure of Phillipsburg, Tori (Larry) Reinlasoder of Billings, and Carla (Andy) Scheidecker of Billings, brother David (Lori) Noyes of Billings, daughter Donna (Keith) McKinney of Washington, sons John (Opal) Mortensen of Idaho, Rick (Alice) Erickson of Lolo, Dan Erickson, nieces and nephews Leah (Joe) Benski and Michael Noel of Great Falls, Jeff (Alisha) Samek), Jake (Lea) Samek, Jason (Tracy) Samek, Ryan Estel and Dane Estel, Lacy Noyes (Jeff Perea), Molly (Louie) Reseland, and Seth (Kailee) Noyes, all of Billings, and Toby (Angie) Balsam of Baton Rouge, Louisiana, grandchildren Donovan McKinney and April Rose Nelson, grandson Zack (Kate) Erickson of Mississippi, great-grandsons Damian Blackmore and Bjorn Lars Nelson, and very dear friend Janet Monk of Bigfork.
A celebration of Billie's life will be held at the Monk Ranch in Pleasant Valley on Aug. 13. The family asks that you remember Billie by considering a donation in her name to Brendan House in Kalispell or the Bigfork Summer Playhouse in Bigfork.
Recent Headlines
---