Boutique guest ranch offers opportunity to stay with Clydesdales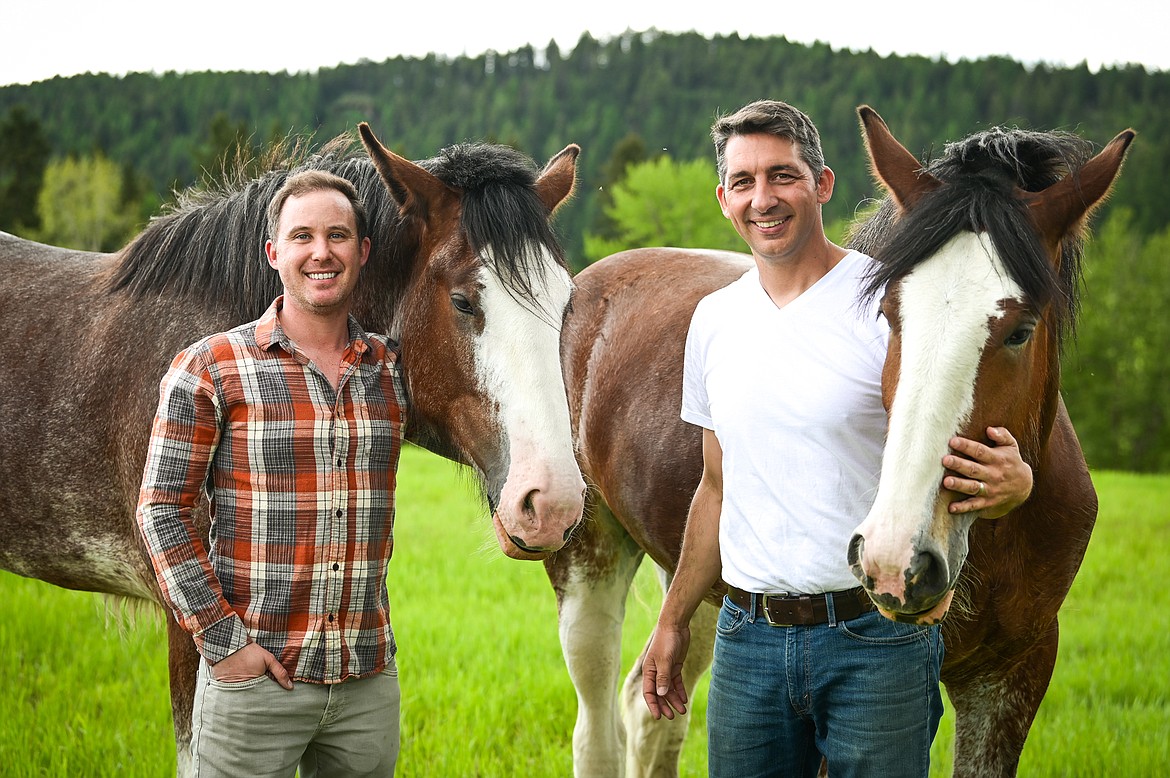 Matt Ladensack and Benjamin Arnold at Clydesdale Outpost on Tuesday, June 7. (Casey Kreider/Daily Inter Lake)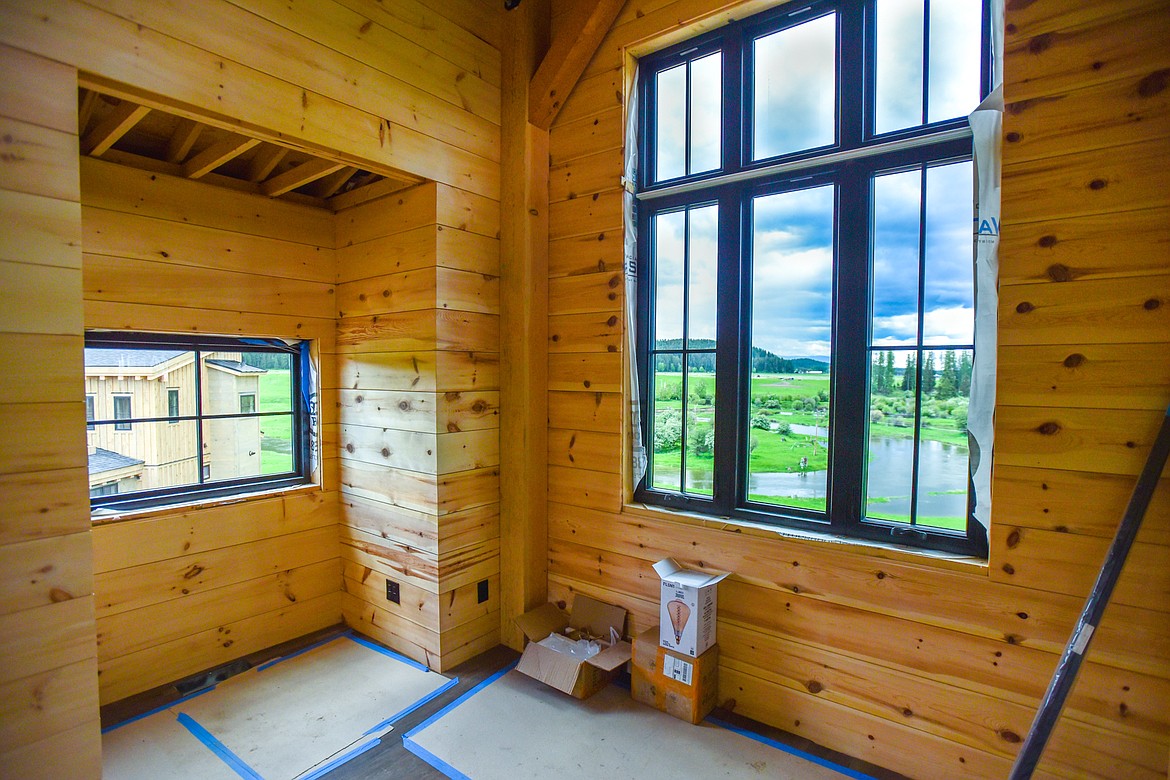 A view of the meandering Stillwater River from an upstairs window of one of the guest cabins at Clydesdale Outpost near Whitefish on Tuesday, June 7. (Casey Kreider/Daily Inter Lake)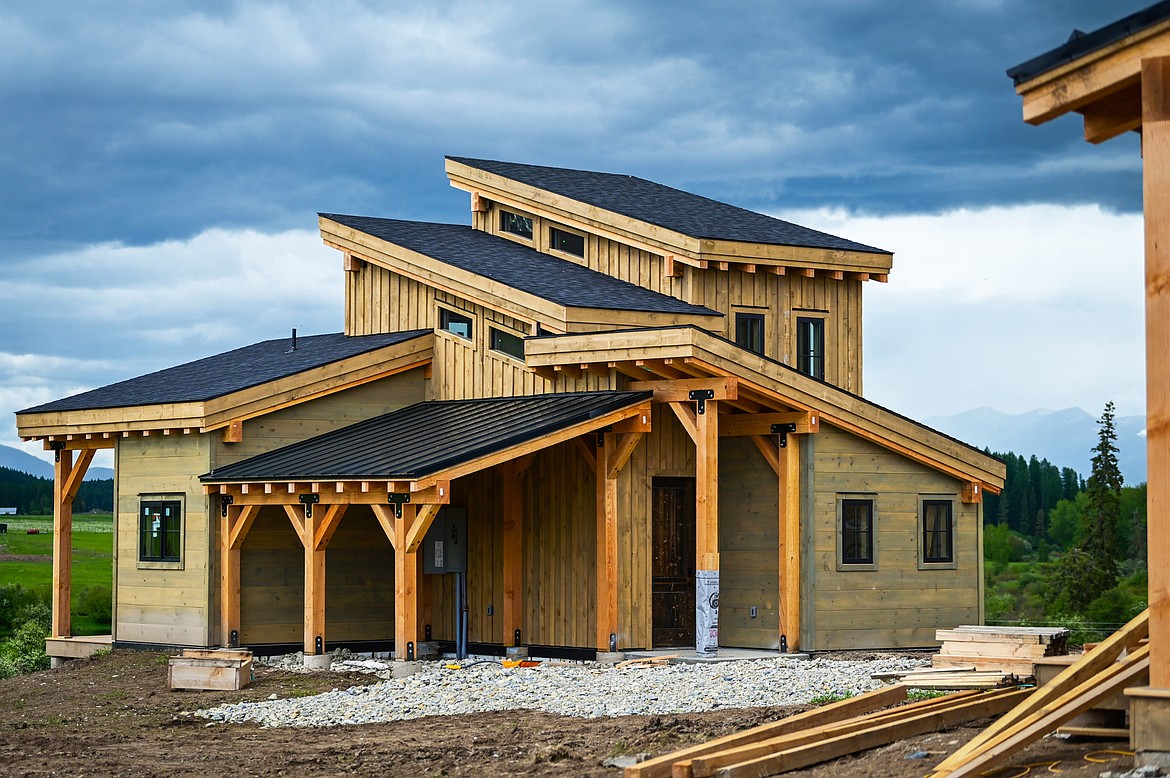 One of the guest cabins under construction at Clydesdale Outpost near Whitefish on Tuesday, June 7. (Casey Kreider/Daily Inter Lake)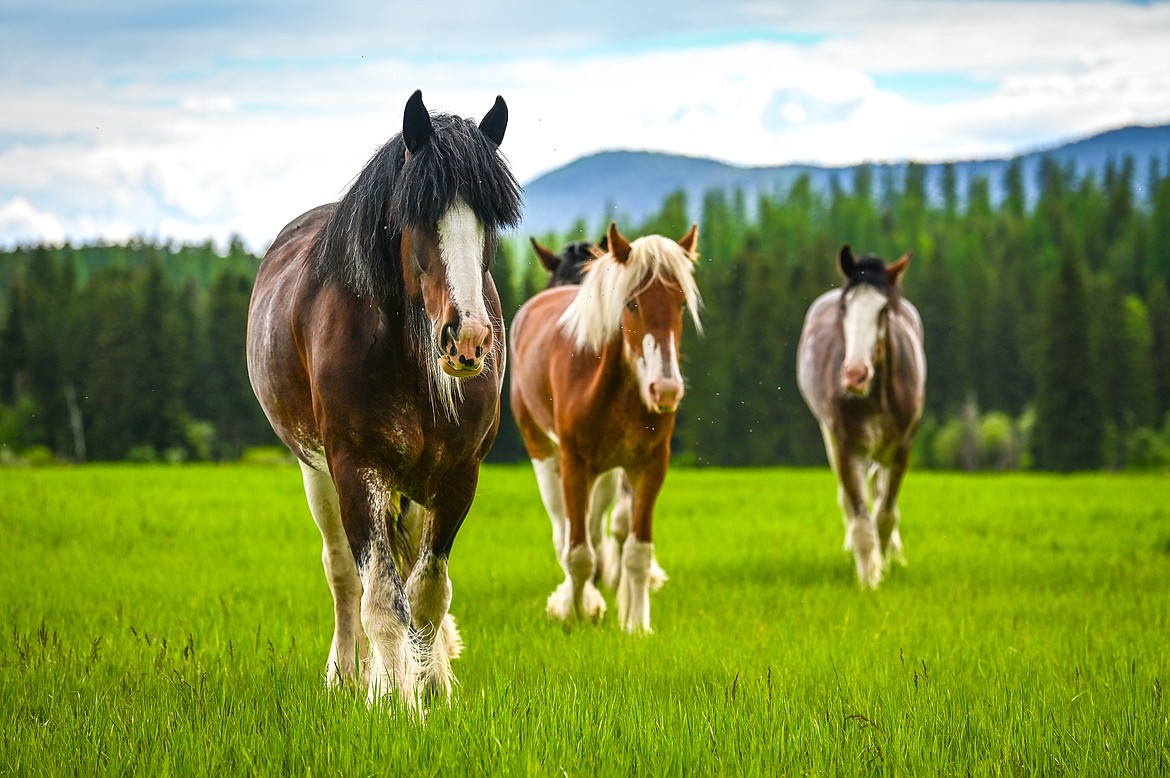 Clydesdales approach a fenceline at Clydesdale Outpost near Whitefish on Tuesday, June 7. (Casey Kreider/Daily Inter Lake)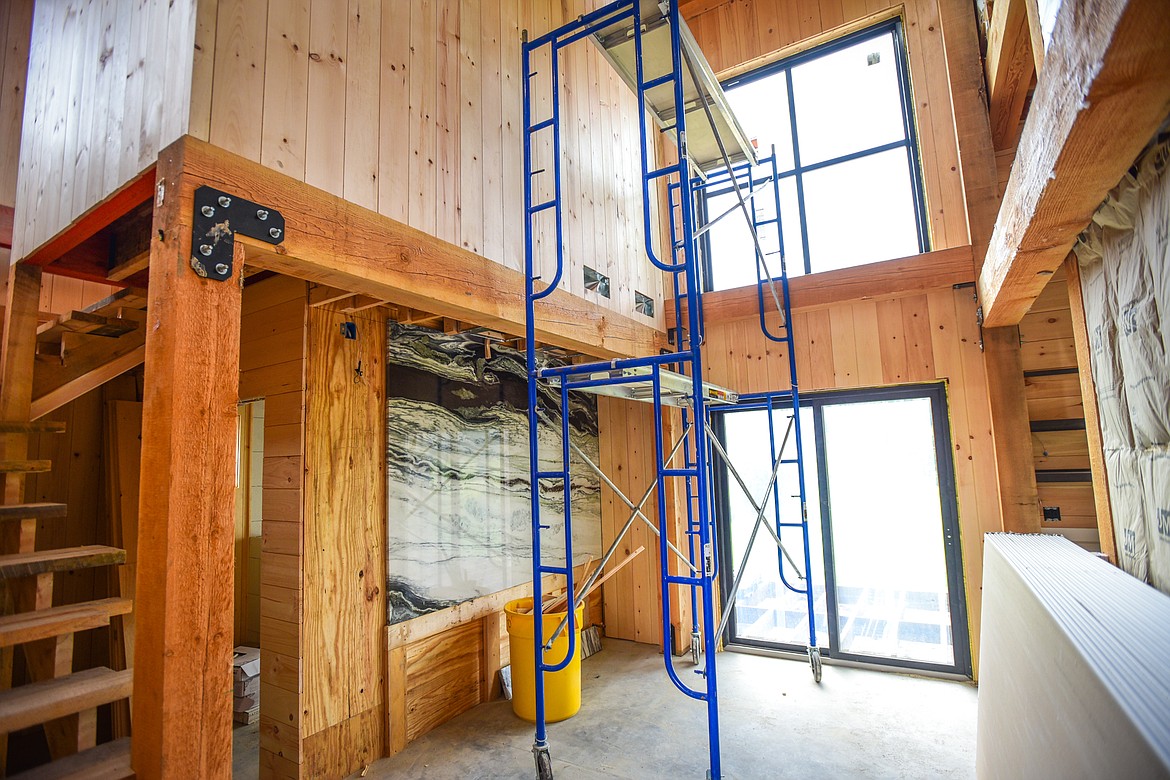 A view inside the first floor of one of the guest cabins under construction at Clydesdale Outpost near Whitefish on Tuesday, June 7. (Casey Kreider/Daily Inter Lake)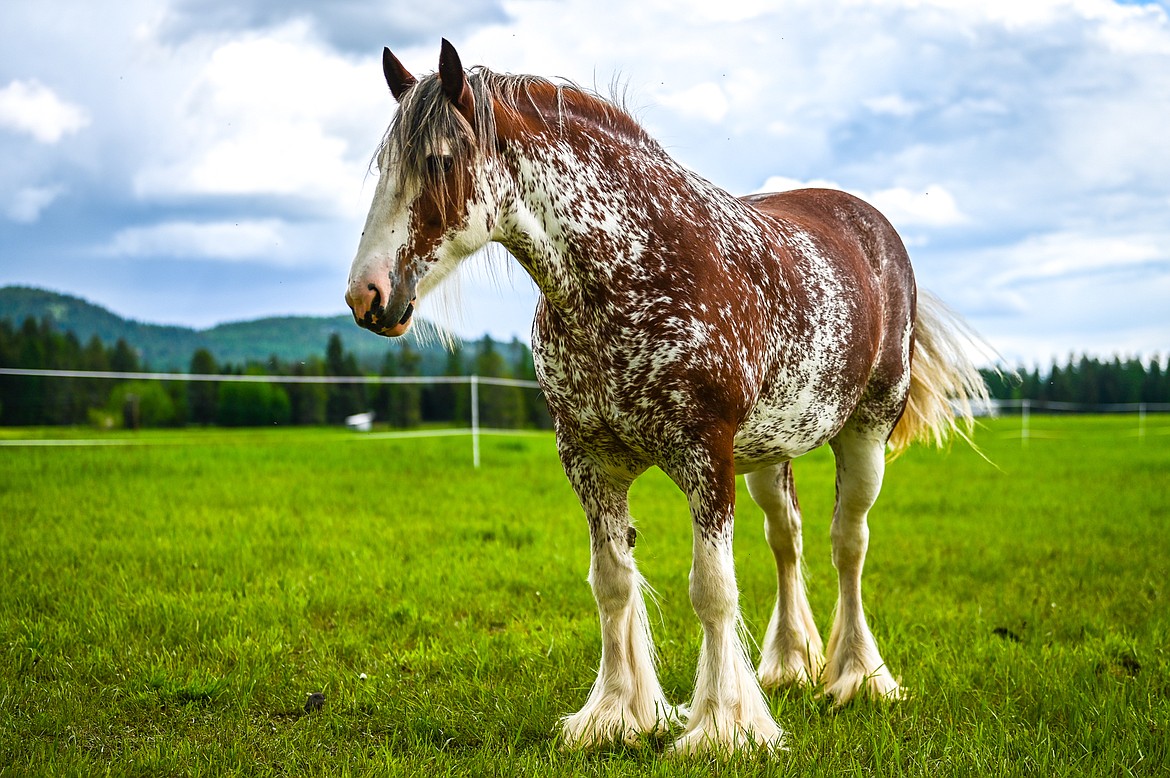 Isabelle stands in a meadow at Clydesdale Outpost near Whitefish on Tuesday, June 7. (Casey Kreider/Daily Inter Lake)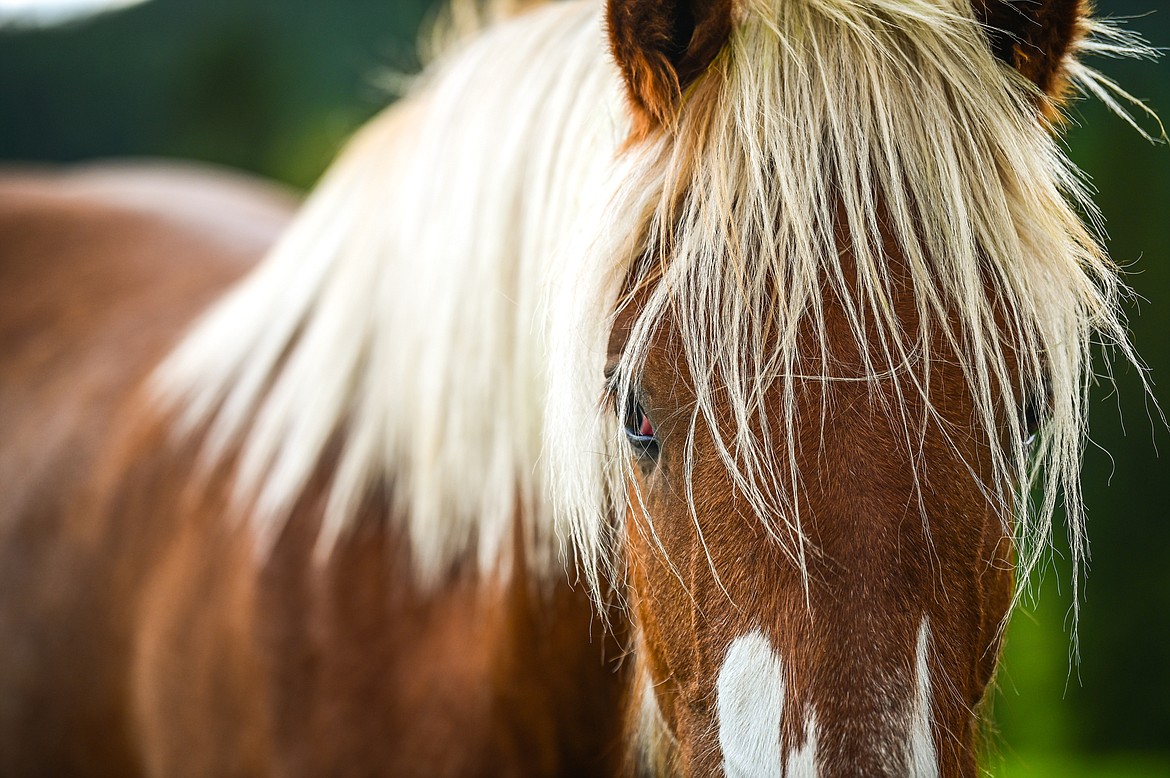 One of the clydesdales at Clydesdale Outpost near Whitefish on Tuesday, June 7. (Casey Kreider/Daily Inter Lake)
Previous
Next
by
Summer Zalesky Daily Inter Lake
|
June 19, 2022 12:00 AM
Originally bred to work in agriculture and industry, Clydesdale horses almost went extinct with the rise of machinery. While no longer endangered, they are still a vulnerable breed, and Ben and Matt Arnold-Ladensack are keeping Clydesdale history alive with their retreat and event center just north of Whitefish.
At Clydesdale Outpost, guests are offered a boutique ranch experience with the chance to stay in luxury cabins and interact with the Clydesdales. The horse's calm and gentle temperament creates a therapeutic experience for visitors to the ranch, the retreat's owners say.
"The horses can read your emotions and feel your energy," Matt said. "If you're sad, they come over and put their head on you. They're a very affectionate breed."
Ben's equestrian journey began with his grandparents who had a passion for horses. In 1995, Ben and his father began breeding Shire horses, and later Clydesdales.
Ben and Matt met in 2013, married, and moved to Washington state where they continued the breeding program and the traditions of Ben's family ranch.
As an homage to Ben's childhood, many of the horses are named after his family members. Such as Marga, after Ben's grandmother.
Ben and Matt first opened the first Clydesdale Outpost in Amboy, Washington, before moving to Montana.
"We were literally in the middle of nowhere, but it was a huge hit," Matt said. "We moved to Montana to do it on a larger scale and to have more space for the horses."
The couple explained that Whitefish has an ideal climate for the horses as well as built-in tourism, creating the perfect location for the Clydesdale Outpost.
"One of the most magical moments on the ranch is when we have our foals," Ben said.
Ben is a veterinarian by trade and uses his expertise in breeding to select show-quality bloodlines. They wait in anticipation for 11 months for the foals to arrive in the spring.
"When they finally come out healthy and alive, you're just like 'holy cow!' They're so cute and they immediately want cuddles and hugs," Matt laughed.
The prairie next to the Stillwater River provides a beautiful backdrop for both large and small-scale weddings. There are also options to rent out the whole facility for weddings and larger events.
In the future, they would like to add a larger barn for events and weddings, a boutique restaurant, and more cabins.
FROM THE cabin windows, guests will see the river, encompassing mountain ranges and the Clydesdales frolicking in the open meadows. Some unique details of the cabins include artistic granite slab walls, an indoor-outdoor bar area, a fully stocked kitchen, a gas fireplace, and a record player with albums featuring indie-folk and jazz artists. Guests can enjoy the cedar hot tubs on the patio, play horseshoes, or take a walk to visit the coffee shop, gift shop or cocktail bar.
The recreation opportunities seem limitless as guests can explore the spacious property, relax by the river, take a carriage ride or go horseback riding.
"We want people to go outside and adventure around the area and spend time with the horses," Matt said.
Currently, horseback and carriage rides are only available to cabin guests unless participating in the VIP Clydesdale Happy Hour event. This event must be reserved a week in advance and allows up to 12 people to spend time with and learn about the horses while enjoying charcuterie boards by Graze Montana and artfully crafted cocktails.
While the Clydesdale Outpost is unique in the world, Ben and Matt are largely active in the local community and have already participated in several auctions and donation events such as a benefit for the Flathead Youth Home. The couple takes a hands-on approach to the ranch and guests are likely to see them during their stay.
The Clydesdale Outpost's core values are "dream big, always adventure, be bold, use imagination and embrace tradition," they note.
The Clydesdale Outpost is located at 100 Outpost Drive, 8 miles north of Whitefish on US Highway 93 and is set to be fully open on July 1. For more information, visit clydesdaleoutpost.com or follow the happenings of the horses on Tik Tok and Instagram @Clydesdale_Outpost.
Reporter Summer Zalesky may be reached at szalesky@dailyinterlake.com.
Recent Headlines
---