Annett Audrey (Windon) Abell, 90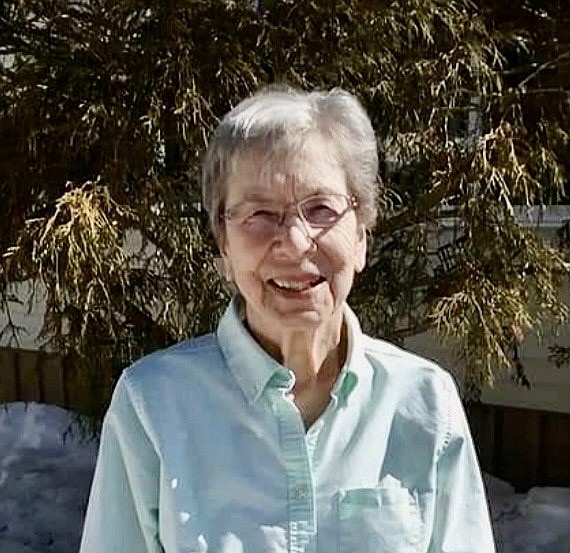 Annett Audrey (Windon) Abell was born at home on the family farm to Jesse C. and Audrey (Erb) Windon on the first day of spring, March 20, 1932, near Maple Falls, Washington. She joined older brother Clyde and sister Idella.
She grew up on the farm helping her dad and brother Clyde put up hay and milk cows, feed the turkeys and chickens and also helping her mom weed the garden and pick wild blackberries and then can and preserve the fruits of that labor. One of her first jobs was picking strawberries for 10 cents a flat in the nearby strawberry farm, money she used to buy school clothes. She learned to drive and took her driving test in the family's 1947 Willys Jeep that is still owned by the family today.
Mom graduated from Mount Baker High School in 1949 with perfect attendance and set off to discover the world, visiting Yellowstone National Park by Greyhound bus with her sister Idella in tow and then moving off the farm to work in nearby Bellingham, Washington, as a secretary/ stenographer, then moving to Seattle.
In 1957 she met and later married Merrill "Lucky" Abell, a Montana cowboy. They called the rural area around Seattle their home until the summer of 1966 on one of the many vacations back to the spot where Dad's heart was, he was finally able to talk her into leaving behind the conveniences of modern life like electricity and central heat. Albeit grudgingly, she moved to a remote mountain ranch in Kila into a small two-bedroom home. Six miles from the nearest power pole and 12 miles from pavement she raised three sons to be self-sufficient, calving cows, feeding a haying crew, and growing a garden, all while still finding time to go fishing on Mount Creek with us boys. In 1973 they sold the ranch in Browns Meadow and moved to the Helena Flats area of Evergreen and continued to farm and ranch on a smaller scale. Eventually they got out of the cattle business and raised and showed Quarter horses until 1986.
After they left the horse business Mom decided it was time to finally do some things for herself and she started walking at the Center Mall, making many lasting friendships in the process. She was a caretaker to Dad as his health failed and after he passed in 1995. She traveled with friends to Pahrump, Nevada, on several occasions to enjoy a show and gamble a tiny bit. She also took great pride in her yard and flower gardens and caring for her beloved birds with many bird feeders in her yard. Her favorites were the hummingbirds whose feeders she made sure were where she could watch from her chair.
Mom continued to maintain her yard and gardens, doing her own mowing and weeding and living on her own until two years ago at the age of 88 she finally allowed her oldest son Jay and his wife Lashon to move in with her and help her as her battle with Alzheimer's had taken away her ability to be independent any longer. Last year on the 5th of March she moved into BeeHive Homes in Kalispell where she quickly made new friends and settled into her routine. Although she wasn't always able to recall our names, she always remembered that she knew us and was happy to have us visit. Mom passed into the arms of Jesus on the 8th of June, 2022, at 1:15 p.m. with her family at her side at BeeHive Homes.
She was preceded in death by her parents Jesse and Audrey Windon, her husband Merrill "Lucky" Abell, her brother Clyde and sister-in-law Mary Ann Windon, sister Idella and brother-in-law Bill McCuen, nephew David McCuen and great-great-grandson Knox Duel who passed in infancy.
She is survived by sons Jay and wife Lashon Abell, Brad and wife Aleta Abell, and Larry Abel; grandchildren, Jennifer and husband Jake Betzold, Jamie and husband Avery Kyle, Rebecca Abell, Jessica Abell and husband Brandon Clouse, Isaac Mott, Jennifer Micone, Drew Clark and significant other Mercedes Gladden and Gabriel McNeely; 21 great-grandchildren and eight great-great grandchildren.
A celebration of life will be held at 11 a.m. on Saturday, June 25, at Buffalo Hill Funeral Home.
Friends are encouraged to visit the website www.buffalohillfh.com to leave notes of condolence for the family. Buffalo Hill Funeral Home & Crematory is caring for the family.
Recent Headlines
---