Mary Bissell, 93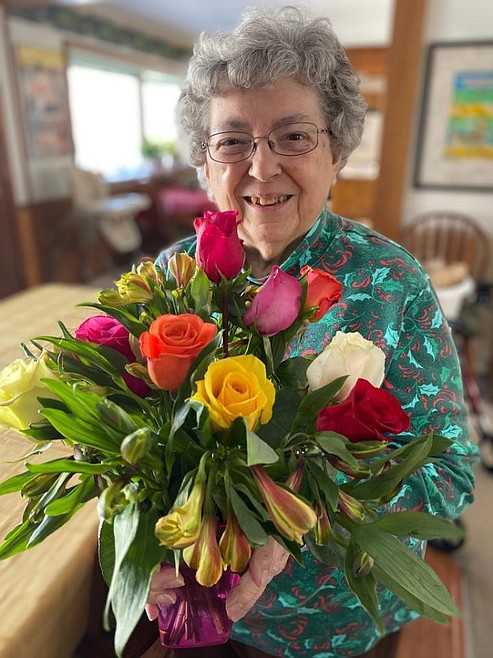 Mary Bissell, 93, went eagerly to the arms of her Lord and Savior on May 18, 2022.
She was born Mary Joanne Clunk to Joseph and Mildred Norton Clunk in Toronto, Canada. Most of her childhood was spent in Hyattsville, Maryland. Mary found delight in singing, drama, reading and home economics. Many favorite dishes served at her table are now made by friends throughout the world with a note on the recipe cards that they came from Mary's cookbook.
Mary attended the University of Maryland, where she studied nursery school and kindergarten education. One Christmas, an engineering student named Bill Bissell escorted her to a formal dance for their first date. They were married in 1951 and moved to Burbank, California, where Bill spent his career with Lockheed Skunk Works designing spy planes.
Every summer, Mary and Bill packed their four children, Steve, Eric, Don and Debbie, into the family station wagon and set off for weeks-long trips to see national parks, landmarks, points of interest, and family. Mary made it a point to be close to family and to befriend and make family of people throughout the world. In 1991, they retired to Montana, where the Lord showed them Swan Haven on the Swan River, and they settled in. The family gathered there for nearly every birthday party and holiday, with seven grandchildren and 10 great-grandchildren filling her home.
Swan Haven was always lively and full of love and guests. Quite a collection of people came to call Mary "mom" or "grandma." Her home was always a welcoming, peaceful place, and those who entered it came to know what it is to be part of a family — the family of God.
Mary was a faithful supporter of various ministries, with a decades-long focus on Operation Dawn (opdawn.org), an organization performing Gospel-based drug rehab in Asia and North America, and the Kolo Group ministry in Nigeria (kologroup.org). In lieu of flowers, donations in her memory will be deeply appreciated.
A celebration of life service will be held Saturday, July 9, from 3 to 5 p.m. MDT, at Bigfork Chapel, 290 Swan Hwy., Bigfork (bigforkchapel.org). At Mary's request, please wear colorful, comfortable clothing.
Recent Headlines
---