Flathead commissioners to make appointment to library board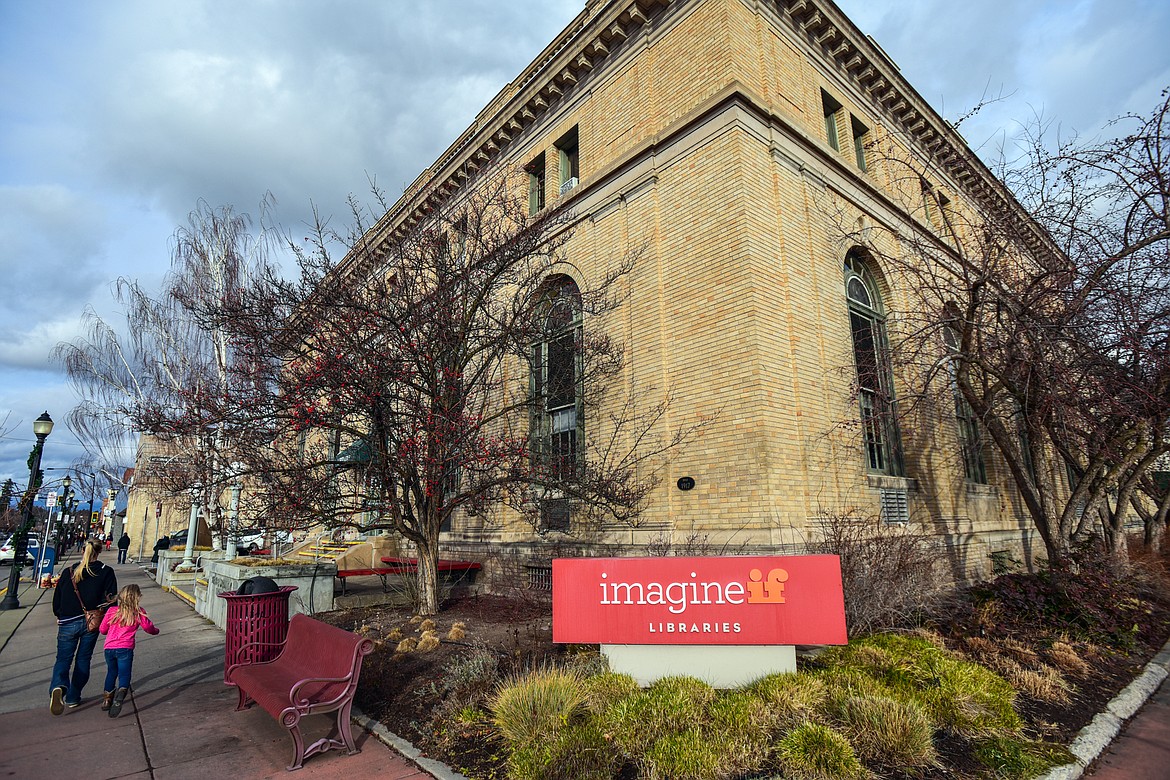 ImagineIF Library in Kalispell on Thursday, Dec. 2. (Casey Kreider/Daily Inter Lake)
by
TAYLOR INMAN
Daily Inter Lake
|
June 29, 2022 12:00 AM
Flathead County Commissioners are poised to select a new trustee to serve on the ImagineIF library board during their Thursday meeting.
The library board has put up three candidates — Carmen Cuthbertson, Jake Fulkerson and Jane Wheeler — for consideration. The commissioners are set to vote on the decision at 9:15 a.m., but in-person public comment will be taken at 8:45 a.m. Commissioners meet on the third floor of the county courthouse at 800 S. Main St. in Kalispell.
The leadup to the decision to fill the seat, previously held by Connie Leistiko, has proven contentious and candidate Cuthbertson has emerged as a local lightning rod. She fell into the public eye last year as the first to challenge the book "Gender Queer." That challenge set off a roiling debate over what materials should be allowed in the library and left its board mired in controversy.
Flathead County Republican Women put out a call-to-action in their newsletter asking people to reach out to the commissioners to voice their support for Cuthbertson. Likewise, the Flathead County Library Alliance put out a request for their supporters to reach out to commissioners asking for the appointment of Fulkerson or Wheeler.
During public comment at a board of trustees meeting last week, community member Lily Kirsanow spoke against the board forwarding Cuthbertson's name to the county commissioners.

"I am curious how Mrs. Cuthbertson was included when measured against the other two very qualified candidates — that she would be considered after she recently advocated for censorship of library materials which is the antithesis of what a trustee should be advocating for," Kirsanow said.
She also said Cuthbertson and Ingram had a conflict of interest, noting that she donated $400 to his recent Montana House District 7 campaign. The Flathead County Library Alliance (FCLA) leveled a similar criticism in a statement issued June 17.
During the same meeting, Cuthbertson responded by acknowledging the donation, but said she also donated $500 to Ingram's opponent, Courtenay Sprunger. Sprunger ultimately defeated Ingram in the GOP primary election.
"Seems an odd way of buying influence — giving more money to the opponent than to the person whose influence I'm supposedly buying," Cuthbertson said. "This ridiculous accusation tells a lot about the mindset of the people at FCLA … Frankly the FCLA is desperate to make our library a political football in a game that I refuse to play,"
Ingram also responded to the accusation that he should recuse himself from the process of selecting candidates because of this donation from Cuthbertson.
"As I saw it, it did not provide me any political advantage and I did not feel it was a conflict that would require me to recuse myself," he said. "However, for full disclosure, this information was provided to the commissioners to be aware of as they considered the merit of my recommendations."
Ingram pointed out that the list of recommended applicants sent to the commissioners is not binding, meaning they can pick who they want and disregard the board's recommendations if they so choose.
On her application form, Cuthbertson said she applied last year for a board position as well. She's previously served on the Kalispell Montessori School Board, has a good understanding of finance, has a master's degree in English and Russian literature and linguistics.
"I want to contribute to a thriving library and find reasonable solutions to ImagineIF's current problems," she wrote in answer to the question "Why are you interested in serving on the board?"
Jane Wheeler wrote in her application she was a librarian for 25 years. She said she's worked and directed public, school, university and specialized (science) libraries throughout her career. She served as a board trustee for West Valley School District for 15 years, many of which she spent as the chair.
Wheeler served 18 years on the grants committee of a local charitable foundation, served six years on the board of directors of the Hockaday Museum of Art and is a Cub Scout leader and soccer coach, among other activities. She said she wants to serve on the library board because of her lifelong love of libraries. She believes her education and experience can help her serve the community.
Jake Fulkerson has been part of the Capital Campaign Committee for the Bigfork Library under the ImagineIF Foundation. He said from 2006 to 2018 he served on the Park County School Board in Wyoming, where he was chair for three of those years. From 2016 to 2020 he was on the Board of County Commissioners of Park County and served as chair for one year. He served on the administrative council at Cody United Methodist Church, the Cody Economic Development Council, the Cody Rotary and the Cody Rotary Foundation — and was chair during some point for all.
While a Park County commissioner, he served as the liaison between the county and their library system for four years. He said he wants to serve on the board because he is drawn to community service and has been looking for opportunities to get more involved since moving from Wyoming.
A full list of applications submitted for the trustee position can be found through the County Commissioner's website, by looking at the agenda for Thursday's meeting and clicking into the attachment next to "Board appointments: library board."
Recent Headlines
---