Eureka appoints retired doctor to county health board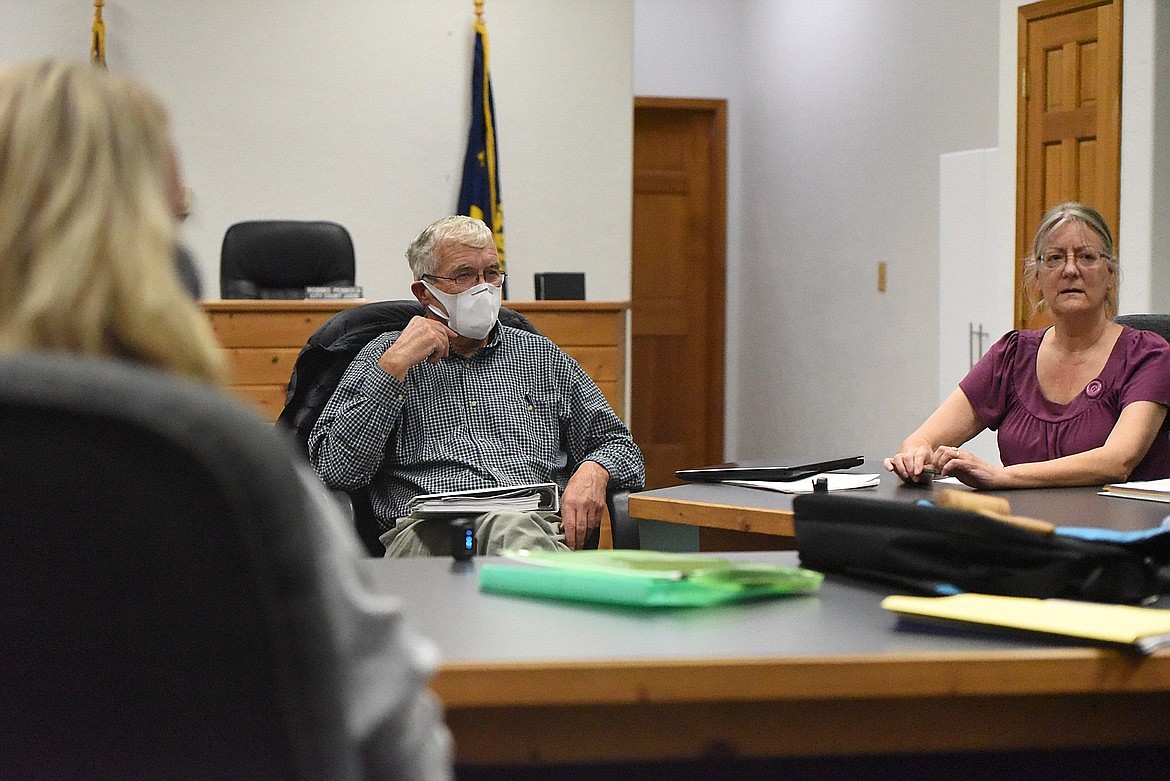 Health board members Jim Seifert and Debra Armstrong debate bylaws at an October 2021 work meeting. (Derrick Perkins/The Western News)
by
DERRICK PERKINS
Daily Inter Lake
|
March 11, 2022 12:00 AM
Eureka Town Council added a fresh face to the Lincoln County Health Board last month, likely realigning the panel's outlook on the pandemic and public health in the process.
Lannie Fehlberg, a retired doctor, secured the appointment as Eureka's representative to the body with the support of three town councilors. One member, Ethel White, abstained, according to draft minutes of the meeting.
Fehlberg said she applied after seeing a lack of support for Covid-19 vaccination efforts among north Lincoln County members of the board.
"I felt that the [county] health department has done a good job of getting people vaccinated and promoting vaccines, but that health board members have not been vocal enough or supportive enough [of] their efforts," she said.
Fehlberg first thought about applying for a seat on the board about four months ago. A friend suggested it, she said. The lengthy, contentious meetings held during the pandemic years gave her pause. But the idea kept resurfacing in her mind, she said.
"I just felt that we had board members from north Lincoln County who had not been speaking out in favor of vaccines as a way to control the pandemic," she said. "I wanted somebody to represent the people of Lincoln County, especially north Lincoln County, who do feel that following the recommendations of the experts in the field and the Centers for Disease Control and Prevention and our county health department … is a good thing to advocate for."
Along with adding a north county voice supportive of vaccinations to the board, Fehlberg replaces one of the body's staunchest opponents of pandemic measures: Debra Armstrong. As Covid-19 swept across the nation in waves, eventually reaching even remote Lincoln County, Armstrong routinely questioned the severity of the illness, the toll it took on local medical facilities and professionals, and the efficacy of timeworn pandemic measures. She promoted vitamins, supplements and lifestyle changes over measures like masks, social distancing and, eventually, vaccinations.
While her position on Covid changed after she suffered a serious bout with the illness during the delta wave — "I am very grateful I got Covid-19," she told her colleagues Oct. 12. "It was a huge learning experience" — she remained resistant to government intervention.
After recovering, she called for the creation of kits, including oximeters and information on hydration and electrolytes, to be sent home with Covid-19 patients. When fellow board members and officials with the health department jumped at the idea, she dismissed their efforts.
"The government does not need to be doing it for us," she said. "We cannot take care of all of the community. The community has to be involved in their own care."
Fehlberg declined to comment on her predecessor's positions. Eureka resident and business owner Rita Collins, who backed Fehlberg at the Feb. 14 town council meeting, lightly critiqued Armstrong.
"She has been … I'm going to say against measures that I thought would have done well for our county," Collins said, noting that Armstrong opposed not just mandates, but the encouragement of pandemic measures.
"[Fehlberg] believes in vaccines; she is also a very levelheaded person and really strives not to be too contentious," Collins said. "She is very levelheaded and she really tries to work with people to find that spot. I think that she will be a very good influence on the board and hopefully put the focus on public health and also in a way that doesn't make the board feel so divisive."
The addition of a pro-vaccine Eureka representative leaves the board with four members — a majority — generally supportive of the mainstream medical community's approach to the pandemic. While much of the contention about the makeup of the board has centered on geography in the past two years, members of the growing north Lincoln County delegation (Eureka area residents hold four seats on the panel; they had just one in 2020.) voted together and often backed each other in questioning the pandemic and vaccination efforts.
For example, after setting aside one of three at-large seats for a north county resident — now held by Patricia Kincheloe — the board sought to fill Dr. Sara Mertes' vacant spot with a south county applicant. Presented with applicants from both ends of the county, the Eureka area delegation voted lockstep for Dr. Dianna Carvey, a Eureka area resident.
Carvey is listed as a worldwide associate of Front Line Covid-19 Critical Care Alliance, a group that has promoted ivermectin, an anti-parasitic, as a miracle cure for the disease.
The drug, which also has been touted by health board chair and County Commissioner Josh Letcher (D-3), remains unproven as a treatment for the disease. A March 3 ABC News investigation into the drug's popularity uncovered evidence of massive amounts of wealth generated by the sale of ivermectin prescriptions via telemedicine.
Collins' described Carvey's appointment to the board as a low point for her.
"Not just because we've gone through Covid-19, but in general I want a health board where people are really looking out for the health of the community," Collins said. "I don't care personally if they make a choice, like 'I don't believe in vaccinations for me or birth control for me,' but I want a health board that looks out for the community. I had serious concerns about the direction the health board was going in."
Though the pandemic provided the impetus for joining the health board, Fehlberg said she hoped to focus on mental health, substance abuse and the wellbeing of animals in the community.
"… [W]hat we see over and over again, as far as crime and accidents, so much of it involves alcohol and substance abuse and then we have the unfortunate suicides in the county," she said. "I think mental health may be an area where Lincoln County is underserved."
Having recently come into possession of her orientation packet, Fehlberg planned on keeping an open mind, asking questions and listening closely at her first appearance on the panel.
"That's what I've been doing for the past few weeks, studying and learning where the funding comes from, where the authority comes from, where the enforcement comes from and how everything is interlinked. It's a lot to learn," Fehlberg said. "I hope to be just a productive member of the board."
Recent Headlines
---