Retiring assistant superintendent highlights career, opening Glacier High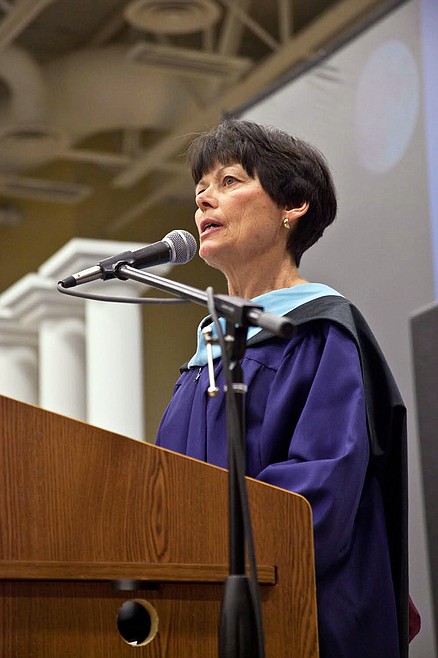 Callie Langohr speaks to the graduating class of 2012 during her time as principal at Glacier High School.
by
HILARY MATHESON
Daily Inter Lake
|
March 15, 2022 12:00 AM
Callie Langohr, outgoing Kalispell Public Schools assistant superintendent and Glacier High School's first principal, is retiring June 30 after nearly three decades with the district.
Of the many accomplishments during her long tenure, she says one stands out.
"That is the community giving me the opportunity to plan and open a brand new high school," she said about helping lead the transition between opening Glacier and supporting the existing Flathead High School during the 2006-07 school year.
She said it was a tough decision to leave Flathead and commended those staff members who took the leap with her into uncharted territory.
"I have the utmost admiration and respect for this staff, not only teachers but the rest of the team that had been in safe harbor in Flathead and the middle school, and they said, you know what, we're willing to go into unknown, unchartered territory," Langohr said.
She was also confident in the incoming leadership team at Flathead.
"I felt my responsibility was to bring the best and the brightest together and support them and then shine a light on them," she said of her administrative career. "I'm holding the spotlight on them. That's what good leaders do."
Her calm demeanor is a hallmark in both smooth and challenging times leading the high school.
"There's one magnet on our refrigerator at home and it says 'grace.' If you're going to be a leader you have to develop a plumb line and stay with that plumb line no matter what. My plumb line was grit, gratitude and grace, — taking care of people before programs," Langohr said, a mentality her parents instilled in her.
"Continually seek excellence. Don't rest on your laurels," she added.
LANGOHR STARTED her career in the district as a Flathead High School counselor in 1993. However, the Montana native's history goes back to her childhood as a Hedges Elementary student and a 1971 Flathead graduate. Her parents also worked in the district.
"My mom worked in the Flathead High School library. My father was a teacher at Flathead High School, activities director at Flathead," she said. "I lovingly say I grew up in the Flathead gym because that's what we did as a family."
After graduating from Montana State University with a bachelor's in mathematics and a minor in physical science, Langohr took a different career path in business before going into education. She worked her way up from a McDonald's employee to franchise owner and operator in Havre.
As a business owner, she reflected how it informed her understanding of what it meant to pay taxes when looking at school budgets.
"Approximately seven years ago, the school district asked me to lead the teams that were taking a deeper look into the district budget. I was still principal at Glacier at the time. Mark Flatau, who was superintendent at the time, asked if I would lead the collaborative process to take a look at over literally 1,600 line items," she said. "We haven't changed that approach since."
After 12 years operating the McDonald's franchise, education was "still in her blood," and she earned a master's in career guidance and counseling. Langohr served as a guidance counselor at Flathead for five years before taking an assistant principal position at the high school. After one year, she was promoted to principal and served in that position for seven years when building Glacier High School was in the works.
Langohr went on to lead Glacier for 11 years.
"I had the honor of serving in this district for 18 years as a high school principal. In those 18 years I graduated 6,548 seniors," Langohr said.
Graduates have gone to work in all kinds of industries and professions. Some have children who now attend Kalispell Public Schools.
"There's a lot of satisfaction in seeing the Kalispell graduates do well as adults," she said.
As an administrator she's also had her hand in curriculum, especially taking pride in being involved with bringing nationally, and internationally recognized programs to Kalispell to prepare students for a changing world with the International Baccalaureate program at Flathead, for example.
"Part of our role as educators is meeting the future needs of students," Langohr said, later noting, "The world is changing so quickly we need to change with it. We can't stay stuck in the mud. It doesn't work."
When she worked at Flathead, she also sought out partnerships with Flathead Valley Community College such as Running Start, a program where students can earn both high school and college credit, helping them save time and money.
In the recent decade, the two high schools and middle school administrators also worked to meet the increasing needs of students versed in science, technology, engineering and math with a program called Project Lead the Way.
For teachers, she spearheaded teams tasked with creating the Kalispell Education Excellence Program, which primarily involves veteran teachers mentoring first- and second-year teachers.
"We have a high retention rate of first- and second-year teachers and I contribute that directly to the Kalispell Education Excellence program," Langohr said.
THE FOCUS of her career has always been people.
"When I look back at what I've shared with you there's a common thread and that common thread is I've had the opportunity to build great collaborative teams that had quality dedicated people that had the student's interest in mind. They were forward-thinking people that were willing to take some risks to make a better educational experience for our students," Langohr said.
She's also enjoyed mentoring future educational leaders.
"Teachers that have gone on to become assistant principals, principals, superintendents and I feel really good about that," she said.
Kalispell Superintendent Micah Hill said her retirement is going to be a huge loss regarding her institutional knowledge and leadership abilities. Hill worked with Langohr for more than 20 years as a teacher at Flathead, an assistant principal at Glacier and as the district superintendent.
"She's been an incredible mentor with an indomitable spirit and just a caring and kind and conscientious person," Hill said.
The district will start reviewing applications Thursday with interviews scheduled to take place April 4. The district plans to select a candidate in April and seek school board approval of the new hire April 12.
IN RETIREMENT, Langohr, 68, is looking forward to remaining connected with Kalispell Public Schools, mentoring educators and serving on the FVCC board of trustees and Immanuel Lutheran Community board of directors.
"I feel truly blessed and it's been an honor to serve the students and the parents in the community and I leave with sincere appreciation with being fortunate enough to have partnered along hardworking, compassionate and inspirational staff, administrators and school board trustees," Langohr said.
She's also hoping to sharpen her math skills by taking classes at FVCC and advancing her basket weaving skills with master classes. She also looks forward to spending more time with her husband, Mike.
"He's a retired Navy captain and he has, for the last 29 years of this career, he's really stood by my side and he has without question supported the long days and the weekends because being an administrator, especially a building administrator, you have a lot of meetings in the evenings especially band concerts, theater you have on the weekends. It's not a 9 to 5 job," she said.
"When things would get a little rough — he'd know I was dealing with a big issue — he would very calmly and reassuringly remind me to keep my hands on the helm when the seas get rough and to always take care of your shipmates."
Reporter Hilary Matheson may be reached at 406-758-4431 or by email at hmatheson@dailyinterlake.com.
Recent Headlines
---