Former Griz Sneed gets his shot with the Vegas Knight Hawks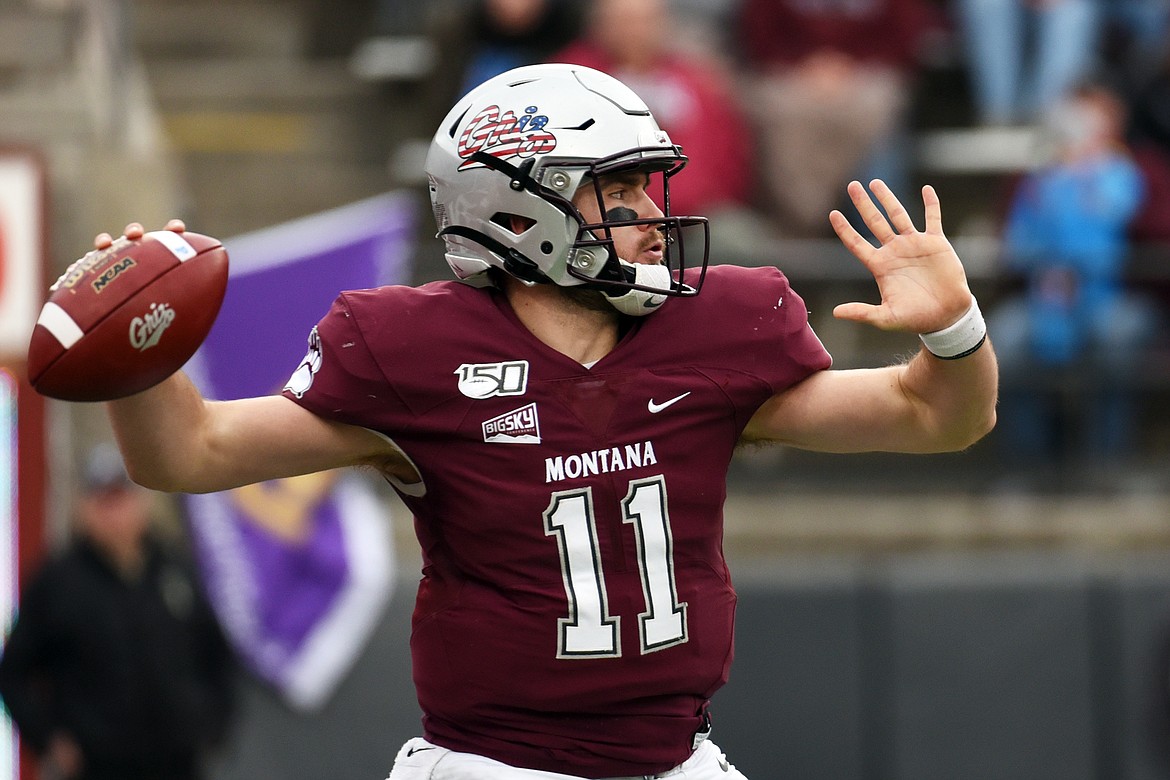 Montana quarterback Dalton Sneed (11) looks to throw against Idaho at Washington-Grizzly Stadium on Saturday. (Casey Kreider/Daily Inter Lake)
by
Griz Communications
|
March 18, 2022 6:10 PM
The dream of playing professional football is alive and well for former Montana quarterback Dalton Sneed, a dream that has come full circle to the city where his college career began.
On Monday, the record-setting Grizzly QB was named to the inaugural 25-man roster of the Vegas Knight Hawks of the Indoor Football League and will get the chance to take his first pro snap on Friday in the team's season opener.
Owned by Bill Foley, a businessman with several Montana interests, the Knight Hawks are the IFL's newest franchise, set to play its first game this week at the new Dollar Loan Center in Henderson, Nevada, in front of an expected sold-out crowd.
Sneed, who came to Montana from UNLV where he was a recruit of former Rebel head coach Bobby Hauck, is one of two quarterbacks on the Knight Hawks' roster, competing for the starting job with former Boise State QB Jaylon Henderson.
Should the former Grizzly standout earn a place on the field Friday, it will be his first game since graduating from UM in 2019.
The road to professional football has been long and winding for Sneed, who signed to play with the Winnipeg Blue Bombers in March of 2020, but saw his CFL opportunity delayed, and ultimately cut short, due to the pandemic.
But since returning to his home state of Arizona from Canada, Sneed has stayed in shape and kept his head up. And when Knight Hawks head coach Mike Davis called in late 2021, Sneed jumped at the chance to lace 'em up one more time.
"When opportunity comes knocking, you go answer," said Sneed.
"I found myself back here in Vegas, and now I'm just riding it out, seeing where it takes me, and chasing the dream. It's unbelievable how life works and truly does come full circle."
Sneed returned to Vegas in early March when the Knight Hawks opened training camp. Now two years on since his first shot at pro football in the CFL, he says he has packed the proverbial lunch pail every day and embraced the new opportunity with a workman-like approach.
"Being back on the field has helped me remember why you play the game," he added.
"The last two years were rough. So, just having the opportunity to go out and do what I love… there's no greater feeling."
The Grizzlies' two-time offensive MVP, 2019 All-Big Sky Honorable Mention, and 2018 Big Sky Newcomer of the Year finished his illustrious two-year career in Missoula with 6,159 passing yards, the eighth-most of any quarterback in program history.
A true dual-threat quarterback, Sneed also racked up 7,002 yards of total offense, the most of any two-year player in program history and the sixth-most total yards overall. Sneed finished his career at UM averaging 304.4 yards of total offense over the course of 23 games, the third-best average in Griz history. This despite missing two games his senior season.
The 6-foot-1, 216-pound Scottsdale native also finished his career with the sixth-most passing touchdowns in school history (47), with his 2019 season passing total of 3,436 yards slotting in as the sixth-best individual season in program history.
As a senior he became the first Grizzly to win three-straight Big Sky Conference Offensive Player of the Week honors after a three-game stretch where he passed for 999 yards and 11 touchdowns against eventual FCS playoff participant Monmouth, defending Big Sky champion UC Davis and Idaho State.
As a junior, Sneed set a new school record for most rushing yards in a game with 206 and three touchdowns to go along with 440 yards of total offense against Sacramento State.
Clearly, he knew how to operate on a full-size field. But now he's been challenged with learning the indoor game, a fast and furious form of football squeezed onto a hockey rink-sized surface.
"I love it. From a quarterback perspective, it's bullets flying. I mean, it's catch ball, release ball, catch ball, get ball out. It's football, but it's a totally different game," said Sneed.
"It's been a monster learning curve for me. Just adapting and understanding that it's nothing like the tempo or the pace of outdoor football. It's been fun."
Sneed and the Vegas Knight Hawks begin their season at home on Friday at 7 p.m. local time against the Northern Arizona Wranglers.
The team plays in the same facility as the Henderson Silver Knights, the AHL affiliate of the NHL's Las Vegas Golden Knights, both owned by Foley. Montanans might know Foley as the owner of the Whitefish Mountain Resort, the Rock Creek Cattle Co. golf resort near Deer Lodge, and MacKenzie River Pizza.
Recent Headlines
---