PSC's open District 5 seat draws varied crowd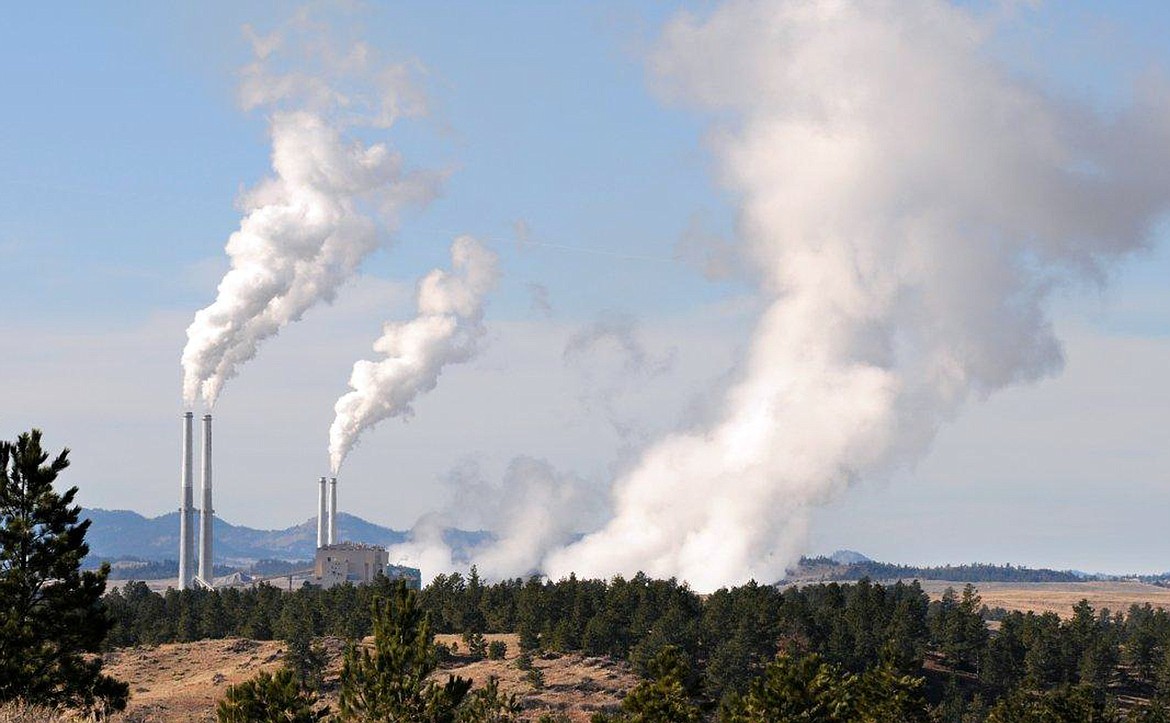 This file photo shows the Colstrip coal-fired power plant in southeast Montana. (James Woodcock/Billings Gazette via AP)
by
JOHN MCLAUGHLIN
Daily Inter Lake
|
March 20, 2022 12:30 AM
One of Montana's smallest agencies offers one of its biggest election bouts this year following recent legislative audit scrutiny.
Six candidates, two of which are Democrats heading into the June primary, have filed for an open District 5 seat on the Montana Public Service Commission.
The commission chiefly regulates private utility monopolies, but its duties include voluntary railroad safety inspections, pipeline inspections, and limited authority over transportation services like taxis, limos and garbage trucks.
District 5 is currently held by East Helena's former Secretary of State Brad Johnson, first elected to the seat in 2014 and currently serving as vice-president of the five-member commission.
Its terms span four years, and electees are term-limited to eight years.
The district had served Lake, Flathead, Glacier, Pondera, Teton and Lewis and Clark counties. A federal judgment earlier in March, however, ushered in a redrawn PSC district map ahead of 2022 elections to remedy malapportioned populations.
The revised map drops Glacier and Pondera counties from District 5, moving them to District 1.
For the fifth district's seat — in the order of their respective Montana Secretary of State filing dates — candidates are state Rep. Derek Skees, a Republican of Kalispell; Joe Dooling, a Republican of Helena; and Annie Bukacek, a Republican of Kalispell.
They also face Kevin Hamm, a Democrat from East Helena; Dean Crabb, a Republican of Marion; and John Repke, a Democrat of Whitefish, the latter two with concurrent filing dates.
Skees has served in House District 11 from Kalispell since 2017, the current chair of the House Energy, Telecommunications and Federal Relations Committee.
Outside of the Legislature, he's a proprietor of construction consulting and project management, also operating a fleet of Jeep rentals.
He first entered the Montana Legislature for a term in 2011, then representing House District 4 from Whitefish.
Skees said his interest in the commission seat centers on a troubled agency in recent years.
Widely reported by the media, the ill-discourse resulted in recent legislative audit recommendations for the commission to clean up its own compliance with state law.
Skees said he has since worked with commission members to help remedy audit shortfalls.
"I have an intimate knowledge of what works and what doesn't work inside the PSC, and I think it's that knowledge that would allow me to be a valuable member from Day 1, walking into the job," he said.
Experience-wise, Skees pointed to years of legislative work in the energy sector, advocating for nuclear and coal-fired power generation, but also supporting wind and solar development that competes in the same arena as natural gas and oil.
"I don't need to learn the job," he said.
In Helena, Joe Dooling — cattle rancher, irrigator and entrepreneur — said he also spent 14 years with an engineering company, where work included energy transmission and regional water- and sewer-rate setting projects.
His wife and fellow Republican is state Rep. Julie Dooling for House District 70. He said he wants to see more influence on the PSC from the agricultural community.
"I understand power. I understand regulation. I understand utility rates," he said.
"I've got a lot of experience in that realm of things, in understanding what goes into rates, what goes into long-term planning," Dooling said, "and I'm just not seeing that" with the commission.
He referred to Skees as a career politician, another driver of his interest for the open seat.
"We really don't need more career politicians on the Public Service Commission," he said, having also noted a doubling of his energy costs over the past 20 years. "We need more people who want to do the job and understand what the job is.
"It's time for some long-term thought process to go into the PSC," he said. "I think it's fair to say we've been a little disappointed in what the PSC has done for the last couple years.
Back in the Flathead Valley, now resigning from the City-County Board of Health, longtime Kalispell physician Dr. Annie Bukacek announced she fully will make a go at the District 5 seat.
Bukacek had been appointed to serve on the health board through December. She declined an interview with the Inter Lake, however she did answer two questions by email.
In her replies, she said that a "concern about our future quality and standard of living" drew her interest in the PSC.
"I have proven passion for helping people optimize their quality of life," she said about her experience and qualifications.
"A Public Service Commissioner should give sane, fair, and balanced protection to Montana's energy needs for its citizens' well-being. I will."
In East Helena, Democrat Hamm also pointed to longstanding experience within the commission's overall oversight.
"It's an area that I've worked in my entire life," he said.
Hamm highlighted worked in the aviation and tax industries, as well as in telecommunications. His family's work has centered on the latter now for five generations, he said.
"In working in all of these industries, you get to learn, you know, what everybody does — or what they should be doing — and why the regulations are both good and bad, when they're not managed well," Hamm said.
He currently holds chief executive officer roles with a local technology services company and with an internet service provider.
"I understand how regulations work, both for and against the people of Montana and the businesses that are being regulated," Hamm said. "I think it's comical how badly [the commission has] been run for the last decade, as the PSC has failed to do its job."
With the commission's energy focus, Hamm said, services like transportation and garbage removal have fallen to the wayside.
Hamm also noted that he's president of Big Sky Pride, having run the LGBTQ organization for about eight years.
Crabb in Marion said Skees prompted him to file — though, not that he abhors him.
Rather, he said he had heard Skees discussing the commission and its districting, which spurred a more focused interest for him regarding commission happenings.
A multigenerational electrical lineman, he has experience literally in handling energy and other utilities. As such, Crabb said, he spotted a lack of actual trade experience on the commission
"I've been in utility work for 30 years," he said. "I looked at all five of the commissioners, and I'm like, 'How come nobody has any utility experience?'
"So I decided to run," Crabb said.
He said his vocational expertise started in underground utilities — installing water, sewer and gas infrastructure — before moving on to underground and overhead fiber optics.
He then became a journeyman lineman, now retired but still a card-carrying union member.
"I think there needs to be utility experience sitting on the PSC," Crabb said. "From everybody that I've looked at, most if not all of them are just average people or termed-out politicians."
Lastly for the Democrats, Whitefish's John Repke said his interest in the District 5 seat remains two-fold.
Most importantly, Repke said, "my interest is in good governance and effective government, and from what I've seen at the PSC, that's not the case.
"I call it 'nonsense' on my website because that's the most polite word I can think of," he said. "I think the ratepayers and taxpayers in Montana deserve something better than … they're getting out of the commission right now."
Repke said inflation and high energy rates are concerns, making focus and discipline key attributes for commission members to achieve long-term energy security.
Now retired, he said overall he has four decades of experience in corporate finance, strategic planning and management, fitting skills for commission business.
"I am very used to doing, and did well, the type of work that the PSC does," he said. "I think I can help guide the agency. I can do the work of the PSC in a highly professional, ethical manner."
Reporter John McLaughlin can be reached at 758-4439 or jmclaughlin@dailyinterlake.com
Recent Headlines
---