Seeking balance amid Montana's visitation boom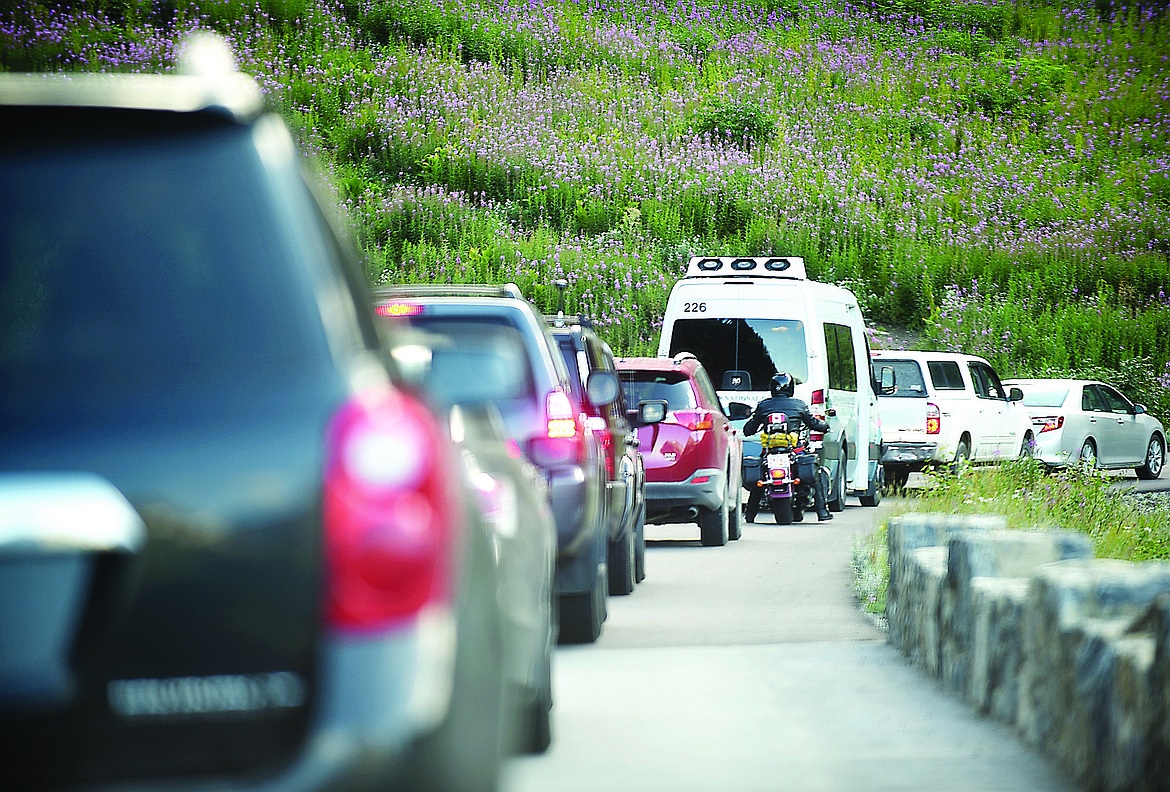 Traffic backs up on the Going-to-the-Sun Road in Glacier National Park in this 2019 file photo. (Daily Inter Lake)
by
Daily Inter Lake
|
March 20, 2022 12:00 AM
Montanans' attitude toward the state's thriving tourism sector is starting to sour — a troubling trend that industry leaders and elected officials need to take note of before the scales tip too far.
The University of Montana's Institute for Tourism and Recreation Research released its annual report last week that gauges resident's feelings about the tourism industry. Digging into the report's details reveals a state that is progressively becoming more agitated by visitation and its impact on overall quality of life.
When asked whether the benefits of tourism outweigh the negative impacts, just 62% of respondents from the Glacier region answered that they "agree" or "strongly agree." And while 62% is still a substantial percentage of locals who hold favorable views of the area's visitation, it's the lowest rate among each of the six regions analyzed.
Central Montana (81%) and Southeast Montana (80%) were in the strongest agreement, followed by Yellowstone Country (78%), Southwest Montana (69%), Missouri River Country (66%), and finally Glacier Country (62%).)
Statewide 71% agreed that benefits of tourism outweigh the drawbacks, which is a 5% decline from 2020 and the lowest level the survey has recorded since 2007.
And for the first time since 1992, a majority of Montanans surveyed (56%) said they believed the state is becoming overcrowded because of tourists. When breaking out the Glacier region, a whopping 70% agreed with the sentiment.
Trend lines show that attitudes about overcrowding started to shift negatively about five years ago, then took remarkable declines at the start of the Covid-19 pandemic.
"Results indicate that the pandemic has only added fuel to the fire," the report states, noting that 20 years ago, just 28% of respondents agreed that the state was overcrowded because of tourists.
The most troubling details in the report are revealed in the questions about quality of life. In the Glacier region, only 27% of respondents said quality of life would improve with increased visitation. About 40% of respondents said tourism will only make life here less enjoyable.
And while some of the blame falls on population increases — not just visitation — all of these trend lines are moving in the wrong direction.
Particularly for Montanans old enough to remember the good old days when a state park campsite didn't have to be booked five months in advance, or when local trailheads had more "7" plates than rental cars.
While the emphasis coming out of the Great Recession was to leverage Northwest Montana's natural beauty to bolster the economy, the pendulum has swung too far. It's time to seek balance again.
BUSINESS AND tourism leaders can do this by pivoting their focus to encouraging sustainable and thoughtful visitation practices — setting aside the perception that more is better for the economy.
We've seen this with the "Be a friend of the fish" campaign from Explore Whitefish, and hope even more resources are put toward similar efforts in all of our communities that benefit and suffer from tourism.
Elected officials should heed these warnings, as well.
Public infrastructure takes a beating from increased tourism. Everything from our roads, pedestrian paths and airports, to refuse and wastewater treatment needs added attention.
Expanding public access has to be on the forefront, as well.
We've heard from too many residents who say they won't go to Glacier or Flathead Lake anymore because of the crowds. It's a darn shame when locals can't enjoy the gems in their own backyard.
Yes, Montana's economic gains from tourism are calculated in the billions of dollars — it's a big slice of our state's financial pie.
But as the UM report clearly notes, more residents are also recognizing the "social costs from which those economic gains are derived."
Let's not let the tourism gravy train totally derail Montana's treasured quality of life.
Recent Headlines
---