'Unreserved' program helps St. Ignatius students connect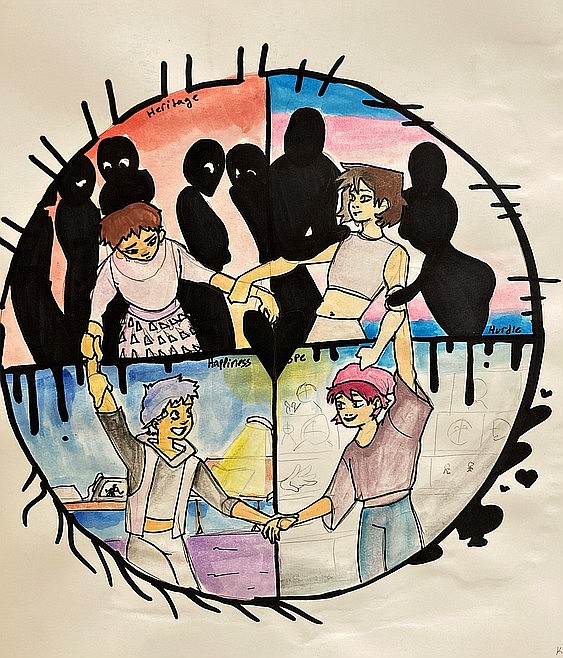 During the "Unreserved" project at St. Ignatius School, students created artwork framed by the four quadrants of "Heritage, Hurdle, Happiness and Hope," to share deeper parts of themselves and their backgrounds than most of their fellow students had ever known. (Carolyn Hidy/Lake County Leader)
by
CAROLYN HIDY
Lake County Leader
|
March 22, 2022 12:00 AM
St. Ignatius high school students recently found that there is so much more to their fellow students than they knew.
Art and Spanish teacher Caitlin Shelman organized the "Unreserved" event with help from the school's Salish and Native Studies teachers, Adele Martin and Aspen Decker.
"The Unreserved Project brings diverse groups of students together across Montana, and our school is a super diverse school," Shelman said. "It helps them find out what shared experiences they have, and hopefully develop more understanding and empathy for each other."
The day began with games, and learning about Salish traditions. Martin and Decker taught the students about the circle that represents the "Seasonal Round," a circle traditionally symbolizing the annual cycles of life, movements and activities by season, Shelman said. The students also learned about Plains sign language and played a game centered around the buffalo hunt.
Students later gathered in groups of six or so, at tables filled with art supplies and Chromebooks for accessing photos or other items they wanted to feature in their artwork. Each was given a circle with four quadrants — Heritage, Hurdle, Hope and Happiness — to help them describe or explore their past, present and future.
"Heritage could represent what country your ancestors came from, or what Tribe, or anything in your past that has made you who you are," Shelman explained. "A hurdle is something in your life that you need to overcome or to learn to live with. Hope relates to hope for the future. And then their Happiness."
Shelman said the kids were so into the event that even with concentrated effort, they needed more time than had been planned.
The students then shared in a "talking circle" about what they had featured in their artwork. Some wrote descriptions, while others stuck with visual portrayals only.
"Definitely at first I was not excited; I thought it wouldn't help very much," student Ahni Umphrey said. "After we started doing the project, I had a few people in my group that I'm pretty close to now. It was just nice to be together with people that you're not usually with. I found out a lot about other people that I thought I knew quite a lot about. It was just surprising to see."
Umphrey said she had a friend that she knew was Native American, but found out she was also Armenian. Another student had French Canadian, Salish and many other cultures in their background.
"It helped me realize that a lot of us go through the same things, and that you're not alone," Umphrey said. There were even two people in her group that had named the same "Hurdle" as she had.
"I thought it was interesting how we learned so much about people that we're usually around but we never got to know fully," said Sawyer Pule, another participant. "I kind of always guessed what they were like. Once I was in a group with different people I learned how they really are, not just what most people see in them."
Artwork from the Unreserved Project is on display in the St. Ignatius High School foyer. For more information about the project in Montana, visit urart.org.
Recent Headlines
---