Affordable housing complex nears groundbreaking
by
BRET ANNE SERBIN
Daily Inter Lake
|
March 25, 2022 12:00 AM
Developer GMD Development is getting close to breaking ground on Junegrass Place, a deed-restricted affordable housing project slated for Kalispell's North Meridian Road.
Thomas Geffner with the Seattle developer said the company hopes to receive its building permits from the city of Kalispell in early April, and it plans on breaking ground shortly after those permits are received.
From there, Geffner estimated it could take approximately 16 months before Junegrass Place is move-in ready. When it's completed, the complex will provide 138 affordable rental units.
"It's a really uncertain time in construction right now," Geffner stressed.
Based on similar projects from the past, Geffner said Junegrass Place could be available for occupancy in fall or winter 2023.
Junegrass Place has received $4.78 Million in tax credits from the Montana Board of Housing.
The state sets rent prices and income qualifications for the development.
The most inexpensive one-bedroom units are estimated to rent at approximately $655 per month, Geffner said. The next level of one-bedroom apartment will likely come in around $798 per month.
The two-bedroom options will rent for around $786 per month and $958 per month, and the three-bedroom units will cost roughly $908 and $1,107 for each model.
Geffner said the income qualifications will target people making $10 to $20 an hour.
Geffner said the best way to secure a spot at Junegrass Place will be to sign up on the website, which will be rolled out in the next few weeks. Geffner said individuals who sign up for information on the website will be the first to get an opportunity to lease at the apartment complex when it's ready.
Geffner also said Junegrass Place will be managed locally by Kalispell company Real Estate Management Specialists, Inc.
GMD Development chose to build an affordable housing complex in Kalispell because the lack of affordable housing here is "maybe the most severe in the state," Geffner said.
"We try to follow where we see a need for affordable housing," said Geffner. GMD has partnered with Homeword, a Missoula nonprofit focused on housing issues, on multiple affordable housing developments throughout the state, including Junegrass Place.
He said GMD Development selected the property on North Meridian Road because "it's so close to everything."
He also suggested two avenues for securing more affordable housing options in the area.
Geffner advised citizens to reach out to their state legislators to share their interest in housing tax credits, which are administered by the state.
He also suggested the city could set aside its own money specifically for the purpose of funding affordable housing developments, which would circumvent the need to secure tax credits from the state. Geffner pointed to Bozeman as an illustration of a community that has succeeded in designating a pot of funds for housing projects like Junegrass Place.
"Even a small amount from the city can help a project be feasible," Geffner said.
For more information about Junegrass Place, visit http://junegrassplace.com/
Reporter Bret Anne Serbin may be reached at 406-758-4459 or bserbin@dailyinterlake.com.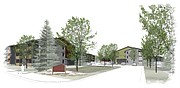 Recent Headlines
---