Businesses look to hire 'untapped workers'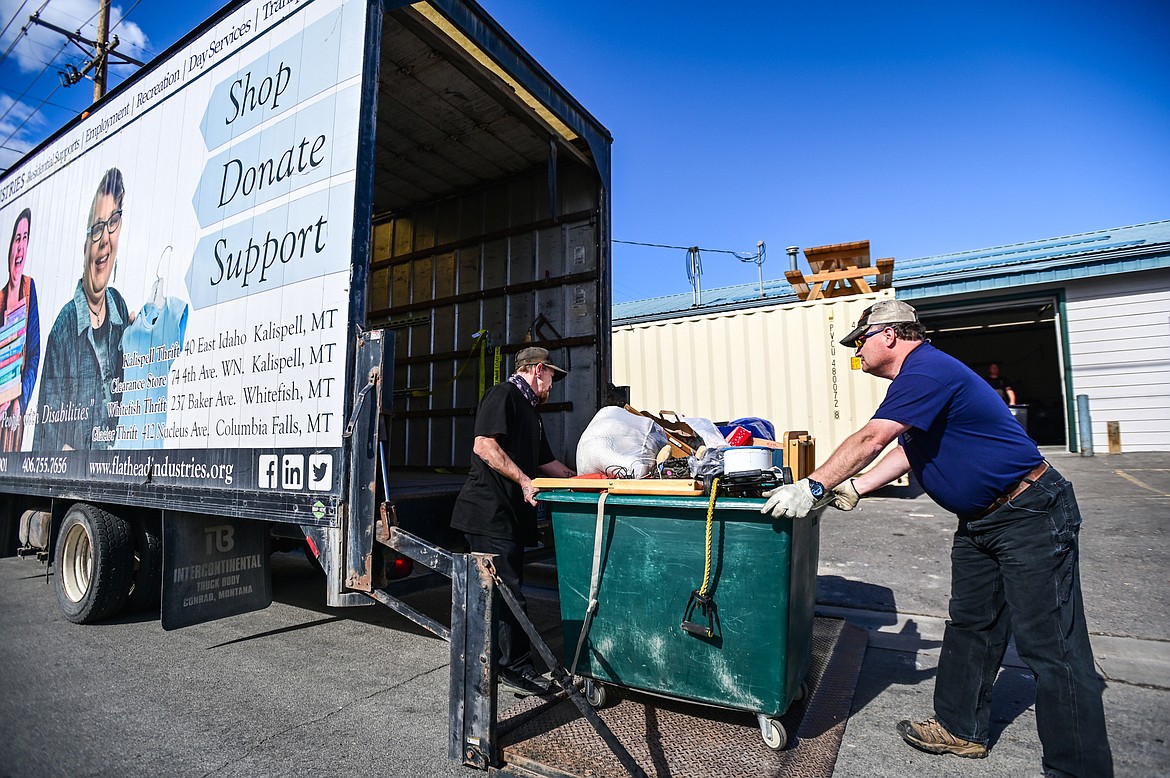 Two workers load donations into a truck for transport outside Flathead Industries in Kalispell on Wednesday, Sept. 29. (Casey Kreider/Daily Inter Lake)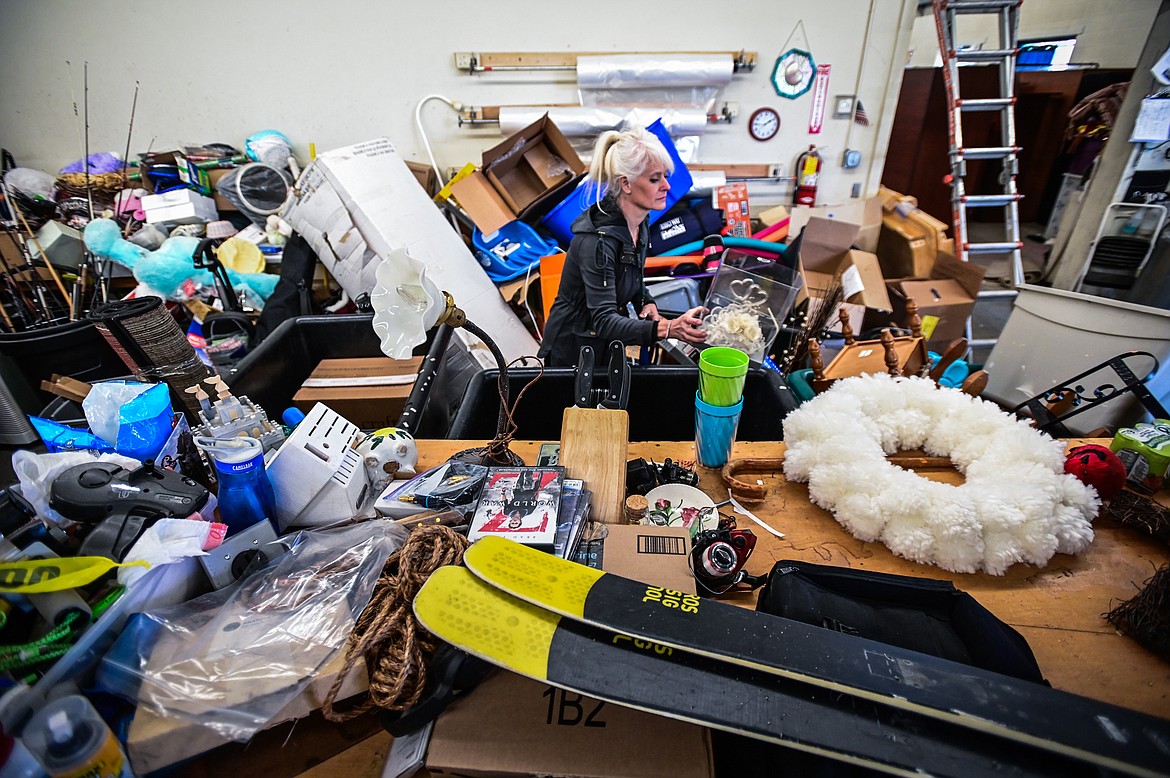 Suzanna Rasmussen works on pricing hard goods at Flathead Industries in Kalispell on Wednesday, Sept. 29. (Casey Kreider/Daily Inter Lake)
Previous
Next
by
BRET ANNE SERBIN
Daily Inter Lake
|
March 27, 2022 12:00 AM
Nontraditional candidates seem to be a solution that is working for local businesses looking to expand their workforce.
"It's no surprise the biggest issue for businesses right now is lack of workforce," said Laura Gardner, Job Service Kalispell Supervisor, at a Kalispell Chamber of Commerce luncheon on March 15.
To solve that issue, Gardner and many of her industry partners are turning to "untapped" workers. Older workers, workers with disabilities, veterans and workers who have been involved in the justice system all offer labor opportunities for businesses willing to get creative with their recruitment.
Retirees are the largest population of potential workers who aren't involved in the labor force, according to Gardner. She cited statistics from the Montana Department of Labor and Industry indicating 60% of those not in the labor force list retirement as their primary reason for non-participation.
Gardner believes enticing those workers back into the labor market would help address recruitment challenges.
"What would it be to get them back into work and contribute to their community again?" Gardner asked at the March 15 luncheon.
Jenn Prunty, founder of My Glacier Village, hopes to start a community conversation to answer that question. My Glacier Village, a nonprofit that helps seniors age in place at their homes, is hosting a seminar on reentering the workforce from 1 to 3 p.m. on April 6 at the Gateway Center Mall.
Prunty pointed out retirement used to last approximately seven to 10 years, but now people are living for decades after they retire.
"That's a lot of down time," Prunty said.
Plus, she added, a career doesn't always fund a retirement of that length, so she wants to encourage seniors to think about "redefining your retirement."
The goal of the seminar is to give My Glacier Village members and others in their demographic an opportunity to think about "reimagining what that time will look like."
Prunty noted that many retirees are "pretty happily retired," but others miss the challenge, the social component and the collaboration that come with a job. For those who are interested in recapturing some of the benefits of working, Prunty wants to make sure there is an awareness of the ways the workplace has changed. She wants retirees to consider opportunities for remote and flexible work.

"If retirees understand how different the workplace is," Prunty said, they might rejoin the workforce in greater numbers.
But she said it might take some work on the part of businesses to make workplaces more comfortable for older workers.
She suggested offering shorter shifts and flexible hours to cater to older workers.
"If companies could be a little more accommodating, I think we could get more people back into the workforce," Prunty said.
A SIMILAR approach could incorporate more workers with disabilities into the labor market, says Sandy Cothran, Associate Director of Vocational Services at Flathead Industries.
"Be willing to try anything," Cothran urged employers. "Sometimes you might be surprised."
She said workplaces could be more accommodating to workers with disabilities if supervisors considered the strengths of different disabled populations. Cothran pointed out some people with disabilities have a knack for job tasks that other workers might have more difficulty completing. Leveraging each worker's capabilities could help operations run more efficiently, Cothran said.
Cothran also urged employers to give workers with disabilities an opportunity to learn. Even if the process takes longer than usual at the outset, Cothran said this tactic might be "better in the long run" for businesses that have the patience to provide a learning opportunity.
Similarly, Cothran recommended taking the time to explain expectations clearly, and she advised employers to create a structured task list for some workers with disabilities. She said it helps to have "good communications with all parties involved."
Finally, Cothran encouraged employers to take multiple chances on workers with disabilities. Dedicated workplaces should be able to find roles that fit different workers, even if it takes a few tries. "Be willing to try again," Cothran suggested.
AT MANUFACTURER Northern Plastics, Chadwick Fairbanks has taken that advice to heart in his search for employees. Fairbanks and his team have diligently worked with nontraditional workers to slot them into Northern Plastics' operation, with a particular focus on the population of workers that has been involved with the criminal justice system.
"We want to be a part of the rehabilitation of these folks," said Fairbanks. "We're not afraid. We need manual labor. We need production."
Northern Plastics has been expanding in recent years, with plans to double its footprint at a new facility in Glacier Rail Park. The boom in business for the plastic injection molding company has brought with it an attendant need for a larger staff.
That need led Fairbanks to create a Jail to Jobs program at Northern Plastics. He collaborated with the Montana Department of Corrections to establish a pipeline of people being released from the Flathead County jail.
Fairbanks said he has the mentality that a person who is released from a detention center has completed his or her requirements to reintegrate into society and the workplace. "If you've been released from prison, you're done," he said. "It's over."
Those individuals have stipulations that require them to secure a job and housing, so Fairbanks said, "as far as we're concerned, they'll make good employees."
"It's worked fairly well," Fairbanks reported. "…Some of them have really turned their lives around."
Fairbanks and the team at Northern Plastics have worked hard to make the Jail to Jobs program successful. When one participant in the program didn't have a license, for example, Fairbanks personally drove him to work until he was able to get a license. Northern Plastics also secures apartments and provides a housing stipend to employees who don't have housing lined up.
"We're very much an employer dedicated to walking alongside these guys," Fairbanks stressed. "It's been a labor of love."
ANOTHER GROWING company, Shield Arms is looking to underutilized candidates to staff the expanding business. The firearms manufacturer told the Inter Lake it plans to add 30 new positions when it moves into a new $5 million facility by the end of the year.
"Hiring people can sometimes be a challenge," said co-owner Seth Berglee. "We're growing a lot."
The business leader and Army veteran is relying upon fellow military veterans to meet that demand for more workers.
Berglee pointed out Montana has one of the nation's highest populations of veterans, so it's advantageous to be a veteran-friendly workplace.
Shield Arms has achieved that status through several efforts. Berglee believes the company ethos, the nature of the work and the existing presence of veterans on staff all invite more veterans to work at the Bigfork company.
"Our culture is conducive to that in a lot of ways," Berglee said of recruiting veterans.
He said he and many members of the Shield Arms team understand the unique situations many veterans find themselves in when they return from duty.
"It's pretty hard to feel like you're valuable or the things you've done are transferring," Berglee observed. But at Shield Arms, he said, "It's welcoming. People fit in."
Reporter Bret Anne Serbin may be reached at 406-758-4459 or bserbin@dailyinterlake.com.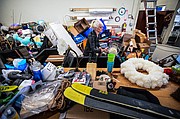 Recent Headlines
---