Warren Carl Ortman, 99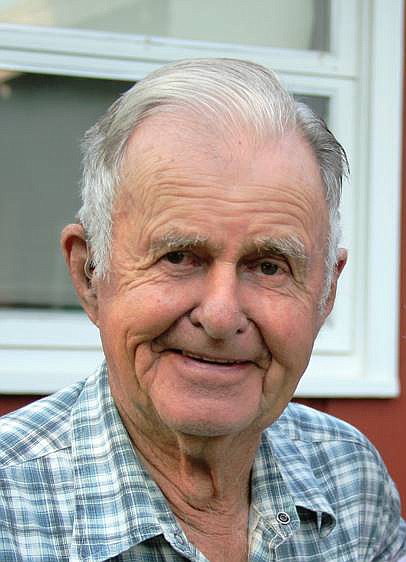 Warren Carl Ortman passed away April 30, 2022.
Warren was born on Sept. 19, 1922, in Ellensburg, Washington, to Carl and Louisa (Englehorn) Ortman. He grew up with four older sisters. In his early years, his father and relatives operated a business that included logging and a lumber mill prior to the Great American Depression. After experiencing huge financial losses in the Crash of '29, Warren's father owned and operated Kittitas Lumber Company through the Depression years. After Warren graduated from Ellensburg High School, he trained as a machinist in Yakima, Washington. Following this training, he was accepted as a machinist apprentice at the Keyport Naval Torpedo Station in Poulsbo, Washington, prior to the outbreak of World War II.
While there, he met a young lady from Bigfork, Margie Nelson, who worked supporting the war effort by operating a drill press. Warren married Margie on June 28, 1944, and also received his journeyman machinist rating at about the same time. Warren further supported the war effort by joining the Merchant Marines where his work was to keep the ships running, bringing our servicemen back from overseas.
Warren continued after the war as a machinist at a number of locations, including Kaiser Aluminum Plant in Spokane, on the Hungry Horse Dam, at the Anaconda Aluminum plant in Columbia Falls and for Boeing in Seattle. Warren and Margie made their home over the years in the Seattle area and the Flathead Valley. He changed occupations in the early 1950s; he began building and selling houses, first in the South Seattle area, then in Kalispell starting in 1971.
Warren and Margie built their own home at Mission View Terrace, near Lakeside. Their hobbies included travel, camping, boating, fishing, gardening and fruit trees. Most of all they loved having the grandchildren out to enjoy the lake. This was home until 2016, when they moved into Prestige Assisted Living, During this time, they also attended Kalispell First Baptist Church and Eidsvold Lutheran Church in Somers. They were both devoted followers of Jesus Christ.
Warren and Margie were married 72 years, before Margie passed away Dec. 4, 2016. They had three children, Arlene Roundhill (husband, John), Marvin Ortman (wife, Sharon) and Karen Phillips Mateeff (husband, Mitch). (Karen predeceased her parents in 2015), Warren and Margie had 12 grandchildren and many great- and great-great-grandchildren.
A graveside service will be held for Warren Thursday, May 5, at 2 p.m. at Lone Pine Cemetery in Bigfork.

A celebration of life will take place later this summer.
Johnson-Gloschat Funeral Home and Cemetery is caring for the family.
---