Flathead High awards its first varsity letters in science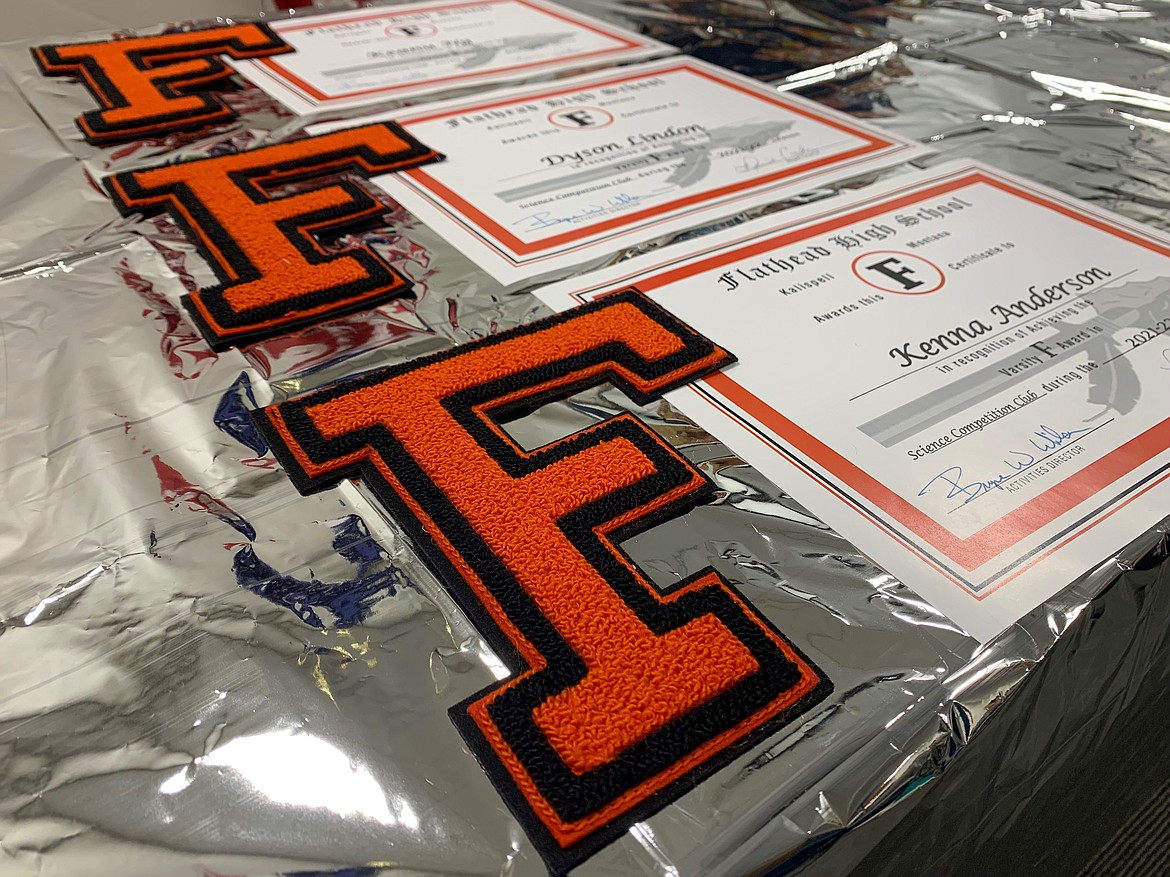 Flathead High School awarded its first varsity letters for Science Club Monday, May 2, 2022, to Kenna Anderson, Dyson Linden and Keanu Ng. (Hilary Matheson/Daily Inter Lake)
by
HILARY MATHESON
Daily Inter Lake
|
May 13, 2022 12:00 AM
Three students recently received the first varsity letters awarded for excellence in Science Club at Flathead High School.
FHS junior Kenna Anderson and sophomores Dyson Linden and Keanu Ng were awarded the varsity letters during an awards ceremony May 2.
"We wanted to award these because we think it's important to recognize academics as much as athletics so that's why these letters are really important to us because we really value the studying, the learning — and all the work that you did to learn more about science this year," said Lynette Johnson, Flathead Science Club co-adviser and science department leader.
To receive a varsity letter, Science Club members earn points based on meeting attendance and participation, offices held, volunteer efforts and the number of science fairs they compete in and place in, among other criteria.
"The science fair season starts in October and it really doesn't ramp up until March. It's probably the longest season of any team event we have," said Renee Cordes, Flathead Science Club co-adviser and International Baccalaureate teacher.
During the ceremony, Johnson recognized the "small but mighty" club of eight for their achievements in local, state and international science fairs and new this year, participation at the Montana Science Olympiad held in April in Bozeman.
"We've never had representation from Flathead High School before and we thought we should, so we worked hard to get a team together," Johnson said.
The Olympiad proved to be a tough challenge for the eight newcomers who went up against 27 teams in the high school division, according to Johnson. To prepare for the competition, students took practice tests and some competitors learned new subject material.
Anderson said the FHS team's approach going into the Olympiad was that it would be a learning experience.
"That was our mentality — this is a learning experience and we don't know what we're walking into," Anderson said, adding that it was a fun experience.
A group of students ended up placing fourth in an event called Write it, Do it. In this event, one person wrote directions and a teammate followed them. The fourth-place finishers were Mason Hermann and Cade Atwood and Linden and Vince Meccia.
In other Olympiad events: Hermann and Ng placed sixth in Rocks and Minerals; Anderson, Charis Wendle, Hermann and Ng placed ninth in Cell Biology; Ng and Jillian Wynne placed seventh in Environmental Chemistry; Anderson, Charis Wendle and Wynne placed eighth in Experimental Design; and Anderson and Wendle placed ninth in Cell Biology.
For Anderson and Ng, the competitive season isn't over.
Anderson is attending the Regeneron International Science and Engineering Fair in Atlanta with her science fair project, The Effect of Ocean Acidification on Carbon Sequestration by Nannochloropsis.
"I'm looking at how algae can pull carbon dioxide from its environment, essentially, and how much, as the ocean continues to get more acidic," Anderson said.
Ng continues to refine his science fair project, The Effect of Wildfire Ash on the Growth of Algae, to compete in the U.S. Stockholm Junior Water Prize competition at the Colorado School of Mines in June. He also summarized his project.
"I determine the reaction of algae with the introduction of ash to its environment. With the influx of wildfires happening, I wanted to know what was going to happen to algae populations to make sure they weren't going to turn into a red tide or something that could cause a lot of damage," Ng said.

Montana's wildfire season combined with the local potential for harmful algal blooms inspired Ng to take on researching aquatic environments he said because:
"... that's not really focused on so much because all the attention is paid on trees — not so much the algal blooms."
In addition to athletics, other activities students may letter in include: Business Professionals of America; Brave Mentoring; choir; DECA (business focused); Family; Career and Community Leaders of America; FFA; HOSA (health profession focus); Model United Nations; orchestra speech and debate; student council and theater.
Reporter Hilary Matheson may be reached at 406-758-4431 or hmatheson@dailyinterlake.com.
Recent Headlines
---