Renowned opera singer from Austria performs in Kalispell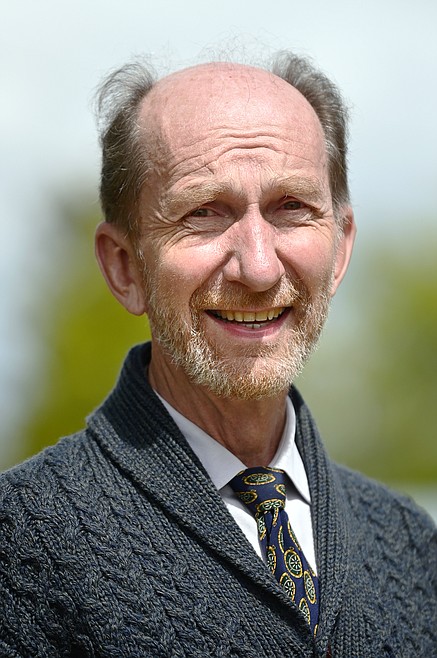 Bass-baritone John Sweeney (Casey Kreider/Daily Inter Lake)
by
CAROL MARINO
Daily Inter Lake
|
May 26, 2022 12:00 AM
Accomplished bass-baritone John Sweeney from Austria is one of three special guests who will perform with master violinist Wai Mizutani on May 28 in the fifth concert of a year-long series The Lord of the Strings.
A native Montanan, Sweeney grew up on what is now a 112-year-old farm and cattle ranch outside of Belt with his five siblings, one of whom is Colleen Unterreiner, retired longtime director of the Flathead Valley Community College Foundation.
The Sweeney family, which on both the mother and father's sides goes back several generations in Montana, had always placed great importance on education in general, and music in particular. All the children took piano lessons and, since John Sweeney's sisters also took voice lessons, he insisted he did too, a desire his father, who had a wonderful bass voice, strongly supported.
Sweeney's mother died when the oldest child was just 9, but the longstanding family story was that whenever she played piano the rattlesnakes came to listen.
The children were lucky to have a supportive father, church, community, and the school in Belt, which had a very good music program.
At age 18 in his senior year of high school Sweeney won the National Association of Teachers of Singing award for Montana.
He was accepted at Notre Dame where he studied philosophy and toured the country with the university's prestigious glee club. In his senior year he studied in Chicago under the well-known voice teacher Hermanus Baer, a member of the Academy of Teachers of Singing, most famous for teaching Sherill Milnes, the foremost operatic baritone of his generation.
Sweeney would later go on to complete a bachelor's degree in music at the University of Montana where he had the opportunity to join an exchange program in Vienna, along with his master's in English literature at Notre Dame.
But prior to that, Sweeney had made the difficult decision to take two years off from his studies — a decision not taken lightly by his education-focused family. He applied and was accepted into the Peace Corps. However, during the 10-day retreat prior to service, he felt compelled instead to pursue a career in singing.
"It was a huge step. A deep, very personal decision," Sweeney said.
It was the kind of decision that forever changes the pathway of one's life.
"I bought a one-way ticket and said, 'I'm coming home when I learn to sing.'"
In 1984, after graduating from UM and Notre Dame, Sweeney left for Europe to attend the International Academy of Music in Vienna, graduating in 1989 as an academically-approved opera singer. An American in the highly competitive world of music in Austria, Sweeney then sought to connect with someone who could help him become established. He auditioned for the acclaimed Viennese opera singer Walter Berry who was teaching master classes at the time and accepted him into his class, encouraging him to perform on stage to gain experience. Two years later in 1991, Sweeney, then 33, acquired his first professional engagement, one that lasted two years before he would go on to become a highly successful opera singer performing in Austria, Germany and Italy for most of his career.
Sweeney is known for both his striking and diverse bass-baritone voice and for his comic talent on the operatic stage, having in the course of his career played such roles as Leporello in Mozart's "Don Giovanni," Basilio & Bartolo in Rossini's "Barber of Seville" and Zsupan in Strauss' "Zigeunerbaron."
Outstanding dramatic roles he has received high acclaim for include the character Death in Viktor Ullmann's "Kaiser von Atlantis" and the prince in "The Circus Princess" by Emmerich Kalman.
While he lives in Austria, Sweeney makes it back to Montana every two or so years to visit. He has performed in Bozeman in Verdi's "Il Trovatore" and with the Glacier Symphony in 2018.
More recently, he performed twice in April in Italy; one for a benefit concert for Ukraine, which was live streamed to the war zone.
Sweeney plans to continue performing.
"If I can still walk, I can sing until I'm 100 if my voice is still in order," he said. "Because of the roles I do in opera I'm not limited."
Sweeney recalls the wisdom of a teacher who, shortly before she died, told him, "If you have joy when the music starts, then you're in the right place. If the joy leaves, stop."
"I still have that joy," he said.
CONCERT
Master violinist and Flathead Valley Community College instructor Wai Mizutani will join Sweeney and two other special guests for the Opus 5 Lord of the Strings "From Anthems to Arias," concert Saturday, May 28, at the Flathead High School auditorium. Sweeney will perform selections from several Cole Porter songs, Rodgers and Hammerstein's "Some Enchanted Evening," "If I Were a Rich Man" from the musical "Fiddler on the Roof," "Stars" from "Les Miserables" and the Charles Ives cowboy song "Charlie Rutlage."
Other guest performers include award-winning music instructor pianist Wei-Yi Sun, a native of Taichung, Taiwan, who has performed worldwide, including solo recitals in Taiwan (National Taichung Theatre), the United States, and at many international music festivals in Italy and France. She received her Doctor of Musical Arts degree in piano performance from the Ohio State University School of Music in 2020. In the three years she was a graduate teaching associate in the School of Music, Sun received the outstanding graduate associate award each year.
Also a native of Taichung, cellist Jessica Chen, a world-renowned musician who has garnered numerous awards, will perform. Chen is a founding member of Ars Trio Taipei, a classical piano trio in Taiwan, which has performed at numerous music festivals and toured in Taiwan, United States and Israel. She also is the founder and artistic director of the Taiwan Classical Music Society.
Doors open at 6 p.m. and the concert begins at 6:30 p.m. Tickets are $15 for adults, and $10 for seniors and students. Children under 10, veterans and active duty members of the military are admitted free.
Tickets may be purchased at the door, or call ahead to 406-212-9515, or purchase online at impactwsce.com
Recent Headlines
---