Nicole Rene Dockstader, 53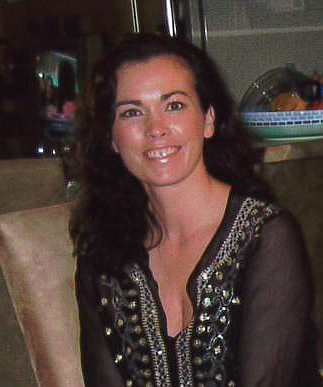 Nicole Rene Dockstader, 53, died of cancer on Thursday, April 14, 2022, at home in Bigfork with her mother by her side.
Nicki was born July 8, 1968, in Kalispell to Mike and Anni Dockstader. She joined her 2-year-old brother, Jim, who remained her friend and ally until the end of her life.
Nicki graduated from Bigfork High School in 1986 and attended the University of Montana. In her late 20s she moved to Seattle for six years and worked at the Origins cosmetic counter at Nordstrom.
She returned to Bigfork to live with and care for her grandmother, Effie Dockstader. After the death of her grandmother, Nicki moved to Florida where she was a flight attendant for Spirit Airlines. Later she cared for her mother in Florida while Anni was receiving treatment for cancer.
Nicki spent many winters with her boyfriend, Si Roosa, in Mesa, Arizona. While in Arizona, Nicki helped to reopen Minder Binders Bar, which is a Tempe icon, and she also worked at Rula Bula Bar and Restaurant in Tempe.
Nicki's true home was always Bigfork. She loved to spend her summers boating on Flathead Lake with Si. Nicki worked in restaurants for most of her life. If you had lunch or dinner in the Bigfork area over the past 35 years, there is a good chance that Nicki took care of you.
After being diagnosed with cancer, Nicki's mother cared for her everyday while she underwent painful months of chemotherapy and radiation. Nicki never complained throughout her treatment; she exemplified hope, courage and fearlessness to the very end.
Nicki was preceded in death by her father, Mike Dockstader, and her cousins, Matthew Hein and Mark Hein.
Survivors include her mother, Anni, of Bigfork and Dania Beach, Florida; her brother, Jim Dockstader and his wife, Noelle, and their children, Eli and Andi of Redmond, Washington; her aunt and uncle Mary and Paul Sullivan, her aunt and uncle Maureen and Ray Hein; and her cousins, Mary Guffin, Paul Sullivan Jr., and Maureen Sullivan, all of Bigfork. On her mother's side, she is survived by her aunts, Martine Ireland of Riverside, Rhode Island; and Chantal Turlan of Paris, France. She is also survived by her boyfriend, Si Roosa, of Mesa, Arizona.
A celebration of life for Nicki will be held on Sunday, July 10, in Bigfork.
Recent Headlines
---