Officials talk about consolidating invasive species commissions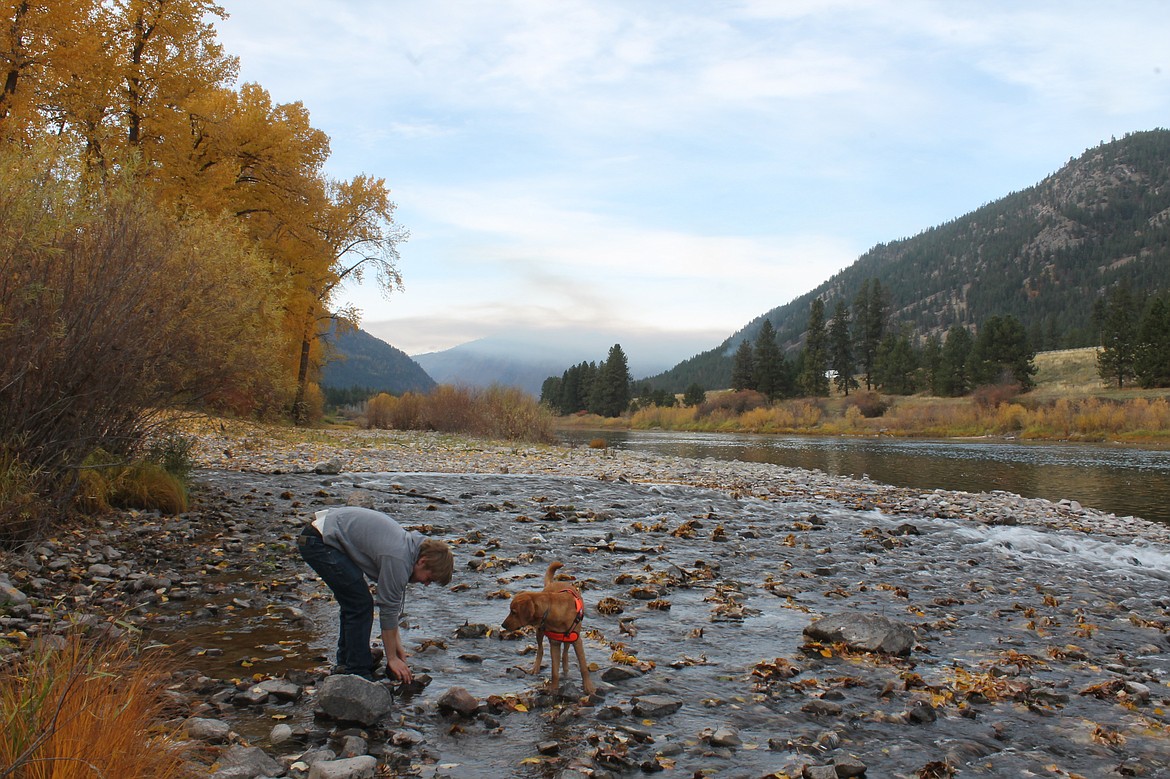 University of Montana alumni Lukas Sokalski collects native salmon fly nymph samples for a research project in a tributary of the Clark Fork river on Nov. 1.
by
HAYDEN BLACKFORD
Daily Inter Lake
|
November 3, 2022 12:00 AM
State officials are considering consolidating the Flathead Basin Commission and Upper Columbia Conservation Commission as part of Gov. Greg Gianforte's campaign to trim bureaucracy, but critics worry it will water down the groups' efforts.
The Commission Consolidation Concept was pitched to the Flathead Basin Commission (FBC) and the Upper Columbia Conservation Commission (UC3) at a meeting of the latter organization in Helena on Oct. 27. The pair were identified by Gianforte's Red Tape Initiative and Lt. Gov. Kristen Juras explained that the state of Montana is looking at combining and reviewing boards and commissions.
A proposed combination of the FBC initiative and UC3 would be beneficial, and these two existing commissions are among the largest commissions in Montana, Juras said.
"The larger the board gets, we certainly get more perspectives," Juras said. "That's a good thing, but it does increase the time and the resources that are spent on just managing the boards and the board meetings".
When UC3 was formed in 2017 Aquatic Invasive Species (AIS) were a "huge" issue facing Montana, and while they still are, things have changed since 2017, said Amanda Kaster, director of the Department of Natural Resources and Conservation (DNRC). FBC was formed in 1983 by the Montana Legislature to monitor and protect water quality and natural resources in one of the state's most important watersheds, according to their website.
"The focus on aquatic resource protection for the (consolidated commission) provides the ability to be adaptive by assessing the individual needs for each watershed and providing support for water quality protection and improvement," Kaster said.
A few raised concerns that the merger would dilute the effectiveness of the existing commissions. UC3 focuses on invasive species in the Columbia River drainage as a whole — the last watershed in the continental United States free of invasive mussels — while the FBC focuses on invasive species and water quality in the Flathead watershed. Some of these areas overlap and the merger could reduce redundancy, according to multiple officials at last month's meeting.
"I feel this will be a dilution of our voice as well as a dilution of water quality issues that impact Flathead lake and water bodies within the Flathead basin," said Rich Janssen Jr, chair of the FBC.
Janssen pointed out that he cannot speak for all members of the commission. Members of UC3 also voiced similar concerns with regard to their commission at the meeting, but fell short of issuing an official statement.
After reviewing the comments from both commissions a final draft will be created, and a policy decision will be made determining if consolidation will proceed, Juras said.
"It is the Legislature that will make this decision. We would certainly like the support of both commissions with this merger," Juras said.
Combating invasive species in the Columbia River watershed is important because those newcomers already present in the watershed pose a threat to downstream states, said Liz Lodman, program manager for the Montana Invasive Species Council, in an email. These include faucet snails, bullfrogs, aquatic plants, flowering rush, curly-leaf pondweed, Eurasian watermilfoil and fragrant water lily, Lodman said.
Thomas Woolf, the aquatic invasive species bureau chief for Montana Fish, Wildlife and Parks (FWP) also presented at the UC3 meeting as well as at previous meetings held earlier in the week. Woolf explained that mussel-fouled boat interceptions were down overall this past year.
However, officials in Colorado have now seen adult Quagga mussels for the first time. This area is subject to closures when there are no mandatory boat checks, Woolf said.
Zebra mussels also were detected 70 miles from the Montana border in South Dakota. At the Pactola reservoir, which is where the mussels were discovered, there are no consistent mandatory watercraft inspections. Staff shortages caused the state of South Dakota to ask Montana for help manning the check stations, which Montana did temporarily, Woolf said.
IN THE same location as the UC3 meeting last week, Helena FWP conducted an aquatic invasive species work session on Oct. 24. And on Oct. 25 and 26, the Montana Invasive Species Council held an invasive species summit.
Attempts to limit the spread of invasive species are ongoing, and will continue to be for the foreseeable future. Spending money and resources on preventing or limiting the spread of invasive species not only saves the natural environment, but it saves money in the long run, Lodman said in an email.
"Invasive species can have huge impacts to Montana by taking over or changing habitat, preying on native species, outcompeting native species for food and space, and spreading diseases. When they invade a new area, they have no natural predators or environmental features that would keep them in check like they would in their native habitat," Lodman said.
If invasive mussels were to proliferate in Montana, the DNRC estimates that lakeshore property values would decline by $497.4 million overall. Agency officials also estimate that the spread of the species would cause direct damages and mitigation costs, not including environmental or residential, of $234 million annually.
By contrast, the amount Montana spends on aquatic invasive species efforts annually is about $6.5 million, or 3% of the projected costs of inaction.
Invasive species aren't always aquatic, and Lodman expressed concern over annual grasses and feral swine as well. Feral swine could potentially enter Montana through Canada, where they are spreading, or they could be transported into the state and released into the wild.
The Department of Livestock held meetings in Eureka and Libby on Sept. 22 to educate the public about feral swine, after a tufted pig carcass was found south of the Canadian border. DNA analysis later indicated the pig carcass was domestic.
The animals are known to be extremely destructive; they prey on young animals and can carry over 30 diseases or viruses. Currently, feral swine are an invasive species problem in southern U.S states, but they can survive in colder climates.
"It's much better to monitor for and respond to a new invasion than to wait and let the problem get bigger," Lodman said. "People need to help by taking proactive measures to prevent the introduction of invasive species."
Recent Headlines
---