Power outages linger for thousands in Flathead Valley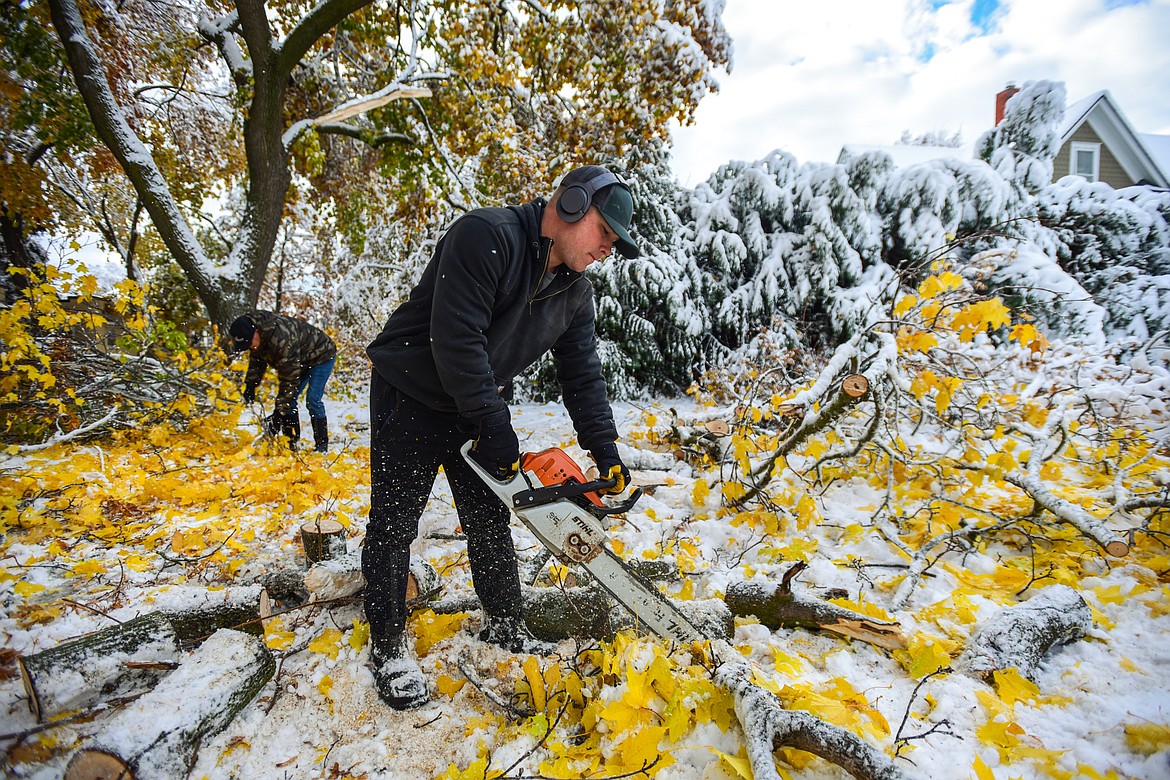 Chet Todd and Ron Runnels, back left, clean up downed tree limbs and debris outside Runnels' property on Fifth Avenue East in Kalispell on Thursday, Nov. 3. (Casey Kreider/Daily Inter Lake)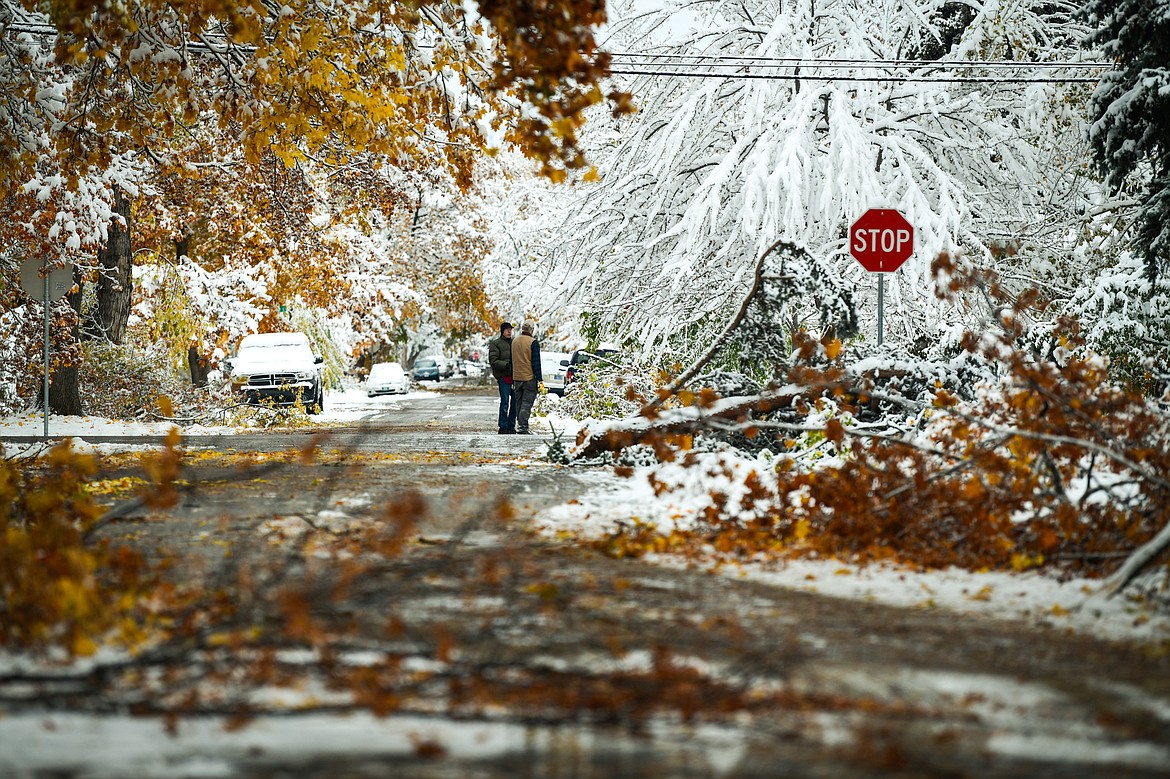 Two residents chat in the middle of a debris-lined Second Avenue East in Kalispell on Thursday, Nov. 3. (Casey Kreider/Daily Inter Lake)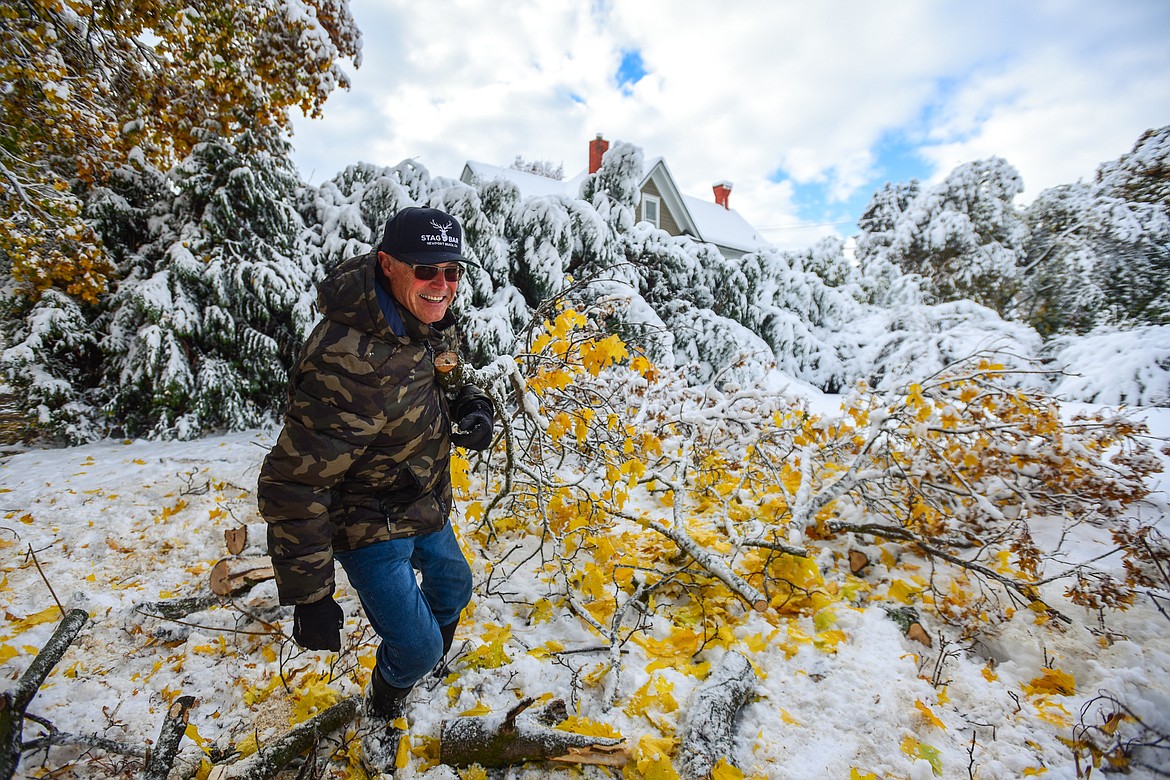 Ron Runnels clears downed tree limbs and debris from his property on Fifth Avenue East in Kalispell on Thursday, Nov. 3. (Casey Kreider/Daily Inter Lake)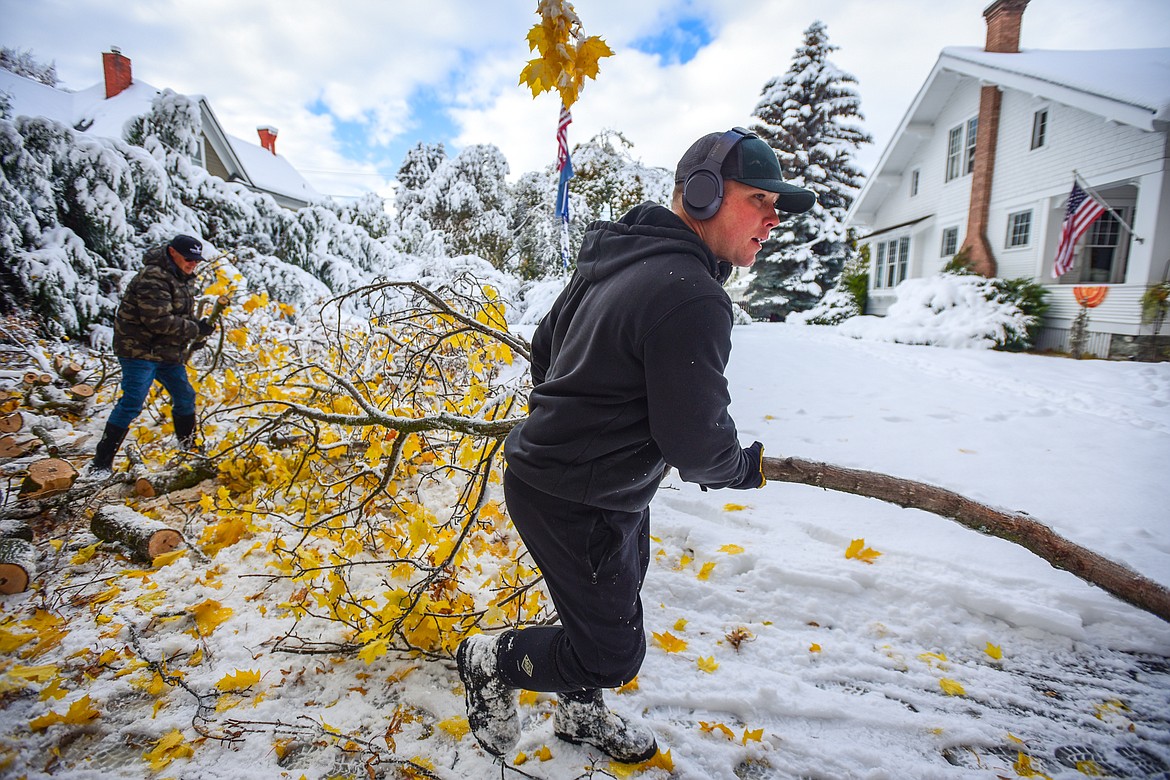 Chet Todd and Ron Runnels, back left, clean up downed tree limbs and debris outside Runnels' property on Fifth Avenue East in Kalispell on Thursday, Nov. 3. (Casey Kreider/Daily Inter Lake)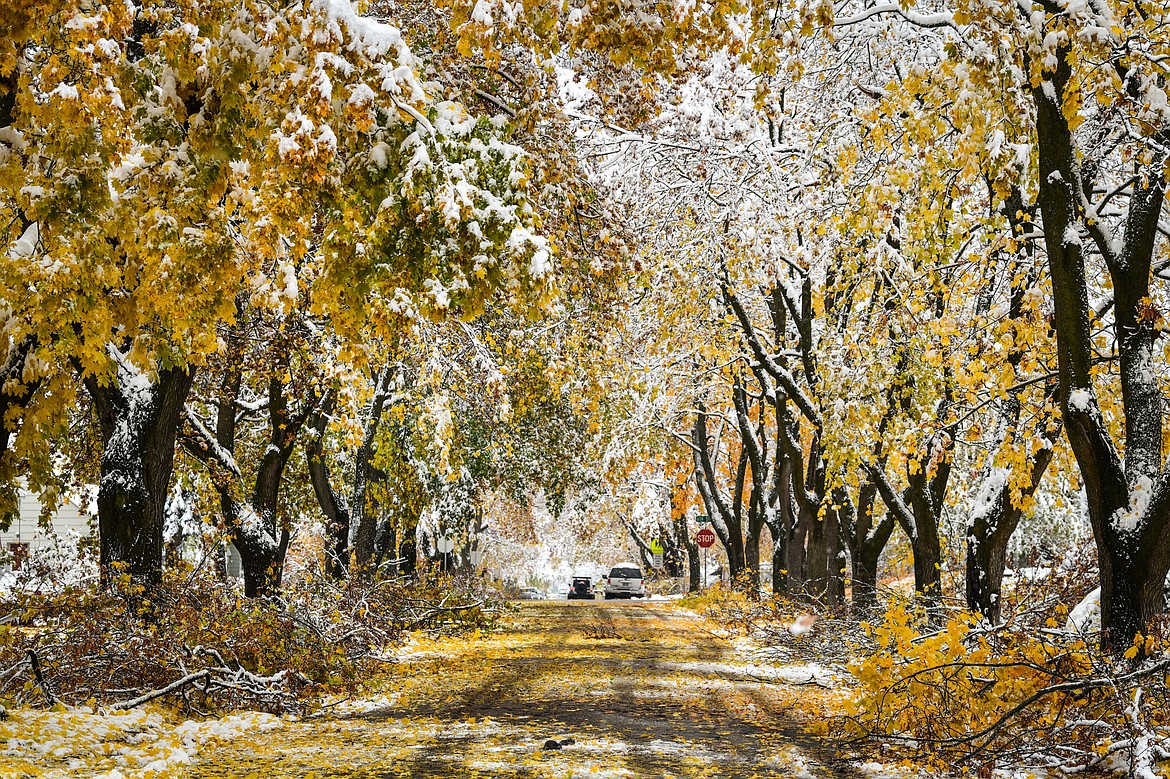 Downed tree limbs and debris line a section of Fifth Avenue East in Kalispell on Thursday, Nov. 3. (Casey Kreider/Daily Inter Lake)
Previous
Next
by
MATT BALDWIN
Daily Inter Lake
|
November 3, 2022 5:00 PM
More than 12,000 homes across Northwest Montana were without power Thursday morning as the aftermath of a potent winter storm continued to take its toll on the power grid.
According to Flathead Electric Co-op spokesperson Courtney Stone, the heavy snowfall on Wednesday caused trees still laden with leaves to fall across power lines throughout the region. Stone said linemen reported significant damage to the system, which caused the widespread power outages since early Wednesday morning.
Outages Thursday were affecting portions of Kalispell and Evergreen, the northwest and east shores of Flathead Lake, Echo Lake, Lake Blaine, Montana 206, Farm to Market Road and the West Valley, the west side of Whitefish and Happy Valley.
School closures were issued for Fair-Mont-Egan, Helena Flats, Kila, Marion, Olney-Bissell, Smith Valley and West Valley districts.
Stone said Flathead Electric Cooperative crews, along with mutual aid and contract crews, worked through the night and were able to restore electricity to thousands of Co-op members.
"However, Mother Nature continues to down distribution lines and cause small outages," Stone reported Thursday morning.
"There are an incredibly high number of small outages, which are in some ways more time and labor-intensive to repair. This is an overwhelming outage situation that will take time to resolve. As crews work, trees are cracking and branches are falling. Crews are finding that they repair a power line and then more branches fall, taking the line down again."
Stone warned that some outages may linger through Friday or the weekend. Check the outage map for updates at outage.flathead.coop:8181
Flathead County opened an emergency shelter at the fairgrounds for people affected by the outages. The shelter is in the 4-H building at 2635 N. Meridian Road. Pet cats and dogs will be allowed and kept in a separate area. People who plan to use the emergency shelter are advised to take any necessary medications, cell phone chargers, toiletries, foods, water, flashlights, bedding and anything else they need to be comfortable.
Snowfall totals Wednesday varied from more than 10 inches in Bigfork and 7 inches northwest of Kalispell, to 3 inches in Columbia Falls and Marion, and 4 inches in Polson. Whitefish areas picked up between 6-8 inches.
National Weather Service meteorologist Trent Smith said his office took reports of widespread tree damage from across the area.
In Kalispell, many of the historic neighborhoods saw some of the heaviest tree damage.
The city Parks and Recreation Department said crews were out Thursday assessing cleanup areas and moving downed branches from city boulevard trees.
Department officials said the cleanup could take several weeks due to the amount of debris.
"Please understand our entire community is affected by the recent winter weather and branches," the parks department posted on social media. "We ask that you be patient while our field crews work to collect the debris."
Woodland Park in Kalispell was temporarily closed due to downed power lines.
While cleanup efforts get underway, another round of winter weather is targeting Northwest Montana beginning Friday into the weekend.
Meteorologist Trent Smith said valley snowfall won't be as heavy due to downsloping winds associated with the storm. Up to 2 inches is likely for lower elevations, while the mountains will see between 8 and 18 inches.
"It will be a very active period," Smith said of the next fews days.
He warned that gusting winds will impact the area, particularly during the weekend. Mountain locations could see gusts of 60 mph.
By Tuesday, an Arctic front moves into the region, bringing the coldest temperatures of the season. Lows near or below zero are possible.
"That's unusual for early November," Smith said.
Recent Headlines
---