Underscore Art supports two emerging artists
|
November 3, 2022 12:00 AM
Underscore Art and Jewelry opens a new exhibit titled "Emerging" today, Nov. 3,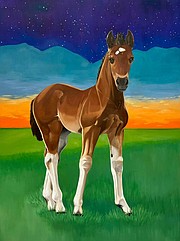 featuring two local artists. There will be an opening reception from 6 to 9 p.m. with live music performed by DJ Jason Callihan.
Jessica Shasha is a classically trained fine artist. This collection is a result of experiences witnessed by her since she moved to Montana,
"Each painting embodies a moment that has left an indelible mark on my memory," Shasha said. "Montana is the wildest place I have ever lived, and it has changed me to be able to live in and among such majesty. My aim is to capture these otherworldly moments that I have been lucky enough to see, and to share that beauty."
Mina Tigerlily, a Montana native, comes from a long and rich heritage in the Flathead Valley. Her work is inspired by colors from Montana's landscapes. Tigerlily is interested in exploring themes in nature that influence her creative process to bring new perspective to her continually shifting paintings.
"Process is central to my work," Tigerlily said. "I look to my present environment and allow movements to flow from my body onto paper to create stochastic gestures that I juxtapose with sharp lines and controlled edges. My goal is to create graphic and painterly images that allow the viewer to become lost in space and color."
Recent Headlines
---