Land trust holds fundraiser for Owen Sowerwine project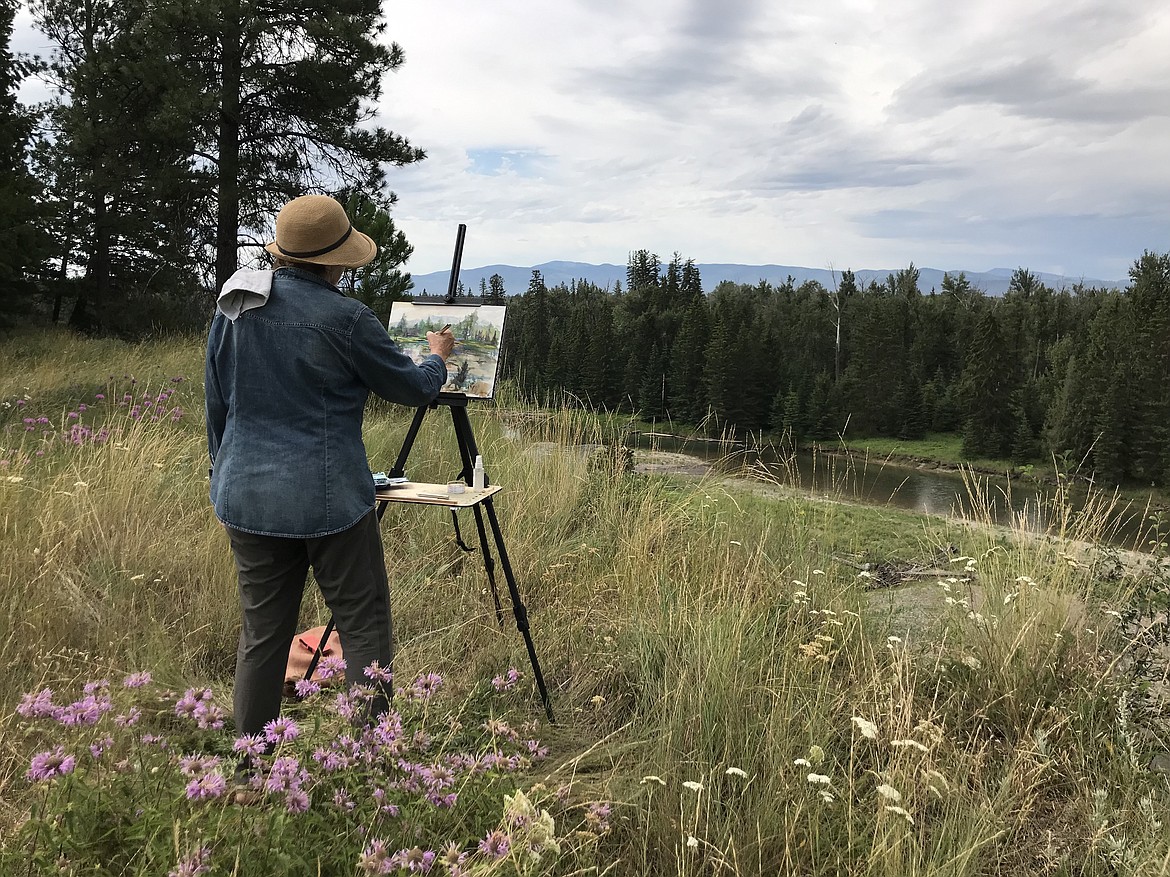 Wendy Hale painting the Flathead River for the Flathead River in Paint fundraising event
|
November 6, 2022 12:00 AM
Flathead Land Trust will celebrate 20 years of conservation along the Flathead River and north shore of Flathead Lake and begin fundraising for the Owen Sowerwine project with a Flathead River in Paint event Nov. 9 at Montana Modern Fine Art. Paintings completed by 14 artists in "plein air" on lands conserved along the river and lake will be displayed at the event and proceeds from the event will go toward funding needed to complete the Owen Sowerwine project.
The Flathead River in Paint event began this summer with each artist painting a different part of the river ecosystem that has been conserved by landowners and a collaborative group called the Flathead River to Lake Initiative — partners who have been
working together since 2002 to help conserve critical lands along 50 miles of the Flathead River and north shore of Flathead Lake.
Owen Sowerwine borders a mile of the Stillwater River, over a mile of the Flathead River, and 1.3 miles of braided channels connecting the two rivers. It is open to the public and easily accessible for bird-watching, fishing, hunting, walking and conservation education. Owen Sowerwine is also State School Trust land managed by the Department of Natural Resources and Conservation (DNRC) to generate income for K-12 schools in Montana.
Artists participating in the Flathead River in Paint event include local artists Susan Guthrie, Tabby Ivy, Gini Ogle, Therese Ely, Francesca Droll, Karen Leigh, Rob Akey, Jeff Manion, Brandon Wiese, Mark Ogle, Tom Saubert, and Haakon Ensign along with Denise Gilroy of Idaho and Wendy Hale of Massachusetts.
The event will be held at Montana Modern Fine Art, 127 S. Main St., in Kalispell on
Wednesday, Nov. 9, from 6 to 8 p.m. and will have complimentary wine, beer and appetizers. People can view the paintings at the event and for a week following the event at the gallery. Bidding for the paintings will occur online and continue for a month following the event. Half the proceeds from the paintings will go to the artists and half to the funding needed to purchase a conservation easement on Owen Sowerwine.
Visit flatheadlandtrust.org to learn how to bid on the paintings and for more information on the Owen Sowerwine project.
Recent Headlines
---