Community fights back against anti-semitic vandalism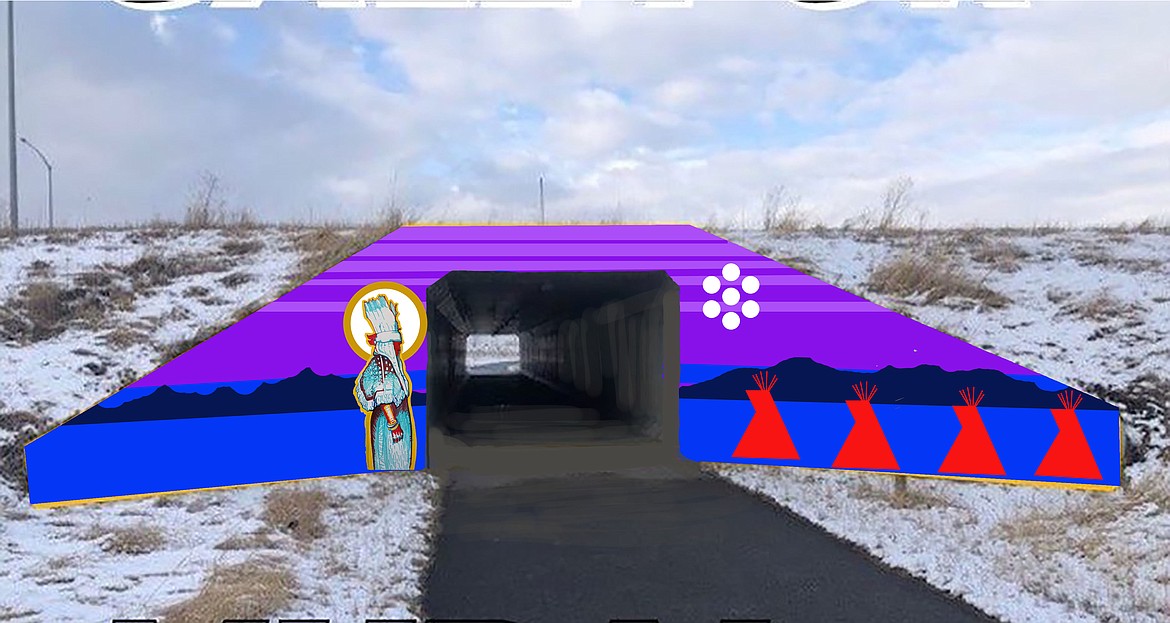 This rendering shows the proposed mural "Lost Children," by John Pepion and Louis Still Smoking of Valier, part of the Tunnel Vision 2021 mural project in downtown Kalispell organized by Rails to Trails of Northwest Montana and the KALICO Art Center.
Vandals struck the Lone Pine Tunnel mural along Kalispell's shared-use trail system again late last month, but volunteers quickly restored the piece of public art. The mural was defaced with anti-semitic tags that echoes vandalism found on a separate mural last year.
The artwork was cleaned immediately, and local authorities were notified following a coordinated response from volunteers, including Alisha Shilling, chair of KALICO Art Center. The art center, in collaboration with Rails to Trails of Northwest Montana, painted the mural, which is south of the Foys Lake interchange on the U.S. 93 Bypass, in July.
Other murals included in the collaboration also have suffered defacement, including one entitled "Fern Forms," which was repeatedly targeted — and was graffitied with similar hateful messages, paint color and technique — in December of last year.
These follow anti-semitic messages that have been left on the Community Spirit Monument in Woodland Park and continued vandalism on a historic locomotive, the centerpiece of the new Parkline Trail.
In a statement, organizers with the KALICO Art Center said that the act "only [solidifies] in our hearts the need for more joy and art around us all."
Shilling said that while she always finds the defacing of public art to be annoying, these spray-painted messages aimed at the Jewish community went too far.
"Graffiti is disrespectful, but this is targeting people who live in the community and use the trail system," Shilling said. "I don't know if those people feel safe."
To prevent a repeat, Shilling said that she wants to see cameras installed and the culprit held accountable, to deter others and send a message about Kalispell's values of inclusivity. She is also organizing a "street team" of volunteers who want to take a stand against hate to help respond quickly to similar incidents, which have become regular occurrences.
Shilling said joining the effort to clean graffiti is simple and sends a strong message.
"This is an action that you can take to say 'not in our community,'" Shilling said. "You can care for our public spaces and protect the people who live here."
The mural, which is part of a larger series, was painted last summer by Montana artists in an effort to beautify portions of the mix-used trail network. Thomas Valencia painted the entire interior of the tunnel. Jessy Hanson and Stella Nall painted the entrance wings.
People who want to get involved in preventing and removing graffiti are invited to email Shilling directly at chair@kalicoartcenter.org.
Reporter Adrian Knowler can be reached at aknowler@dailyinterlake.com or 758-4407.
Recent Headlines
---