Multi-family residential development still going strong in Kalispell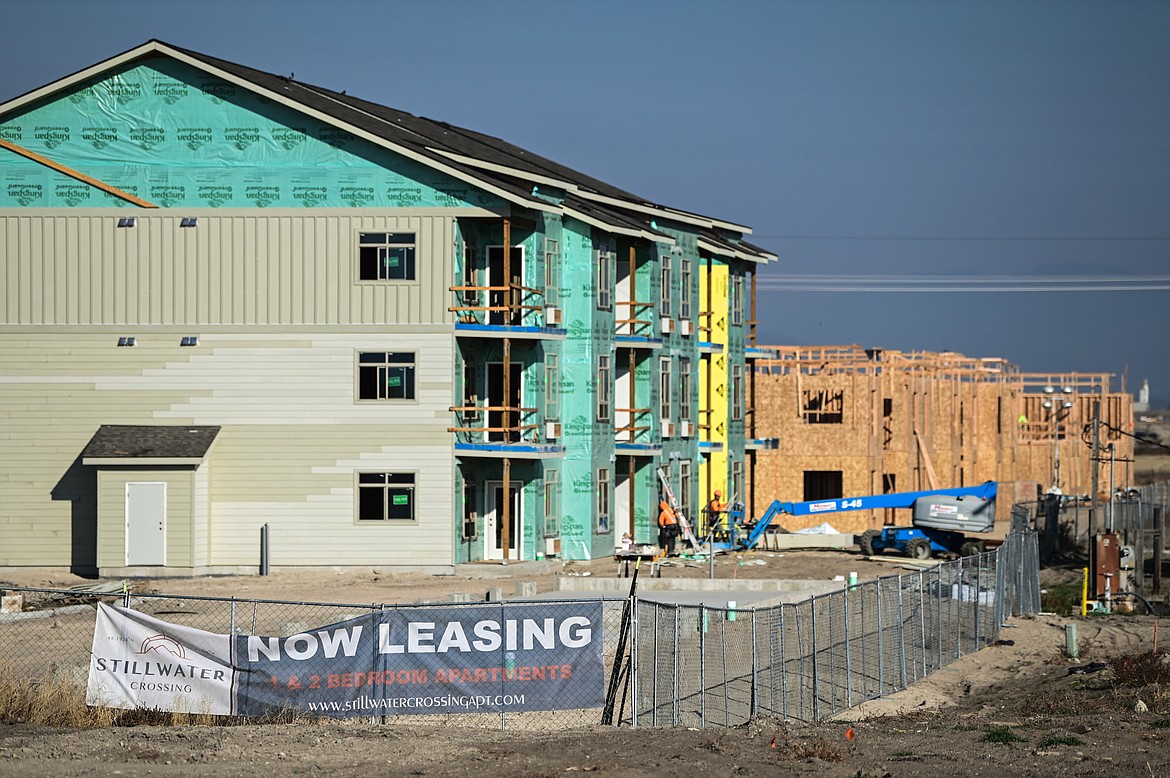 The Stillwater Crossing apartment buildings under construction at Four Mile Drive and Stillwater Road on Wednesday, Oct. 19. (Casey Kreider/Daily Inter Lake)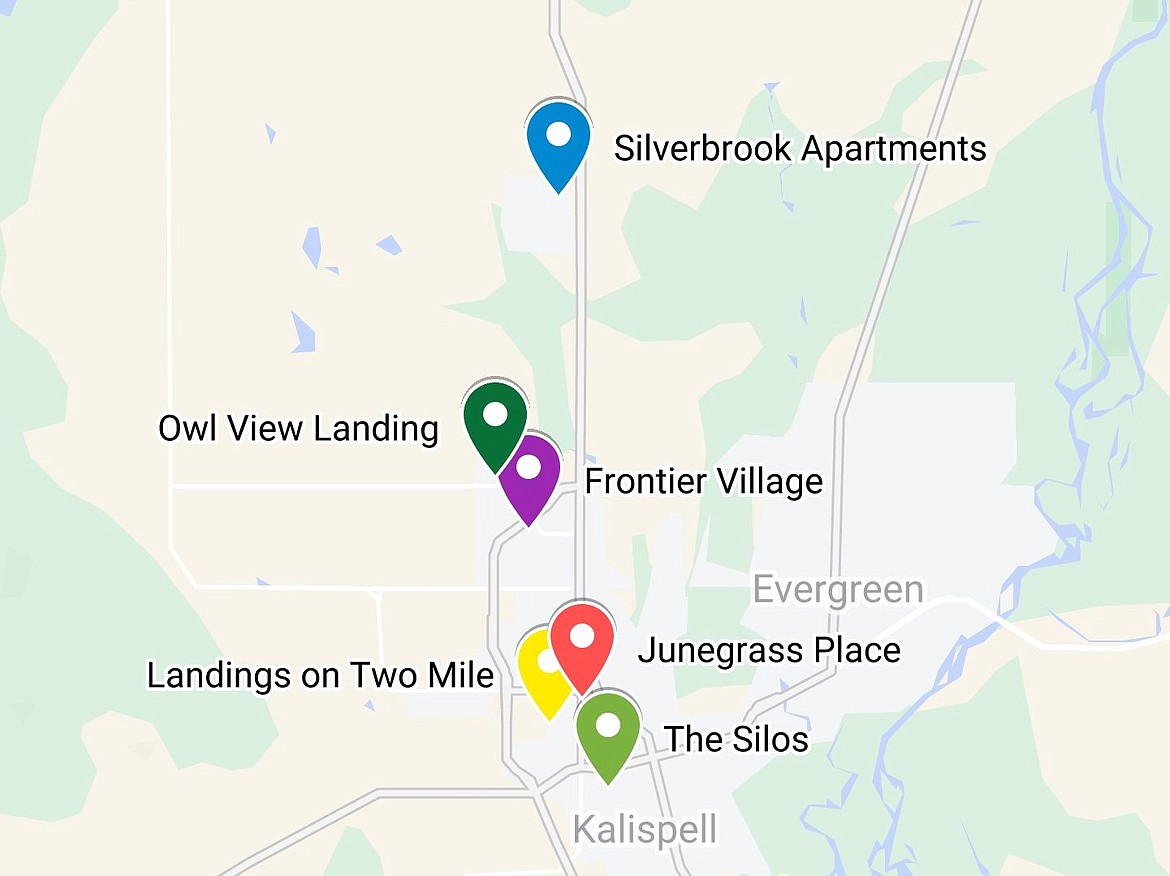 A map showing the location of major developments that have seen building permits approved this year. (Adrian Knowler/Daily Inter Lake)
Previous
Next
by
ADRIAN KNOWLER
Reporter
|
November 8, 2022 12:00 AM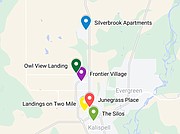 Although total residential construction in Kalispell so far in 2022 has cooled from red-hot 2021, multi-family development remains strong and is outpacing new single-family homes for the second consecutive year.
Through October, the Kalispell Planning Department has issued building permits for 464 multi-family housing units, compared with 560 through this time last year. While 649 were issued during the entirety of 2021.
Single-family housing is slowing significantly with 109 permits issued so far. If no additional permits are issued by the end of the year, this figure would stand as the lowest in Kalispell in five years, down 48% from last year and 64% from the peak in 2020.
Estimates for the value of the building permits for new housing sits at least $70 million.
Planning Director Jarod Nygren emphasized that while these properties have been OK'd by the city, large residential projects have other obstacles to get over before they actually break ground. Even once construction has begun, apartments can take a long time to actually get onto the rental market.
"Once a project is approved there are other constraints regarding construction, i.e. – labor and supplies, that impact how many units can be built in a certain timeframe," wrote Nygren in an email.
The permits issued for new multi-family housing can be broken into six main developments.
Silverbrook Apartments, a luxury development off of U.S. 93 north of town is expanding, with three new permits for apartment buildings issued this year. The new buildings are expected to put 87 new apartments on the market.
A permit was issued for another 12-unit building at The Landings on Two Mile, an apartment complex off Two Mile Drive just west of downtown. The complex has one, two, and three-bedroom units for rent, according to their website.
Owl View Landing, a 40-unit apartment style condominium complex, was approved to build another 12 apartments at their location in North Kalispell near Glacier High School.
In June, permits were issued for the Junegrass Place development, which will offer up to 138 affordable housing units with the goal of adding to the workforce housing stock in the city. The development received $4.78 million in tax credits from the Montana Board of Housing, and has income limits in place for potential renters.
Speaking with the Inter Lake earlier this year, the developer said that they expect one-bedroom units to rent for between $650 and $800 per month, with two-bedroom apartments going between $750 and $1,000.
Urban mixed-use redevelopment project The Silos was approved for two new four-story apartment buildings, which represent 72 of the project's total approximate 230 units. Work began on the first phase of the project last year.
Reporter Adrian Knowler can be reached at aknowler@dailyinterlake.com or 758-4407.
Recent Headlines
---