GOP sweeps Lake County statehouse seats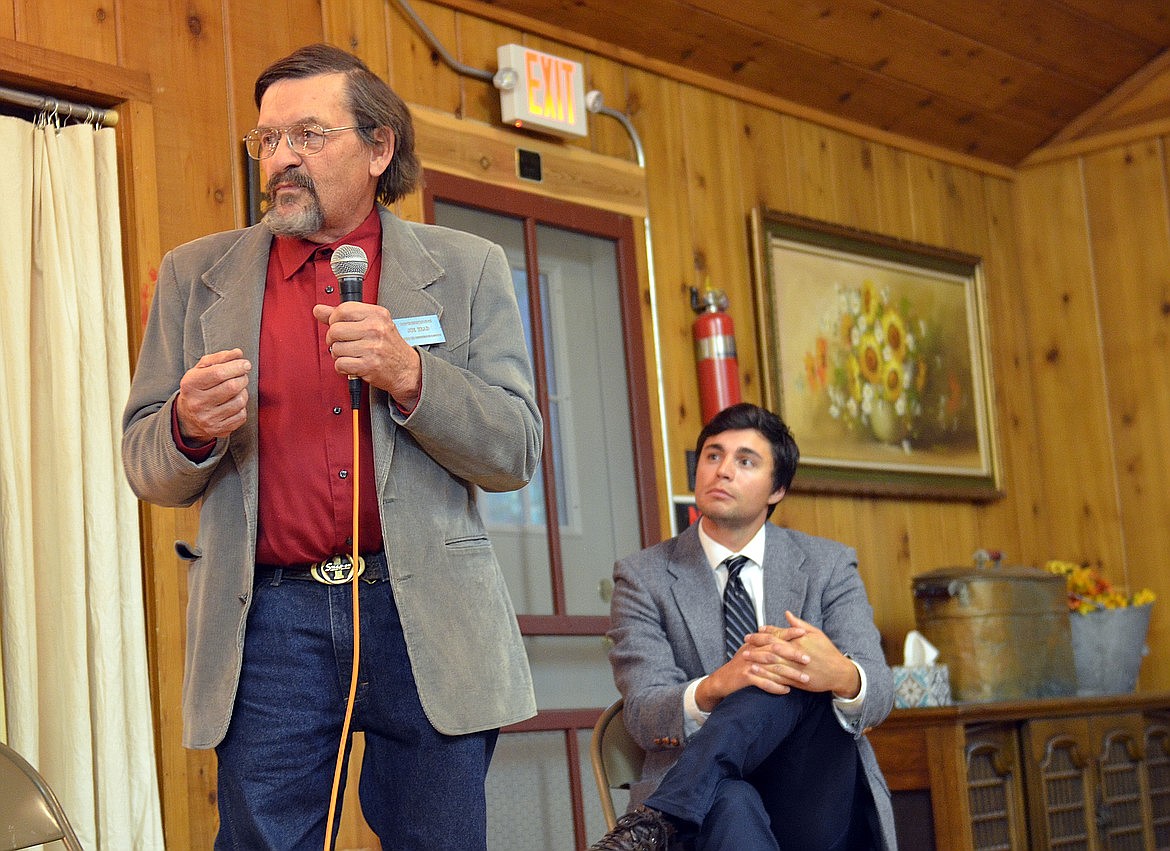 Joe Read, who represents HD 93, addresses the crowd at Monday's Legislative Forum near Polson, moderated by Tom Spencer (right). (Kristi Niemeyer/Lake County Leader)
by
Daily Inter Lake
|
November 9, 2022 10:00 AM
Lake County voters on Tuesday favored all Republicans in contested statehouse races.
Incumbent Republican Rep. Joe Read fended off Democrat challenger Shirley Azzopardi in HD-93.
Ralph Foster knocked off incumbent Democrat Rep. Marvin Weatherwax Jr. in HD-15, while Republican Rep. Linda Reksten won re-election in HD-12.
The outlier came in Senate District 8, where Democrat incumbent Sen. Susan Webber topped Republican challenger Rick Jennison. Jennison tallied more votes in Lake County, but Webber, of Browning, made up the difference with Glacier County voters.
The Lake County Cemetery District mill levy was narrowly approved, with 53% in favor of the measure.
Voters also approved two Arlee School District bonds.
Lake County results
US REPRESENTATIVE 1ST DST
REP RYAN K ZINKE 7,261
DEM MONICA TRANEL 5,235
LIB JOHN LAMB 529
PUB SVC COMMISSIONER DST 5
REP ANN BUKACEK 7,735
DEM JOHN REPKE 5,045
SUPREME COURT JUSTICE 1
JIM RICE 8,262
BILL D'ALTON 2,731
SUPREME COURT JUSTICE 2
INGRID GUSTAFSON 6,380
JAMES BROWN 5,947
STATE SENATOR DST 5
REP MARK NOLAND 925
STATE SENATOR DST 8
REP RICK JENNISON 1,227
DEM SUSAN A WEBBER 832
STATE REPRESENTATIVE DST 10
REP BOB KEENAN 950
STATE REPRESENTATIVE DST 12
REP LINDA REKSTEN 3,282
DEM STERLING JAMES LAUDON 2,024
STATE REPRESENTATIVE DST 15
REP RALPH FOSTER 1,203
DEM MARVIN R. WEATHERWAX JR 846
STATE REPRESENTATIVE DST 93
REP JOE READ 2,386
DEM SHIRLEY AZZOPARDI 1,606
LIB DEVIN J BRAATEN 150
COMMISSIONER DST 2
REP STEPHEN STANLEY 8,932
Write-In Totals 1,473
CLRK REC/AUDITOR/PB ADMN/SRVYR
REP KATIE HARDING 10,094
Write-In Totals 226
SHERIFF/CORONER
REP DON BELL 10,502
Write-In Totals 301
ATTORNEY
REP JAMES LAPOTKA 9,768
SUPT OF SCHOOLS
REP CAROLYN HALL 9,949
TREASURER/ASSESSOR
REP ROBIN G. VERT-RUBEL 9,939
JUSTICE OF THE PEACE
RICK SCHOENING 6,104
MICHAEL E. LARSON 4,783
CONSTITUTIONAL AMENDMENT NO. 48
YES 9,932
NO 2,394
LEGISLATIVE REFERENDUM NO. 131
YES 6,168
NO 6,149
CEMETERY DST MILL LEVY LAKE COUNTY
FOR 6,028
AGAINST 5,380
GEN OBLIGATION BONDS ARLEE ELEM JT&8
YES 448
NO 244
IMPACT AID REV BONDS ARLEE ELEM JT&8
YES 455
NO 235
Recent Headlines
---