Republicans likely to enjoy supermajority in the Montana State Legislature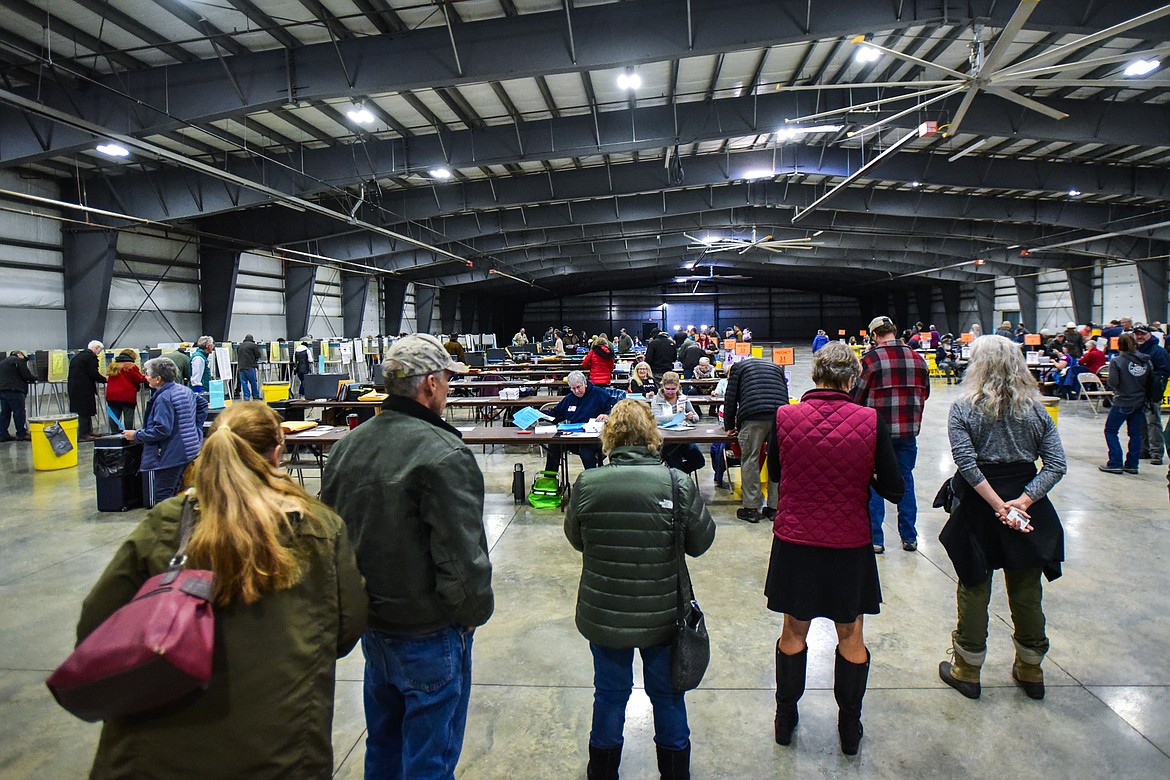 Voters wait to cast their ballots at the Trade Center at the Flathead County Fairgrounds on Tuesday, Nov. 8. (Casey Kreider/Daily Inter Lake)
by
KATE HESTON
Daily Inter Lake
|
November 9, 2022 3:35 PM
Republicans are on track to secure a historic supermajority in the Montana Legislature, winning a minimum of 98 legislative seats, which no political party has done since the Montana legislative makeup was established in 1975.
Republican John Fuller will represent Senate District 4 in central Kalispell after handily winning the seat on Tuesday over Democratic challenger Kyle Waterman.
Republican Courtenay Sprunger will represent Kalispell's House District 7 after winning the seat over Democrat Angela Kennedy, both political newcomers.
"Republican lawmakers are ready to ramp up their efforts to provide Montanans with financial relief, strengthen our economy, protect our freedoms and preserve the Montana way of life in the upcoming session," Kyle Schmauch, the communications director for the Senate Majority said in a press release Wednesday.
Tax relief, handling Montana's budget surplus and red tape relief are early priorities that Republicans expect to address during the upcoming 68th Legislature, according to Schmauch.
"Voters spoke loudly and clearly that they want Republican lawmakers to build on the historic successes of the last legislative session and they're excited to get to work," Schmauch said.
Fuller, who previously served in the 2019 and 2021 legislative sessions as a member of the Montana House, will succeed fellow Republican Mark Blasdel in the Senate. Blasdel was term-limited out of the seat.
Fuller said he would build upon his previous experience in the statehouse.
"In my two sessions in the House I learned a great deal and a lot more about the process," Fuller told the Inter Lake on Wednesday. "I found some legislative goals that I have not accomplished yet."
Those goals are at the heart of his campaign: helping veterans, protecting children and reducing crime in the Flathead Valley. Fuller hopes to bring action to these issues in the next legislative session.
Specifically, the Republican lawmaker, himself a veteran of the Vietnam War, wants to see retired military personnel exempt from Montana income taxes and ensure that disabled veterans don't pay property taxes. Fuller also hopes to create a veterans cemetery in Northwest Montana.
After serving in Vietnam, Fuller taught high school government, history and economics for 45 years. He also served on the Montana Board of Public Education.
"My passion has always been education," Fuller said. "I want Montana children to be educated, empowered and enlightened."
To do so, Fuller wants to use the upcoming legislative session to "protect Montana children" by protecting Title IV and removing children from the movements that "would commit them to a life of medical interventions."
In the 2021 session, Fuller sponsored bills aimed at regulating the participation of transgender children in sports and how they receive health care, particularly gender-affirming care.
Sprunger, a Kalispell native, founder and CEO of Big Sky Relations and past chair of the Kalispell Chamber of Commerce, surpassed Kennedy with 2,112 votes to 1,242. Sprunger built her campaign on four main priorities: community safety, infrastructure, housing and education.
"I wanted someone who understood Montana [representing us]," Sprunger said. "My first responsibility is to serve the needs of the district. And I heard those [topics] consistently."
Both Fuller and Sprunger oppose abortion, which was a key component of their platforms as well.
A contested ballot measure this year, Montana Referendum No. 131 (LR-131), which would require medical care for infants born alive, was defeated at the polls. Despite the loss, Fuller believes that the referendum will not stop anti-abortion efforts in Montana.
"The defeat of 131 will be [seen as] a great victory for pro-abortion people. The reality is that it doesn't really have a lot of significance," Fuller said.
Sprunger echoes this sentiment.
"[Despite what happens with LR-131], my stance will stay the same. I am pro-life, and I believe we really have to be pro-life for the entirety of someone's life," Sprunger said.
As the Republicans take the majority, their Democratic opponents reflect on the results.
Kyle Waterman, who lost his Senate race by 1,950 votes, focused his campaign on suicide prevention and mental health. A first-time candidate for the Legislature, he said that the 2021 session inspired him to run.
"I was not satisfied with the session in 2021, especially with John Fuller," Waterman said. "I didn't run for city council [this year] because I wanted to give Fuller that challenge."
"I do wish Mr. Fuller well in the Senate," Waterman added. "I feel that he definitely heard my challenge."
Angela Kennedy, who lost her House race by 870 votes, campaigned as a fiscally conservative Democrat, focusing on issues such as creating a more fair tax system and strengthening Montana's capitalist economy.
Other Republicans in the Flathead region also could declare victory by midday Wednesday. Rep. Braxton Mitchell won his first re-election campaign in Columbia Falls for House District 3. Mitchell's policy agenda includes helping seniors receive immediate permanent tax relief and requiring all K-12 schools to offer financial literacy instruction.
The next major milestone for legislators will occur next week, on Nov. 16, when they gather to caucus and elect leadership teams. Once leadership elections and committee appointments are completed, legislators will start outlining their priorities and goals in more detail as they prepare to gavel in the upcoming session.
"I think the people of Montana overwhelmingly, statewide, voted for freedom, family and liberty, or less government," Fuller said. "Hopefully, we will achieve those things."
Recent Headlines
---