Holmquist earns third term as county commissioner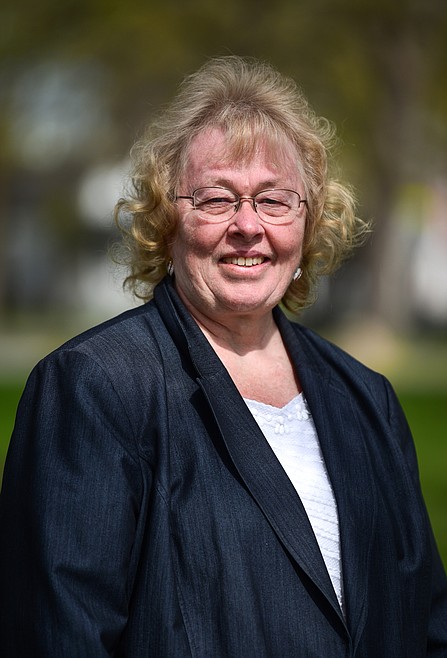 Flathead County Commissioner Pam Holmquist on Tuesday, May 3. (Casey Kreider/Daily Inter Lake)
by
Daily Inter Lake
|
November 10, 2022 12:00 AM
Republican Pam Holmquist will retain her seat on the Flathead County Commission.
She handily earned a third term on the commission, taking in 71% of the vote in Tuesday's election. No Democrats filed for the position, but candidate Jack Fallon, who lost in the primary election in June, registered as a write-in candidate. There were 11,825 write-in votes cast, according to the county election department.
Holmquist tallied 28,266 votes with ballot counting wrapping up Wednesday afternoon. She serves District 2, which includes Evergreen and the southeast end of the county, though the election is a countywide vote.
Holmquist has said her political goals are to protect private property rights and take a fiscally conservative approach to the county's budget.
Voter turnout in the county was 59% with 47,126 votes cast, according to the Montana Secretary of State's Office.
Also in the election, voters approved a 3% tax on recreational marijuana sales, but rejected the same tax on medical marijuana sales. Seventy-three percent of votes were in favor of implementing the recreational marijuana excise tax. While the medical marijuana excise tax earned 51% against.
The tax on both types of sales has been estimated to bring in annual revenue of about $880,000 that would be distributed to the county and its municipalities.
County commissioners are expected to take public comment on where to direct funds from the tax, which is set to go into effect in February of 2023. State taxes on marijuana are set at 4% for medical marijuana and 20% for adult-use sales.
In a set of uncontested races in the county, Republicans retained their seats including Clerk and Recorder Debbie Pierson, Sheriff Brian Heino, County Attorney Travis Ahner and Treasurer Adele Krantz. Republican Cal Ketchum, who ran unopposed in the general election, was elected County Superintendent after the incumbent did not seek reelection.
In nonpartisan races, Justice of the Peace Eric Hummel and Justice of the Peace Paul Sullivan retained their seats while Flathead County District Court Judge Dan Wilson retained his position and Danni Coffman was elected to fill the new judgeship in district court.
Flathead County Commissioner
Pamela Holmquist (R) 28,266 (71%)
Write-in 11,825
Flathead Clerk and Recorder
Debbie Pierson (R) 36,323
Flathead County Sheriff
Brian Heino (R) 38,083
Flathead County Attorney
Travis Ahner (R) 35,141
Flathead County Superintendent
Cal Ketchum (R) 35,397
Flathead County Treasurer
Adele Krantz (R) 36,886
Flathead Justice of Peace Eric Hummel another term?
Yes 34,019
No 4,022
Flathead Justice of Peace Paul Sullivan another term?
Yes 33,745
No 4,775
Judge Dan Wilson of District 11
Yes 32,758
No 6,151
District Court Judge District 11, Dept 5
Danni Coffman 31,850
Flathead County local option non-medical marijuana tax
For 33,181
Against 12,562
Flathead County local option medical marijuana tax
For 22,364
Against 23,462
Recent Headlines
---