Gov. Gianforte announces his budget for the 2023 Montana Legislature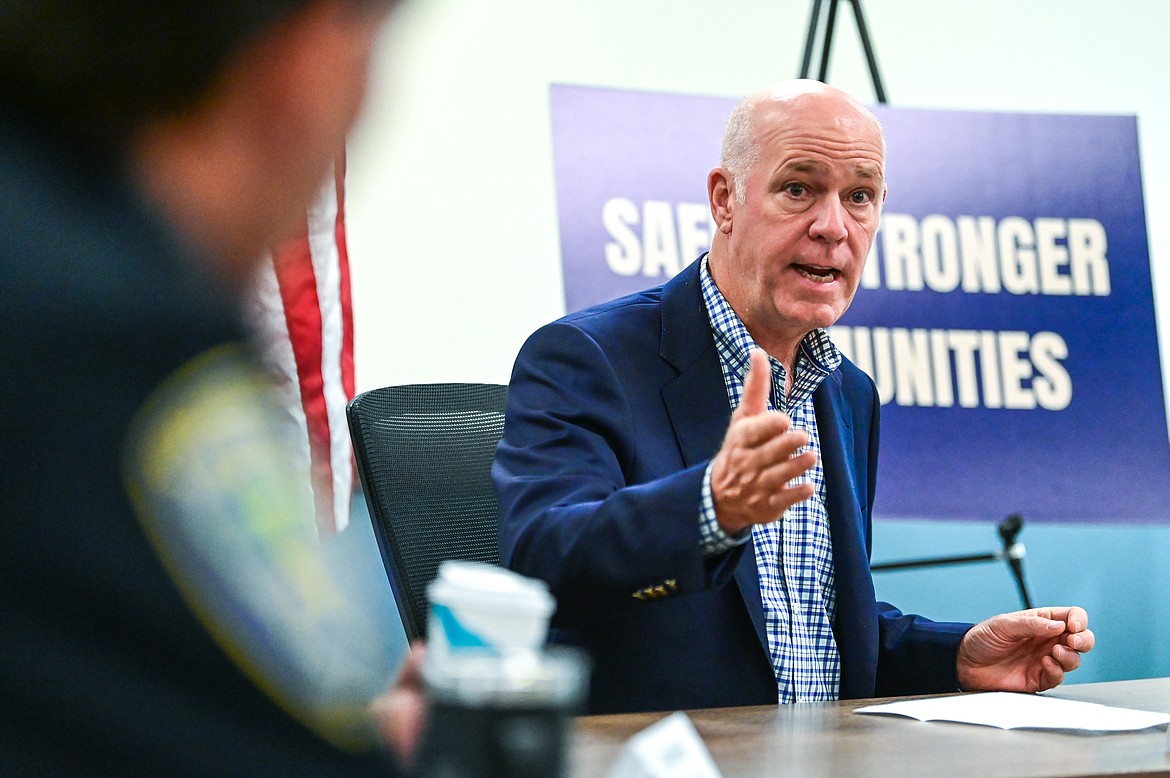 Gov. Greg Gianforte speaks during a public safety roundtable discussion at the Kalispell Senior Center on Thursday, Sept. 15. (Casey Kreider/Daily Inter Lake)
by
KATE HESTON
Daily Inter Lake
|
November 13, 2022 12:00 AM
Gov. Greg Gianforte unveiled his proposed budget Thursday, a fiscal roadmap that he said is poised to represent the largest tax cut in Montana history.
The budget, which the governor described as "built for hardworking Montana families," provides $1 billion in income and property tax relief to Montanans in the coming years, a $500 million reduction in each. The budget must go before the 2023 Montana Legislature, where Gianforte's Republican colleagues earned a supermajority following the midterm elections, for final approval.
"I fundamentally believe hardworking Montanans should keep more of what they earn. And with inflation at a high not seen in 40 years, providing Montanans with tax relief is all the more important," Gianforte said during a Nov. 10 press conference.
He called on local officials across the state to follow his lead, saying that "local governments should not spend and tax Montanans out of their home." Municipalities, he said, should put renewed emphasis on tax reform.
A historic surplus of roughly $1.5 billion undergirds the spending plan. Gianforte said he will use the financial leeway to offer a child tax credit, repair and invest in state facilities, bolster education and spur housing development. The biennium budget, if approved, would take effect in July 2023 and run through June 2025.
After providing Montanans with tax relief, Gianforte's proposed budget was designed with three main guidelines: make repairs, save for emergencies and pay off debt.
The budget includes a $300 million investment in a "generational commitment" to Montana's behavioral health services, including treatment for substance abuse issues. Specifically, the money will go toward improving services at the Montana State Hospital in Warm Springs, which saw federal accreditation stripped this year.
In a similar vein, the budget puts nearly $200 million toward fixing up and expanding the state prison.
The budget also directs $200 million toward water and sewer infrastructure projects, which local officials could use to spur residential development in counties and municipalities, according to the Montana Free Press.
The budget also provides families with a child tax credit of $1,200 – per child, per year – offers an adoption tax credit of $5,000, doubles the state's rainy-day fund, puts $100 million towards repairing roads and bridges, and nearly triples the fire investment fund. It also boosts education efforts statewide, including doubling the Big Sky Scholarship fund and expanding funding for the Teach Act by 40%.
The budget will "make Montana debt free by 2023," paying off all general obligation debt, Gianforte said.
"Montana taxpayers entrust us to be good stewards of their hard-earned dollars. I'm proud our budget, built for hardworking Montana families, fulfills that trust," he said.
Gianforte deferred most questions on Thursday about his plans and the specifics of the budget for next week when the full budget text is available. The official document will be formally released on Nov. 15.
Reporter Kate Heston can be reached at kheston@dailyinterlake.com.
Recent Headlines
---