FVCC presents exhibit by local painter Christopher Otto
|
November 17, 2022 12:00 AM
Flathead Valley Community College's art department presents an exhibition for local painter Christopher Otto and Technology Building lobby on campus in Kalispell. Otto's works will be on display until Wednesday, Nov. 23.
Christopher Otto is a painter living in Whitefish. He was born and spent most of life in Philadelphia, Pennsylvania, where he completed his Certificate and Bachelor of Fine Arts degree at the Pennsylvania Academy of Fine Arts. When not in his Whitefish painting studio, building houses, or caring for his small family farm, he will likely be in the woods or near the fishing, foraging, camping and cooking.
In his recent work, Otto's immersive oil and mixed media paintings take a refreshing approach at representing the landscapes of Northwest Montana. These highly pigmented and elaborately composed abstractions prioritize his desire to replicate the sensation of being in nature over its appearance.
Otto says his work seeks to recreate the space of experiencing new visual phenomena in nature.
Of his paintings Otto says, "These paintings remind us that the nature we observe breathes with us, thanks us for putting down our phones, and rewards us for engaging longer,"
For directions to campus and more information about art at FVCC, visit fvcc.edu.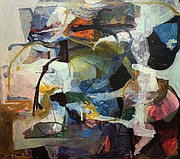 Recent Headlines
---